Published: 11-05-2023 09:10 | Updated: 11-05-2023 09:29
Johan Hartman and Mattias Rantalainen awarded the 2023 Prize for Innovation and Utilization
Karolinska Institutet has decided to award Johan Hartman and Mattias Rantalainen the 2023 Prize for Innovation and Utilization. They are rewarded for improving cancer diagnostics with innovative research and inspiring working methods.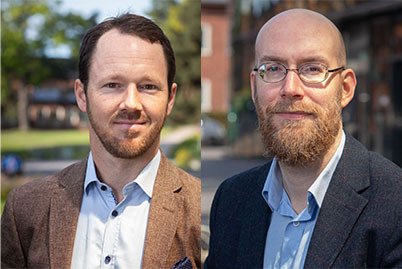 Johan Hartman and Mattias Rantalainen. Photographer: Stefan Zimmerman
Johan Hartman is a professor of tumour pathology at the Department of Oncology-Pathology and Mattias Rantalainen is an associate professor at the Department of Medical Epidemiology and Biostatistics. Both are co-founders of Stratipath, a private spin-off that aims to improve the diagnostic of cancer patients using AI.
The prize committee's justification:
"Johan Hartman and Mattias Rantalainen have a long track-record of innovative research within tumor pathology, machine learning and statistical modelling, with the aim to improve cancer diagnostics. They have succeeded in developing and commercializing a method for artificial intelligence-based analysis of microscopy images, which is now in clinical use for determining the risk for relapse in cancer after surgery. The product has a large potential in precision diagnostics in other diseases. Hartman and Rantalainen continue to combine academic research and entrepreneurship in an exemplary and inspiring manner and fulfill all criteria for recipients of the Prize for Innovation and Utilization."
The prize is awarded to one or more researchers who distinguished themselves through outstanding utilization of research results that led to an innovation.
The winners will be celebrated at Karolinska Institutet´s inauguration ceremony of professors in October.
 
About the Prize for Innovation and Utilization

The Prize for Innovation and Utilization was founded by Karolinska Institutet in 2022 to encourage and award innovative research at KI. The winner(s) are selected by a prize committee consisting of representatives from KI's management, the Committee for Research, Research Support Office, KI Innovations AB and an external representative. Candidate(s) can be nominated by anyone and self-nominations are accepted.
The candidates should be active researchers/research students (employed, adjunct or affiliated with KI).
The prize consists of a diploma and a prize sum of 100,000 SEK).