Published: 02-10-2023 15:24 | Updated: 11-10-2023 15:10
The 2023 StratNeuro Retreat: Science and Scenic beauty
The yearly StratNeuro retreat gathers neuroscience researchers from Karolinska Institutet, Umeå University, and the Royal Institute of Technology for a couple of days of networking and getting up to date with the latest research from across the spectrum of neuroscience topics aligning with the interests that the StratNeuro constellation represents. This year, our retreat took place on the 29th and 30th of May, at Djurönäset, in a picturesque location by the Stockholm archipelago.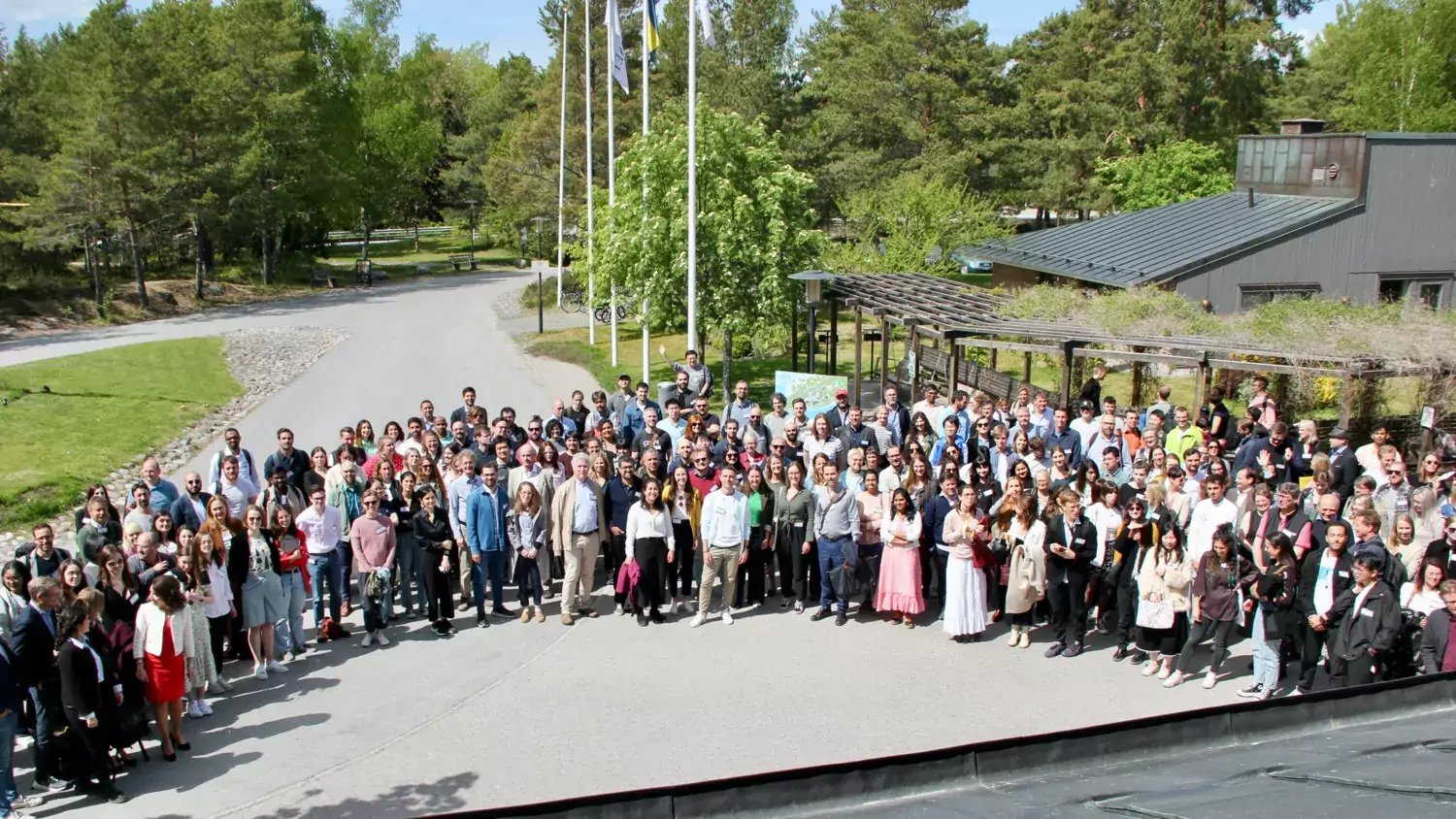 Group photo of the 2023 StratNeuro Retreat attendees. Photo: Malin Dimander
Despite the lure of the weather, the beautiful spa hotel and the splendid nature surrounding us, 250 attendees willingly immersed themselves in our programme packed with captivating talks and discussions.
StratNeuro Retreat 2023: Programme
The keynote lectures delved into topics like novel Alzheimer's disease treatments (Lars Lannfelt, Uppsala University, Sweden), the intriguing biology of grasping in elephants (Michael Brecht, Bernstein Center for Computational Neuroscience, Humboldt University, Germany), and the development and plasticity of sensory circuits (Guillermina López-Bendito, Instituto de Neurociencias, Univsersity Miguel Hernandez, Spain). 
The talk sessions furthered the exploration into neurodegenerative disorders and therapies, functional mapping of the mouse prefrontal cortex, and the intricacies of spiking neural networks. 
The parallel break-out sessions covered the role of glial cells in neurodegeneration, molecular neurobiology, the influence of AI in basic and clinical research, and the intricate interplay between genes, the environment, and neuropsychiatric diseases.
This year, we welcomed small delegations from nearly all partner institutions of the European University of Brain and Technology – NeurotechEU, opening doors for opportunities to collaborate and bolster research, education, and funding for KI.
Learn more about NeurotechEU
In the poster blitz session, ten PhD students did a fantastic job of presenting fun and creative summaries of their posters in less than two minutes. The audience then voted for the best blitz presentation in each category: pre-clinical and clinical/translational, using our conference app on their smartphones.
As has now come to be expected, a highlight of 2023 was the poster session, which was greatly enriched this year with over 140 abstracts that really showcased the vibrant, world class research we do in our network.
Representatives from ten core facilities and infrastructures, as well as from the External Engagement Office (EEO), informed attendees about how their work can serve the neuroscience community at KI.
Our poster evaluator panel this year consisted of Karolinska Institutet researchers Kristiina Tammimies (Department of Women's and Children's Health), Saida Hadjab (Department of Neuroscience), Maria Ankarcrona (Department of Neurobiology, Care Sciences and Society), Johan Lundström (Department of Clinical Neuroscience) and Daniel Ferreira (Department of Neurobiology, Care Sciences and Society), who navigated through all the PhD students' posters and picked the best one in each category.
We ended our meeting with the prize winner announcements.
We thank the poster evaluators, and we congratulate the 2023 prize winners!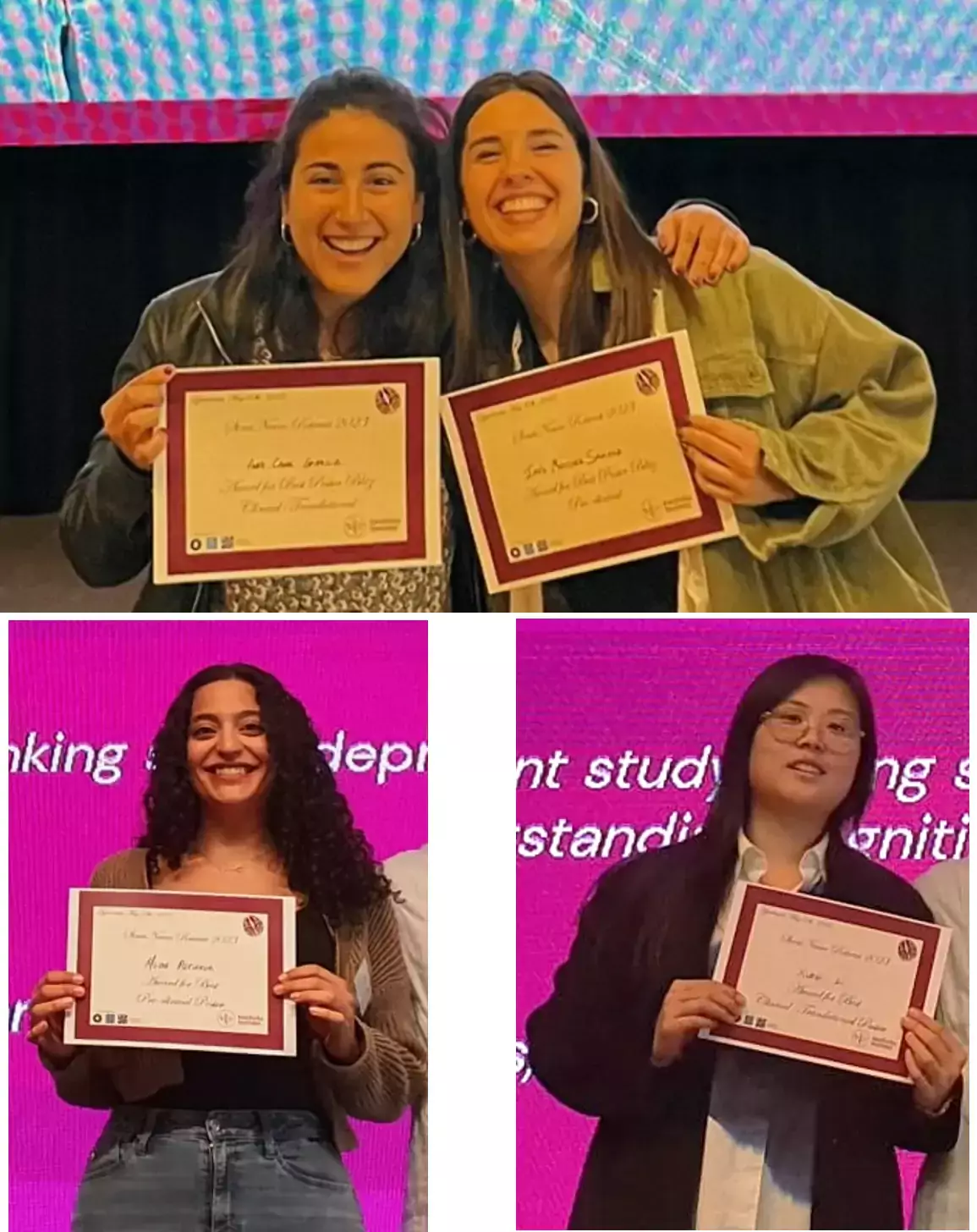 Prize winners, 2023 StratNeuro retreat. Top: Best clinical/translational poster blitz by Anna Canal Garcia and Best pre-clinical poster blitz by Inés Martinez Sanchez. Lower left to right: Best pre-clinical poster by Müge Altinkok; Best clinical/translational poster by Xueqi Li. Photo: Anna Canal Garcia,Goncalo Castelo-Branco
Prize winners
Best Poster, Pre-clinical category
R119 "Rostral Ventromedial Medulla neurons mediate sleep deprivation-induced pain" by Müge Altinkok (Department of Medical Biochemistry and Biophysics).
Motivation
"Clear presentation of a novel mechanism linking sleep deprivation and pain, state-of-the-art methodology and relevant implications".
Best poster, Clinical/Translational category
R99- "Dysregulation of the kynurenine pathway is related to persistent cognitive impairments in Tick-borne encephalitis patients" by Xueqi Li (Department of Physiology and Pharmacology).
Motivation
"Clinically relevant study linking symptoms with a molecular pathway, correlating serum and CSF data with longstanding cognitive effects."  
Best Blitz, Pre-clinical category
"Sex-and age-dependent alterations in motor, cognitive and affective behavior in mice associated with dysregulated brain expression of bacterial peptidoglycan-sensing molecules", by Inés Martinez Sanchez (Department of Neuroscience). 
Best Blitz, Clinical/Translational category
"Temporal multilayer brain connectivity analysis in Alzheimer's disease: a dynamic functional connectivity study", by Anna Canal Garcia (Department of Clinical Neuroscience).
Best Picture for StratNeuro Retreat 2023
"Neural Constellations: A Journey through the Synaptic Universe", by Martyna Lukoseviciute (Department of Cell and Molecular Biology).

Image: Martyna Lukoseviciute
The image depicts 3D spheroids ('neuroids') derived from the spinal cord neural stem cells. These stem cells have a regenerative potential to replenish lost neural cells after spinal cord injuries. In the dish, they generate astrocytes, neurons, and oligodendrocytes, all interconnected into such intricate structures. This enables us to study stem cell fate decisions, cell communications and functional responses to various external stimuli. Neuroids were stained for different neural markers and imaged on Zeiss LSM880 confocal microscope.
Runner-up for Best Picture
"When the invisible becomes visible" by Alejandro Lastra Romero (Department of Women's and Children's Health).

Image: Alejandro Lastra Romero
Activation of apoptosis by neural progenitors cells in the dentate gyrus of hippocampus after brain irradiation. Red: Caspase-3.
The 2023 retreat was funded by StratNeuro and was organized by:
2024 will feature the biennial neuroscience PhD student retreat (an exclusive program for around 50 PhD students in the network), and our usual two-day program.
We hope to see you at the 2024 retreat in Djurönäset once more!
Mark you calendars
4–5 June 2024: StratNeuro retreat (main programme, open to neuroscience researchers from Karolinska Institutet, Umeå University, and the Royal Institute of Technology).