Published: 17-10-2023 10:50 | Updated: 17-10-2023 10:54
New professors at Karolinska Institutet motivated by new knowledge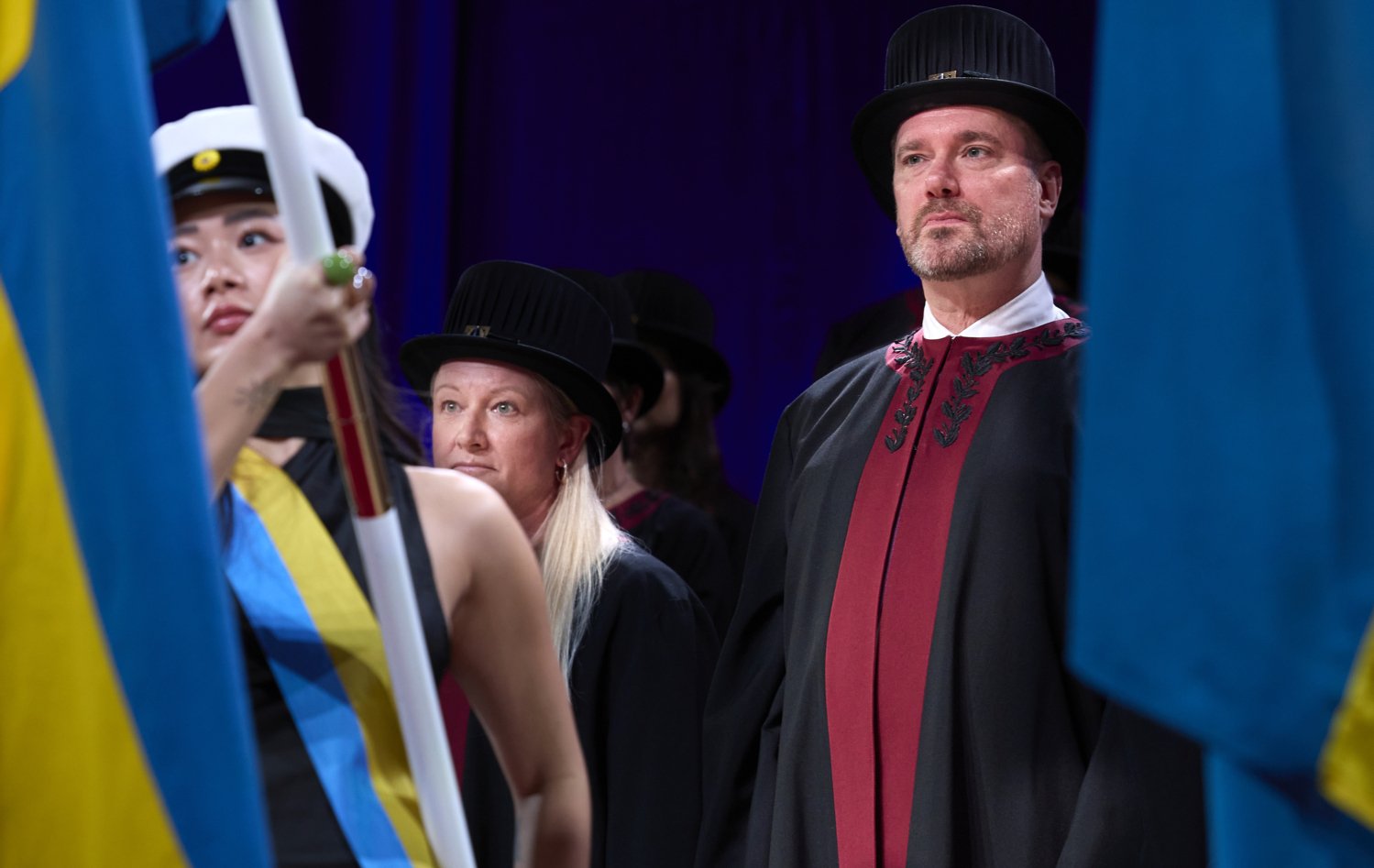 First the hot dogs – then the diplomas, speeches, fanfares and applause. Tradition prevailed on 12 October as 17 new professors were ceremoniously installed at KI.
Once, when Karolinska Institutet's installation ceremony took place in the Berwald Hall, things could be a little stressful for the guests: hurry back from work, suffer pangs of hunger with no time to eat before the ceremony…
This can't go on, declared KI's then head of administration, so he hired a hot dog seller to offer hungry guests something to eat on their arrival. And this tradition lives on, despite the ceremony now taking place in Aula Medica.
"Many people like getting a hot dog when they arrive – it keeps them going until the post-ceremony dinner," says Ylva Blomberg, master of ceremonies at KI. 
Speech for professors and prizewinners
It isn't long before the auditorium is packed with the families, friends and colleagues of the 17 new professors awaiting installation and the adjunct and visiting professors awaiting their welcome.
To the strains of GP Telemann's La Générosité performed by the Rosa string quartet, the KI management and the new professors dressed in gown and doctor's hat, march behind the standard bearers to their seats on the Aula Medica stage.
The winners of this year's various medals and prizes are presented, and they proudly – and not unemotionally – accept due applause. President Annika Östman Wernerson addresses the new professors, who have now reached the pinnacle of academic achievement at Karolinska Institutet: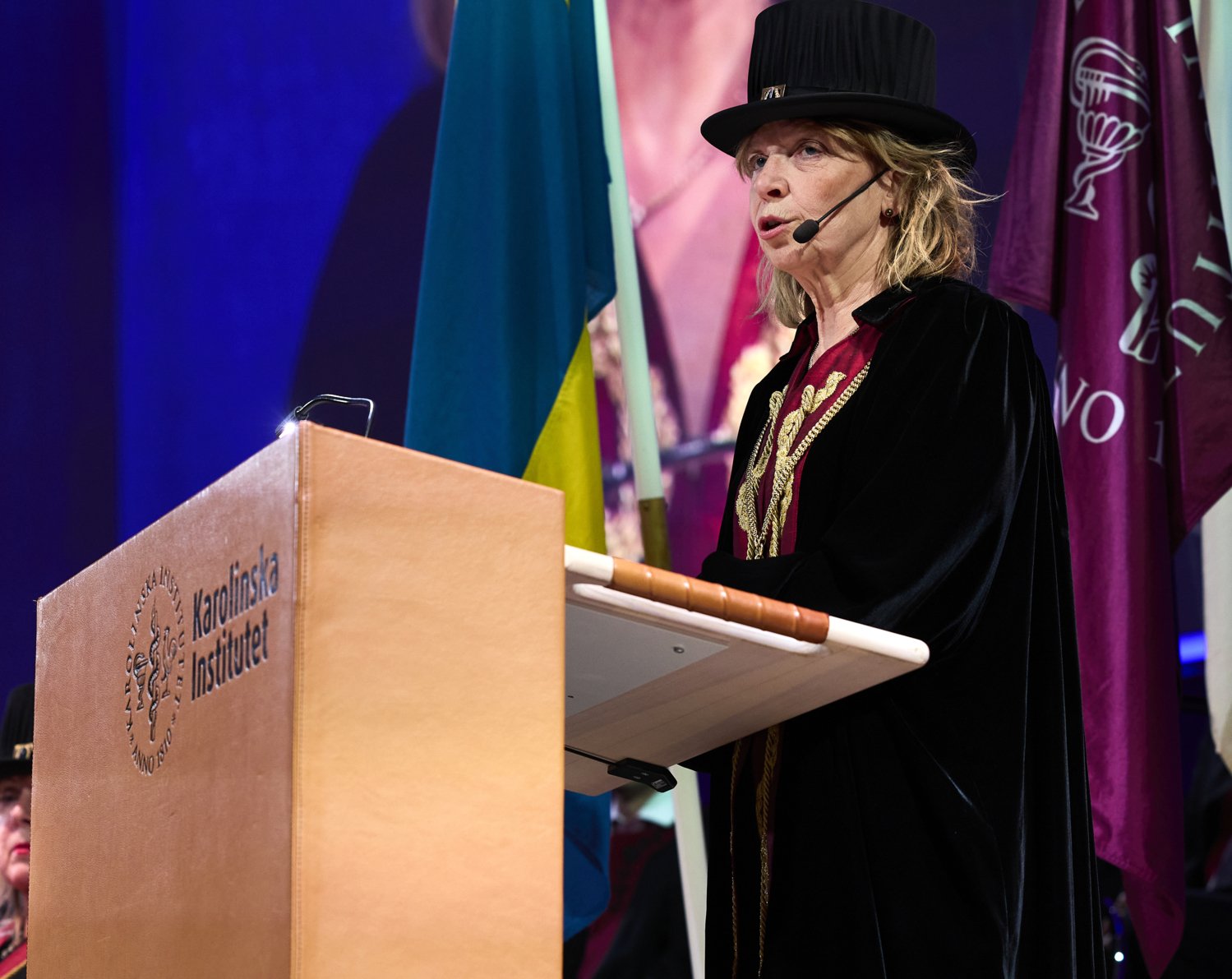 Annika Östman Wernerson. Photo: Fredrik Persson.
"Never forget that working together, communicating and sharing knowledge are vital tools for reaching even further – who knows, maybe all the way to a new Nobel Prize!" she says, with reference to how this year's Nobel laureates in Physiology or Medicine, Katalin Karikó and Drew Weissman, met by chance in a queue for a slow photocopier and chatted about their research fields.
The adjunct and visiting professors are welcomed and then it's time for the evening's main event: the professorial installation itself.
In a series of short films, each professor talks about his or her work and something of personal importance to it – like a pen, or nowadays the keyboard ("I love writing and the process, once you have your data, of sitting down and composing the story and getting my message across"), the analogue diary (to keep tabs on when I'm to be at Karolinska Institutet and when I'm to be at Karolinska University Hospital) and the whiteboard (it's where we sketch ideas and plans for the future).
Important to think collectively
Tobias Alfvén, newly appointed professor of global child health, researches how to help children around the world, particularly those living in poor circumstances, to thrive and grow. He talks about his research group and points to a colourful pin attached to the lapel of his jacket: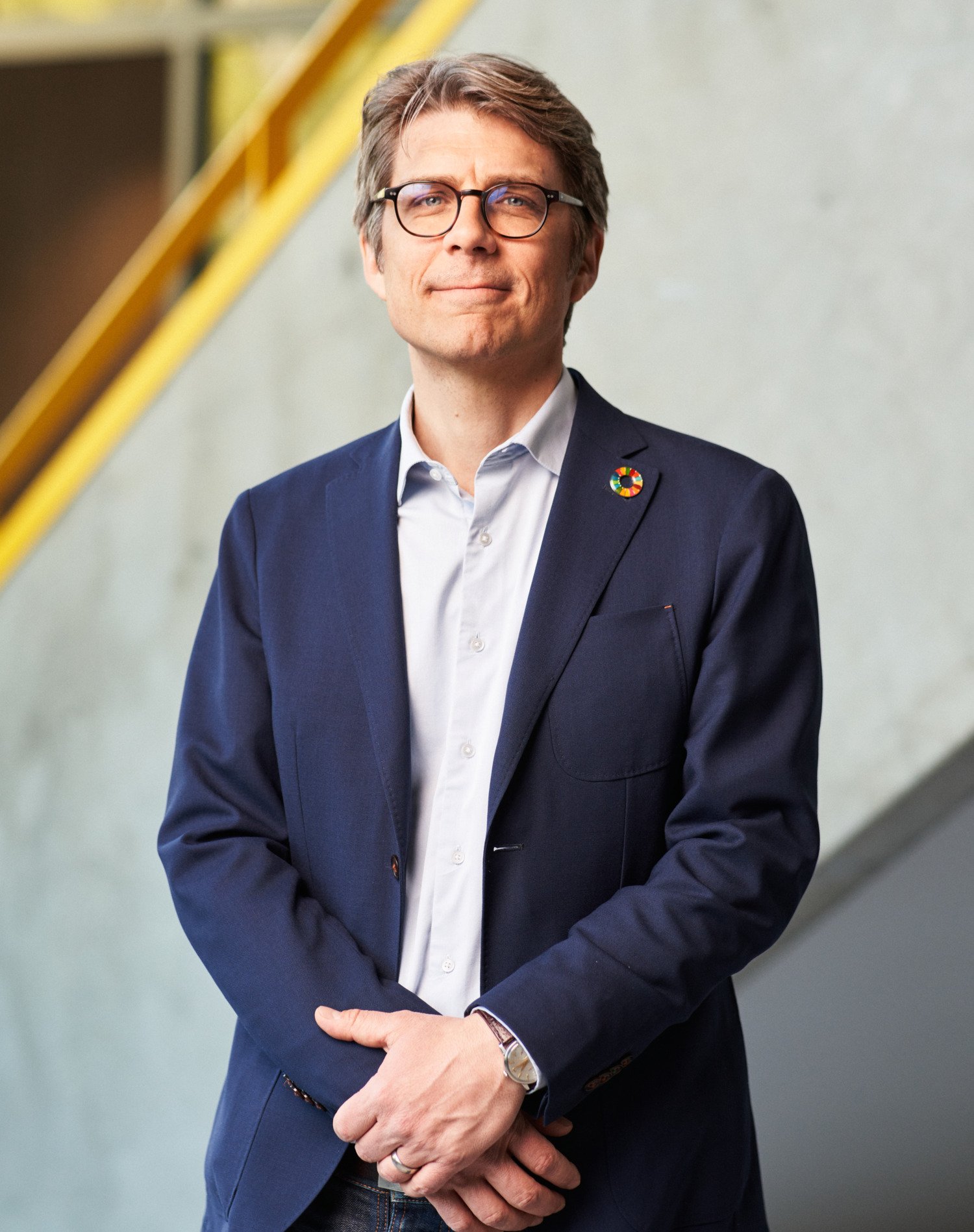 Tobias Alfvén. Photo: Erik Flyg.
"It represents the sustainability goals and reminds me that it's all about us working together, which fills me with hope," he says.
Ulrik Kihlbom is newly appointed professor of medical ethics. His favorite thing is a rock with a fossil in it. It reminds him that there are always other perspectives – something that is important to carry with you when working with difficult ethical problems, such as whether euthanasia should be allowed in Sweden.
Theoretical activity is to a large extent independent work - but also social, Ulrik Kihlbom points out: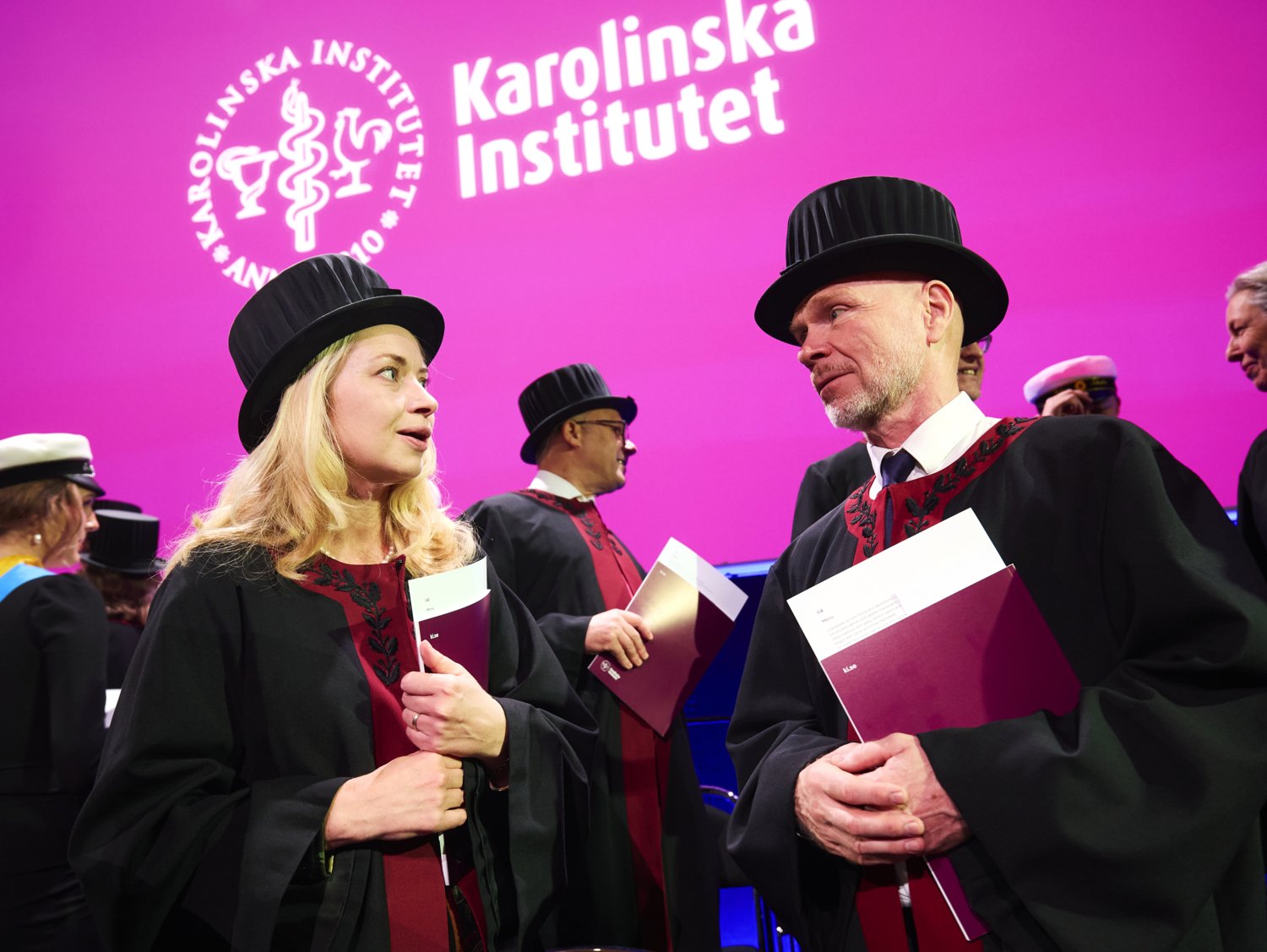 Karin Jensen and Ulrik Kihlbom. Photo: Fredrik Persson.
"We often think about things collectively. It's hard to think alone without pushing against other people's thoughts."
Karin Jensen, newly appointed profess of cognitive neuroscience, studies what happens in the brain when we feel pain. 
"This," she says, placing a hand on something that looks like a large metal box, "is a pain machine. We wouldn't be able to do our research without it. It can cause pain without causing any physical damage."
Academic freedom is key
Professor Jensen is asked to hold this year's professorial address. Once all the new professors have received their diplomas, fanfares and applause, she talks about how she ended up in neuroscience.
"I think I speak for all the new professors here today when I say that academic freedom has been the key to our achievements. We aren't consumers of knowledge, we're creators of it. And I hope that all research institutions can offer what I received at the start of my scientific career at Karolinska Institutet: a generous measure of independence within clearly drawn legal and ethical lines."
The audience rise to their feet as the standards are paraded out of the hall, and then everyone files into the Aula Medica foyer for drinks and a buffet comprising chantarelle flan with thyme and Västerbotten cheese, hot smoked salmon with jalapeño mayonnaise, pickled fennel and dill, beetroot with leeks, wild garlic capers and kale, Havgus cheese with carrot and tonka marmalade, focaccia and, to finish off, a moulded sorrel and soured cream dessert with raspberry and caramelised buckwheat.
Entertainment during the ceremony was provided by:
Esther Kirabo
Stockholms Musikgymnasium/Kungsholmen Upper Secondary School
Rosa Kvartetten