Published: 13-11-2023 15:56 | Updated: 14-11-2023 09:13
New KI doctors ready to make the world a better place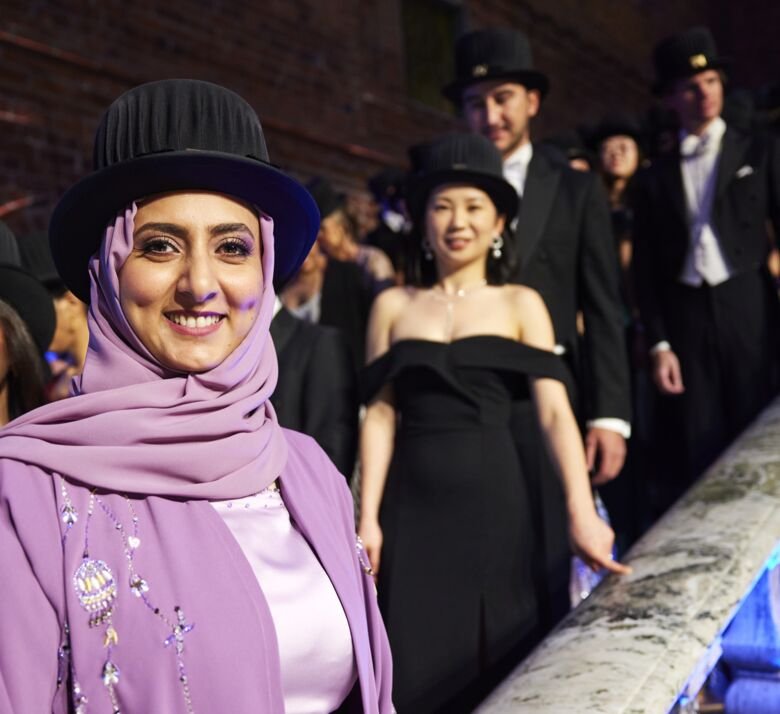 Diplomas, salutes and fanfares for 155 new KI doctors and 13 jubilee doctors! 10 November was a day of celebration, as they received their accolades to much pomp and ceremony in front of 1,000 guests in Stockholm City Hall's Blue Hall.
To the strains of Karolinska Institutet's ceremonial march, the procession parades along the balustrade outside the Golden Hall and down the flower-bedecked staircase to the Blue Hall and the waiting guests. 
First come the standard bearers, holding aloft the Swedish flag, the Karolinska Institutet banner and the standards and banners of the student unions, and behind them the KI management and the graduands: the new doctors of philosophy. 
In her ceremonial address, President Annika Östman Wernerson takes up KI's vision "to advance knowledge about life and strive towards better health for all". The word "all" encompasses all biological life on our planet – people, animals and plants – as well as the internal and external conditions for its continuation, she points out, turning towards the new doctors.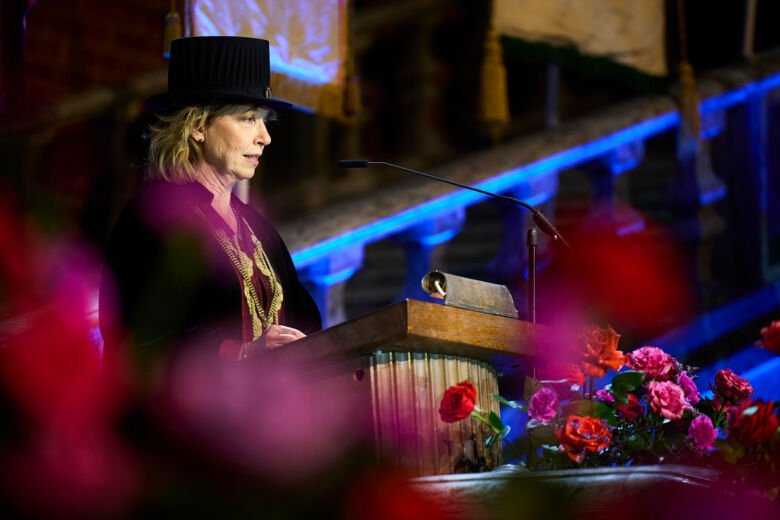 Annika Östman Wernerson. Photo: Fredrik Persson.
"With a diploma from Karolinska Institutet, you're ready to make the world a better place. On a more personal level, I urge you to continue searching for and striving to achieve your goals and passions – and, of course, happiness," she says, quoting William Butler Yeats, Nobel laureate in literature: "Happiness is neither virtue nor pleasure nor this thing nor that but simply growth. We are happy when we are growing." 
Three-gun salute for 50 years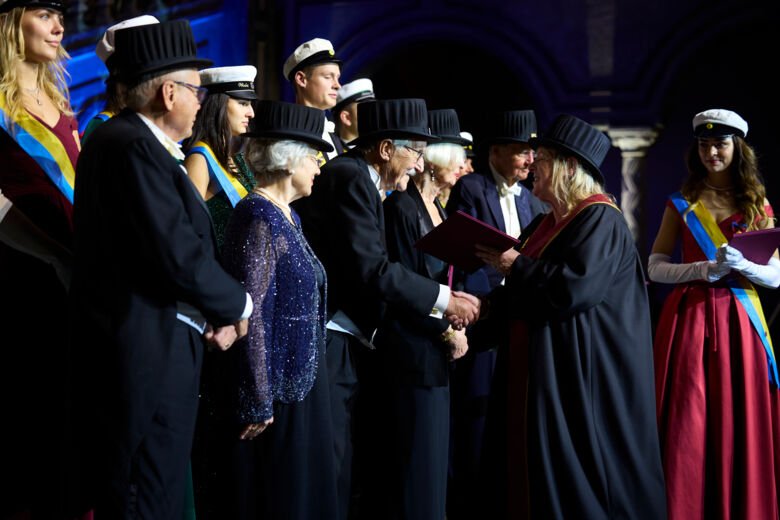 Marie Arsenian Henriksson presents diplomas to 13 jubilee doctors. Photo: Fredrik Persson.
Marie Arsenian Henriksson, conferrer and academic vice president for research, presents the 13 jubilee doctors who earned their PhDs from KI 50 years ago. 
The jubilee doctors are escorted by their own personal student usher to the stairway, where they are given their diplomas and a three-gun salute from the City Hall waterfront.
It is now time for the new doctors, most of whom graduated last spring with a range of theses that demonstrate the breadth of doctoral education at KI. Here there is research that can be of immediate benefit to patients, such as Emma Hjalmarsson's "Frame Running: enabling health improvements through physical exercise in individuals with cerebral palsy". 
Here there is clinical/preclinical translational research, like "Not just a pipe's dream: plumbing the contribution of cell diversity to oesophageal homeostasis" by David Grommisch; and here there is modern, technological, preclinical research, such as Mirco Martino's "The odyssey of MYC transcript from the nucleus to the cytoplasm: the molecular mechanism of the gene gating in human cancer cells". 
Shared highs and lows
Robert Harris, conferrer and academic vice-president for doctoral education, is both proud and happy – proud of the way that Karolinska Institutet has given every one of the new doctors a unique opportunity to conduct his or her own personal doctoral education; happy that they have all seized this opportunity.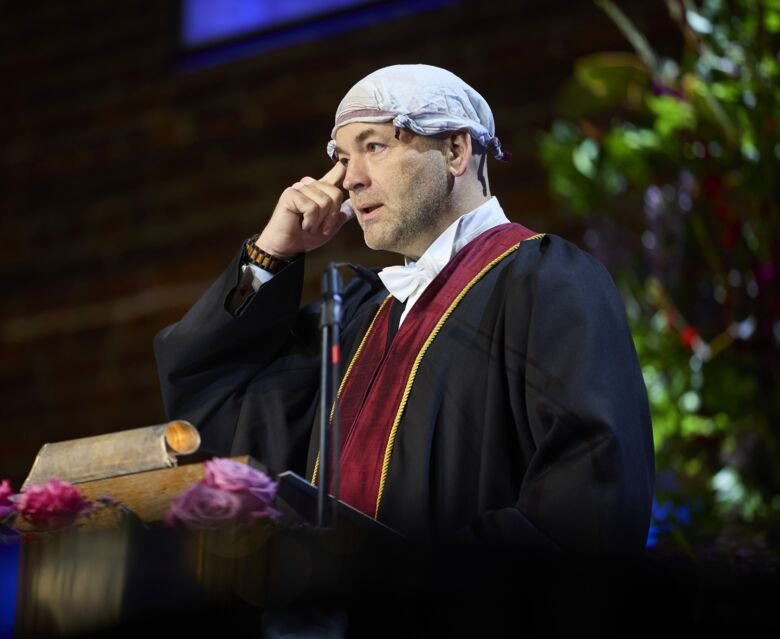 Robert Harris. Photo: Fredrik Persson.
"But most importantly of all: I hope you understand that you've advanced not only science, but also each other – through the friendships made by sharing the highs and lows of the laboratory bench, or the excitement of discovering unfamiliar cities during conferences; and by having learnt from and about each other and influenced each other."
In groups of seven, one group at a time, the new doctors of philosophy are escorted to the stairway by a student usher, where they are given their academic diplomas and hats, a cannon salute and a rousing round of applause. After a half-hour musical interval, the conferment ceremony continues and the ceremony concludes with more entertainment. 
Before the guests are welcomed to the banquet in the Golden Hall, everyone joins in a sparkling wine toast before sitting down to a menu of grilled Jerusalem artichoke with lemon tarragon cream, spice-roasted Swedish fillet of venison with pickled chantarelles and a potato and leek gratin, all rounded off with a caramel mousse and brownie dessert, coffee ice cream, dark chocolate Cremeux and chocolate crisp.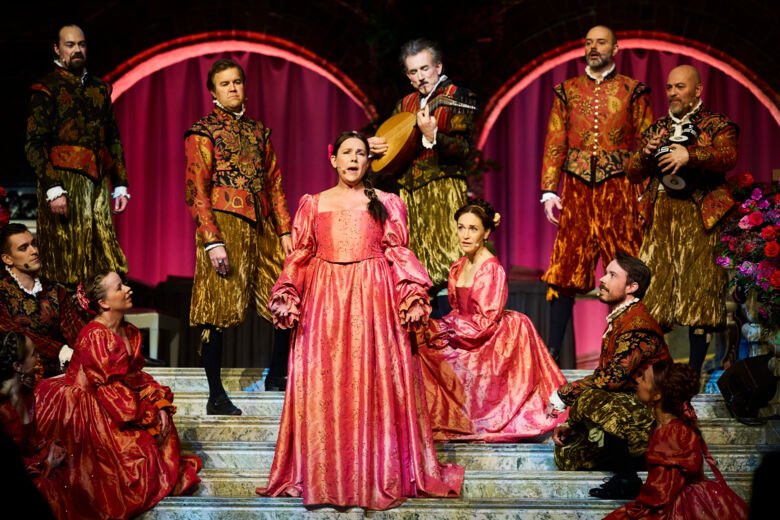 The Romeo and Juliet Choir. Photo: Fredrik Persson.
Entertainment during the ceremony:
The Romeo and Julia Choir
Oskar Bien, singer; Eric Skarby, piano
Mattias Wennberg, organ; Joakim Agnas, Filip Ejmunds, trumpet
String quartet: Isabelle Andö, violin; Caroline Waldemarsson, violin; Victoria Nilsdotter, viola; Tove Törngren Brun, cello