Published: 20-09-2023 13:56 | Updated: 20-09-2023 13:56
Fanfare for 154 new doctors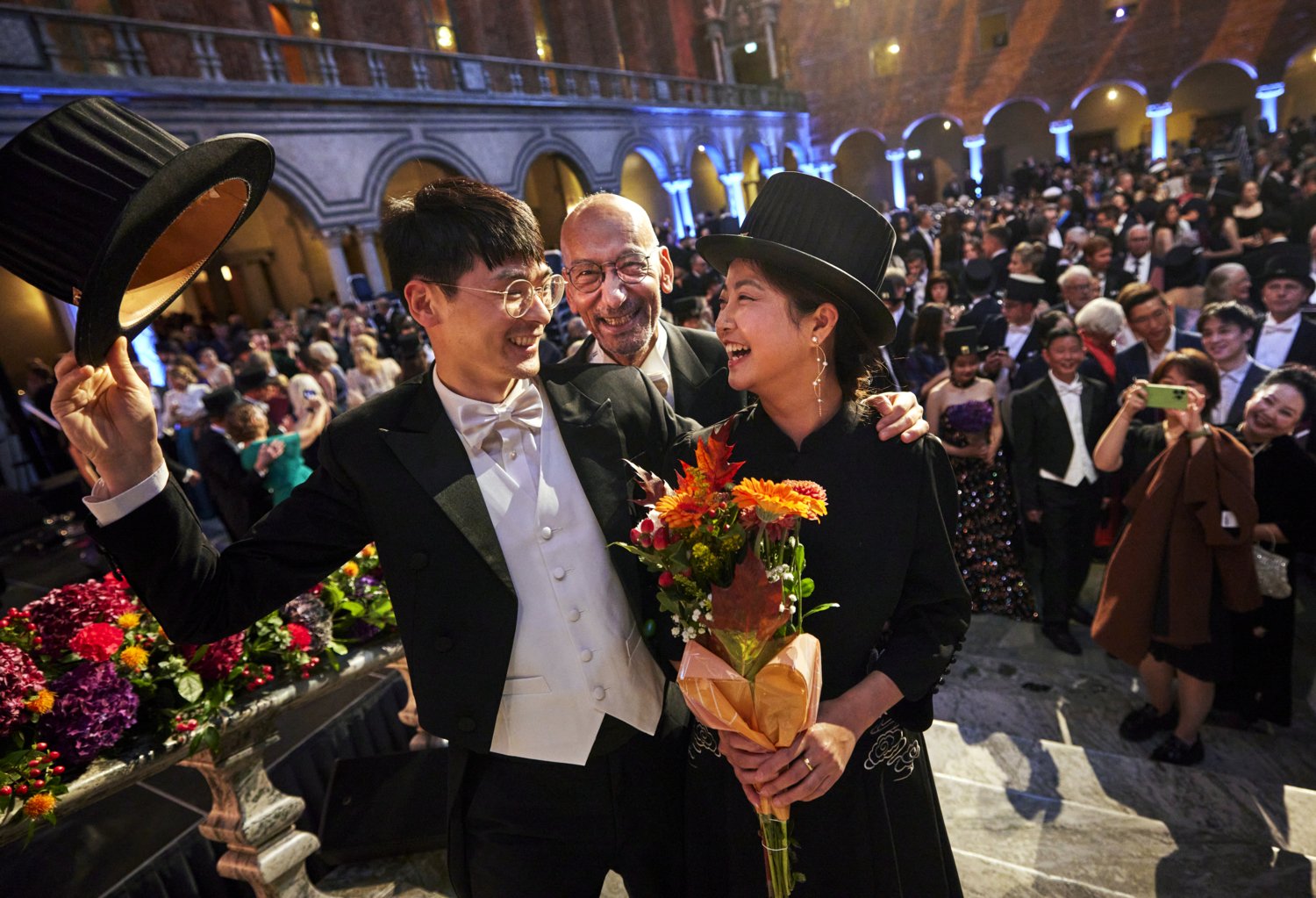 The air is buzzing with anticipation. Floral displays, long gowns and evening dress, and almost 900 chairs waiting for the graduands and their guests. It is the 15 September, and time to celebrate the graduation of 154 of KI's new doctors in Stockholm City Hall.
The evening begins with a gathering in the Prince's Gallery. The procession assembles. First the standard-bearers, then the KI management and finally all the new doctoral graduates. Together to the strains of KI's ceremonial march, they parade down to the Blue Hall and the waiting guests. 
In her ceremonial address, President Annika Östman Wernerson stresses the importance of the universities' third mission: to pass academic knowledge onto society. "KI is us", she says – all of us: students, researchers, staff.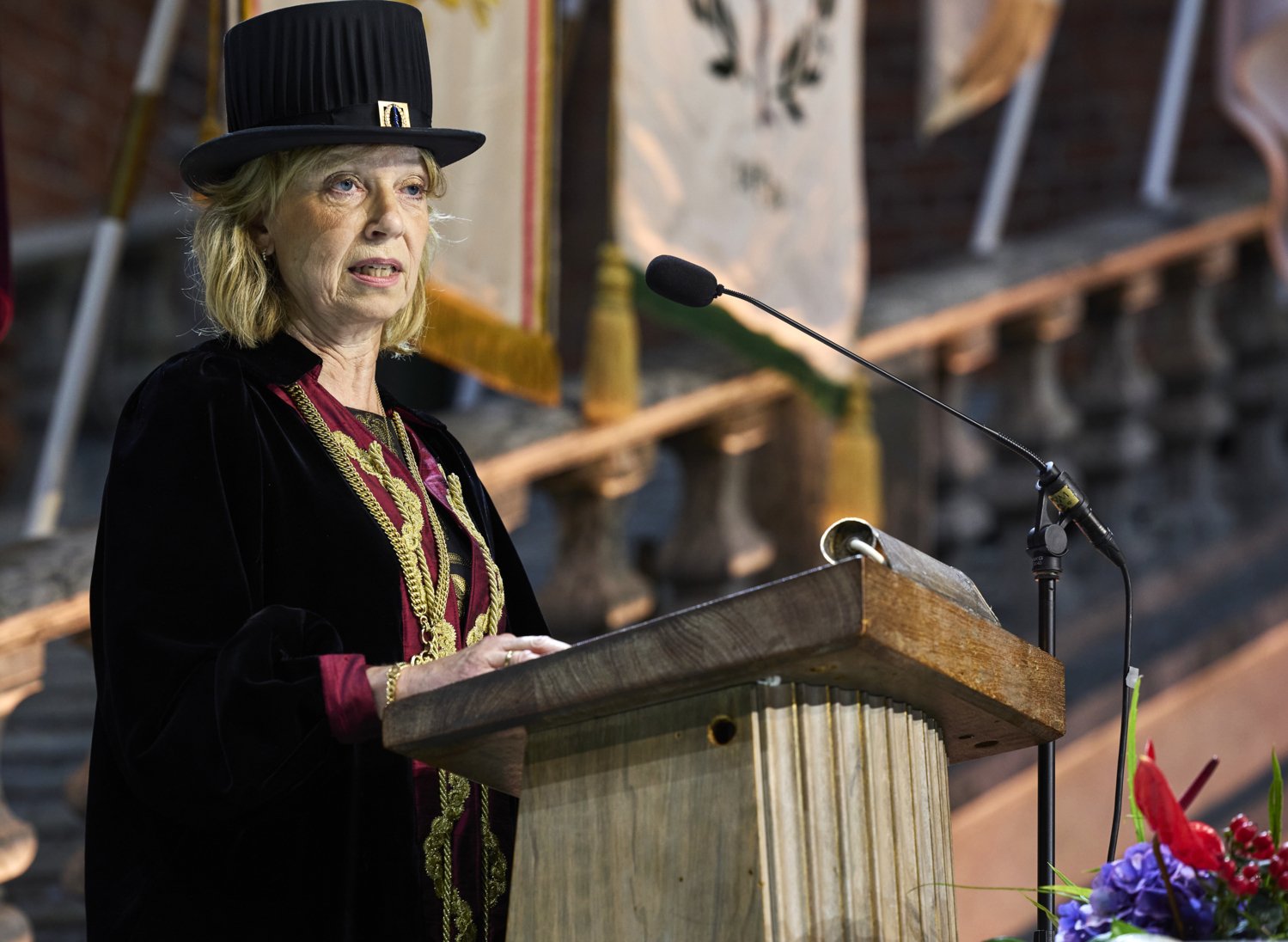 Annika Östman Wernerson. Photo: Fredrik Persson.
"In communicating evidence-based results in an accessible way, we can educate the general public. In engaging in dialogue with other stakeholders in the healthcare and commercial sectors, with patient organisations and politicians, we can influence policies, priorities and the distribution of resources associated with research and innovation. In being an active and engaged part of society, we can present evidence-based facts in order to demolish the wall of fake news and alternative facts that we see growing up around us."
President Östman Wernerson also believes it is up to every one of us to use our voices to defend academic freedom.
Defend academic freedom
"Regrettably, academic freedom is on the retreat in many countries. Even in Sweden we need to constantly defend the autonomy of our universities from political interference."
In his introductory address, Conferrer Robert Harris, professor and Academic Vice President of Doctoral Education, focuses on the personal achievements of the graduands, which he illustrates by singing a few lines from "My way" – both the Frank Sinatra and Sid Vicious versions. 
The graduands and their ushers mount the steps in groups of seven. Once each group has received their hats and diplomas, a canon salute from the Gothenburg artillery division rings out over the water from the City Hall Park.  
Dinner in the Golden Hall
The newly conferred doctors are celebrated with a fanfare and standing ovation. After drinks have been served, the guests are invited to their tables in the Golden Hall. 
On the menu is, among other things, grilled lightly smoked zander fillets from lake Hjälmaren with stuffed beetroot and chive potatoes.
After the dinner, it is time for a dance in the Blue Hall to party orchestra Johan Mörk och Kärleken.
The extra conferment ceremony is the last to have been moved due to the pandemic. Most of the graduands at this ceremony graduated in the autumn of 2022.
The entertainment was provided by:
Maja Frydén, soprano
Erik Rydvall, key harp
Adolf Fredrik's boys' choir
String orchestra: Isabelle Andö, Caroline Waldemarsson, Victoria Nilsdotter and Tove Törngren Brun.
Mattias Wennberg, organ; Martin Thorell and Filip Draglund, trumpets.