Published: 14-04-2020 10:12 | Updated: 23-04-2020 11:33
Minister visits KI to find out more about efforts to combat COVID-19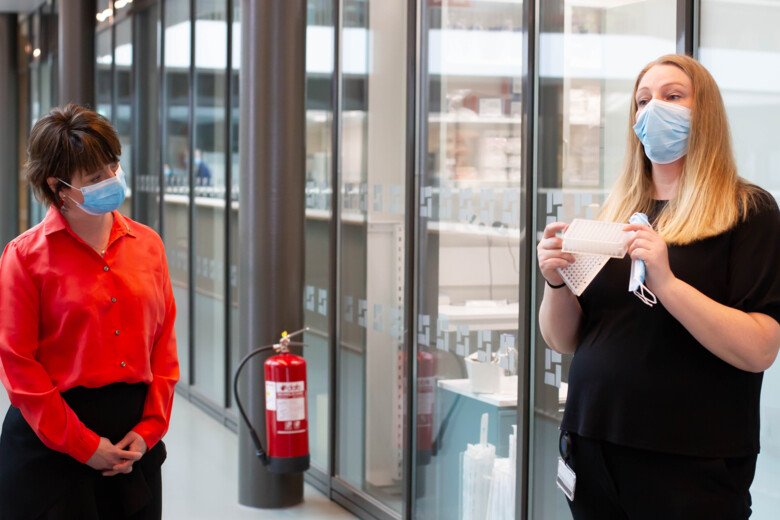 On 8 April, Matilda Ernkrans, Minister for Higher Education and Research, visited KI and SciLifeLab, which are coordinating a major COVID-19 diagnosis and research initiative. Under the direction of KI's president, the Minister observed, amongst other things, how a laboratory at KI is built up to increase its analysis capacity for the testing of hospital staff and patients.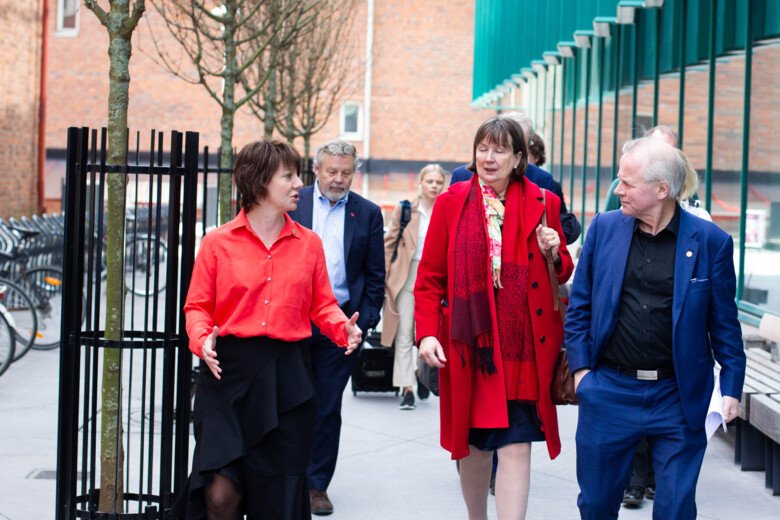 Matilda Ernkrans, Minister for Higher Education and Research, visits the Solna campus. Photo: Susanna Appel/SciLifeLab
Also on the visit were Peter Wallenberg Jr, chair of the Knut and Alice Wallenberg Foundation, which finances much of the initiative and which is also the single largest private financier of academic research in Sweden; Carl-Henrik Heldin, chair of SciLifeLab; KI president Ole Petter Ottersen; and Royal Institute of Technology (KTH) president Sigbritt Karlsson.

Following presentations by Hans-Gustaf Ljunggren from KI, Professor Peter Nilsson from KTH, and KI professors Lars Engstrand and Mathias Uhlén, of whom the latter is also a professor at KTH and founder of SciLifeLab, Matilda Ernkrans thanked everyone involved:
"My highest praises to all of you for the research you're doing and the funding and capacity you're providing in these most extraordinary of circumstances," she said. "These days one must not pay unnecessary visits, but this one was a visit I wanted to make. We've long known that Sweden is at an advantage when it comes to the collaboration of different sectors of society owing to the proximity of the political and business sectors. We're good at medicine and health, now let's prove it!"
Coordination of initiatives
In coordinating the initiatives from the Knut and Alice Wallenberg Foundation, SciLifeLab is taking a general, overarching approach to research, encompassing everything from diagnostics and treatment development to the mapping of the virus's genetic material and the creation of biobanks. Last week, SciLifeLab issued a national call for COVID-19 projects. Over and above the projects thus supported, SciLifeLab is also engaged in two high-profile initiatives in COVID-19 testing, made possible by previous grants from the Knut and Alice Wallenberg Foundation.

These two initiatives involve taking samples from infected and hospitalised patients in order to study the disease progress under the direction of Hans-Gustaf Ljunggren (KI); and increasing testing capacity to find carriers of the coronavirus SARS-CoV-2, under the direction of Lars Engstrand (KI), whose laboratory at the Centre for Translational Microbiome Research (CTMR) Matilda Ernkrans and her delegation visited on 8 April.