Published: 09-12-2022 11:51 | Updated: 09-12-2022 11:53
Bahaa is enjoying the Public Health in Disasters programme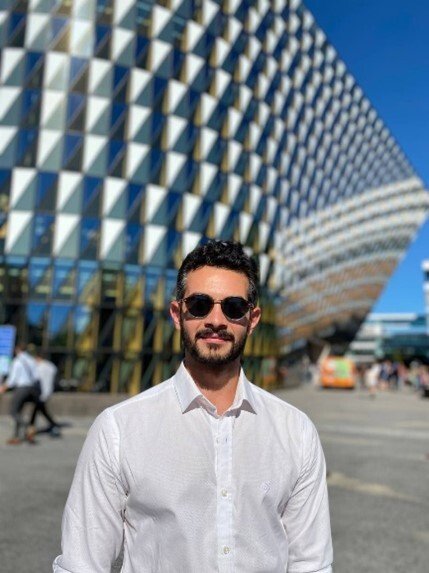 The autumn semester of 2022 saw a new cohort of students arriving at KI to study the part of the Erasmus Mundus Master's programme Public Health in Disasters, which is conducted by the Centre for Research on Health Care in Disasters. One of the students who came to Stockholm is Bahaa, who is really enjoying his time at KI and in Stockholm.
Who are you?
My name is Bahaa and I am from Damascus in Syria.
I used to work as a dental surgeon in Syria, but when the Syrian War started, I got involved with many international organisations working to provide humanitarian aid and assistance to the Syrian people. This led me to work as a field dentist in refugee camps in Lebanon and Greece where I learned more about public health in disasters and crises.
Why did you apply for this course?
The experience of working as a field dentist in refugee camps opened my eyes to the field of professional humanitarian aid, and I began to look for ways to learn more about this as a science academically in order to be professional in this field. That is how I found about the Master's degree in Public Health in Disasters offered by Erasmus Mundus. It is a joint Master's degree, which means that you have the opportunity to study in 2-3 different European universities and live in many cities. I started my Erasmus journey in Spain and was lucky enough to get into Karolinska Institutet and study at one of the best universities in the field of public health in the world.
What is it like to be in Stockholm and at KI?
In Stockholm you will live in an international city, where you will meet people from all around the world, and the good thing that there is no language barrier here! Everyone speaks English fluently, so you will be able to interact with locals easily. Moreover, Stockholm is the Nobel city. Here you will witness the announcement of the Nobel prize winners every year, and see the lights during the Nobel week, and if you were lucky enough, meeting the Nobel winners! Finally, I am sure people who come here will fall in love with the concept of 'fika' the way I did. The simple concept of gathering with your friends and have a coffee with cinnamon buns will be part of your experience in Sweden, so trust me, do not miss any of those events if you come here.
Beside the fun and cultural experience, at Karolinska Institutet you will be prepared theoretically, practically, and mentally for the future which in our case will include working with humanitarian organisations in very complex context. Personally, the knowledge I gained from KI will help me in my future career because I am planning to start working with international organisations in the field of international humanitarian aid and provide medical assistance in countries where disasters or conflicts occurs.