Published: 20-10-2022 10:27 | Updated: 20-10-2022 11:01
WHO Europe's director visits KI and the Centre for Health Crises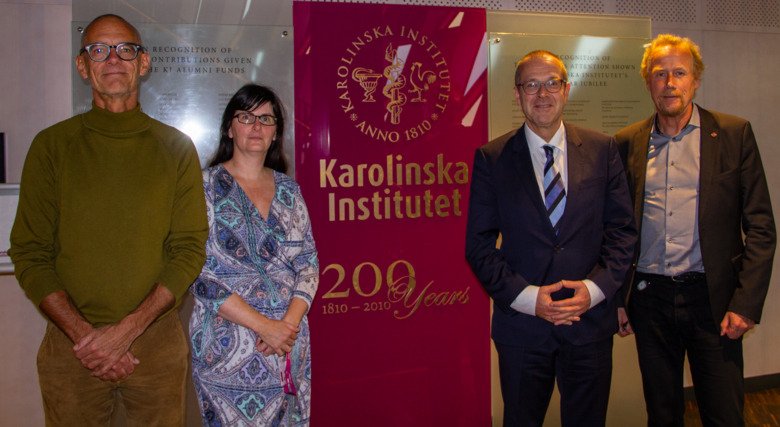 During a visit to Sweden this week, WHO Europe's director Dr Hans Kluge had time for a brief, but cordial, visit to KI. Dr Kluge met with Vice President Anders Gustafsson and the director of the Centre for Health Crises, Professor Johan von Schreeb, along with the centre's strategic process leader Dr Anna Zorzet. The quartet talked about matters of common interest and about initiatives related to health crises in particular.
Dr Kluge has served as Regional Director for Europe at the WHO since February 2020. Although it was not his first visit to KI, Monday's visit was the first in his role as WHO Regional Director. Dr Kluge has more than twenty-five years of experience in medical practice and public health, having worked in several places around the world, and joined the WHO originally in 1999. Additionally, Dr Kluge has worked on several assignments for Médecins Sans Frontières (MSF), an experience that he shares with Professor von Schreeb. The two also met in April 2022, when Dr Kluge visited Ukraine and Prof. von Schreeb worked there coordinating and supporting WHO's Emergency Medical Teams.
The visit to KI was a brisk stop on a trip to Sweden that was taking Dr Kluge up to the north of the country, namely to Storuman and Lycksele where he is launching a ground-breaking new primary healthcare demonstration platform, with a visiting delegation from Georgia. The purpose of the demonstration platform is to share Sweden's experience of health care delivery adaptation to challenging demographic and geographical contexts and will show how access to health care is ensured in rural, remote, and isolated settings.
Dr Kluge was also visiting the European Centre for Disease Control and Prevention (ECDC) in Stockholm, as well as the new incoming Minister of Health.
Presentations of KI and the Centre for Health Crises
Once comfortably seated at the top floor of Aula Medica, with its magnificent view over northern Stockholm and the area that now host so many venues with connections to KI and to the medical and health care field in general, Vice President Gustafsson welcomed Dr Kluge to KI and gave an overview of KI's operations; our research and education, as well as our collaborations with a large number of external partners, including SciLifeLab and Region Stockholm.
Prof. von Schreeb and Dr Zorzet then continued with an introduction to the Centre for Health Crises and its work building the next generation of health crises experts and taking concrete steps to bringing the skills and expertise of KI to where it is needed the most, when it is needed the most. A central role will be to provide secondment of experts in crises situations to, among others, WHO. Prof von Schreeb's deployment to support WHO in Ukraine is a good illustration of how the centre wants to mix field work with scientific research and teaching.
KI-WHO, collaborations in many forms  
The conversation flowed easily and touched upon several topics, ranging from precision medicine to oral health, sexual and reproductive rights, and access to medicines. The shared intent to address contemporary health challenges forms the basis of the collaboration between KI and WHO. This can be seen across topics, and not just in meetings such as this, but also in the day-to-day work, not least through the four WHO collaborative centres that exist at KI, as well as the many research collaborations and other sharedactivities.
Even though Monday's meeting was but a brief stop, hopefully there might be opportunities to pick up the conversation in the not-too-distant future. Dr Kluge has been invited back to KI in February next year, to attend the seminar Convergence on Global Health – Towards implementation of the new EU global health strategy, during Sweden's EU presidency. In any case, the constructive collaboration between KI and the WHO will continue, grounded in the shared commitment to a better health for all.