Published: 10-10-2017 16:10 | Updated: 29-12-2022 15:35
The first projects to start at the new research center MedTechLabs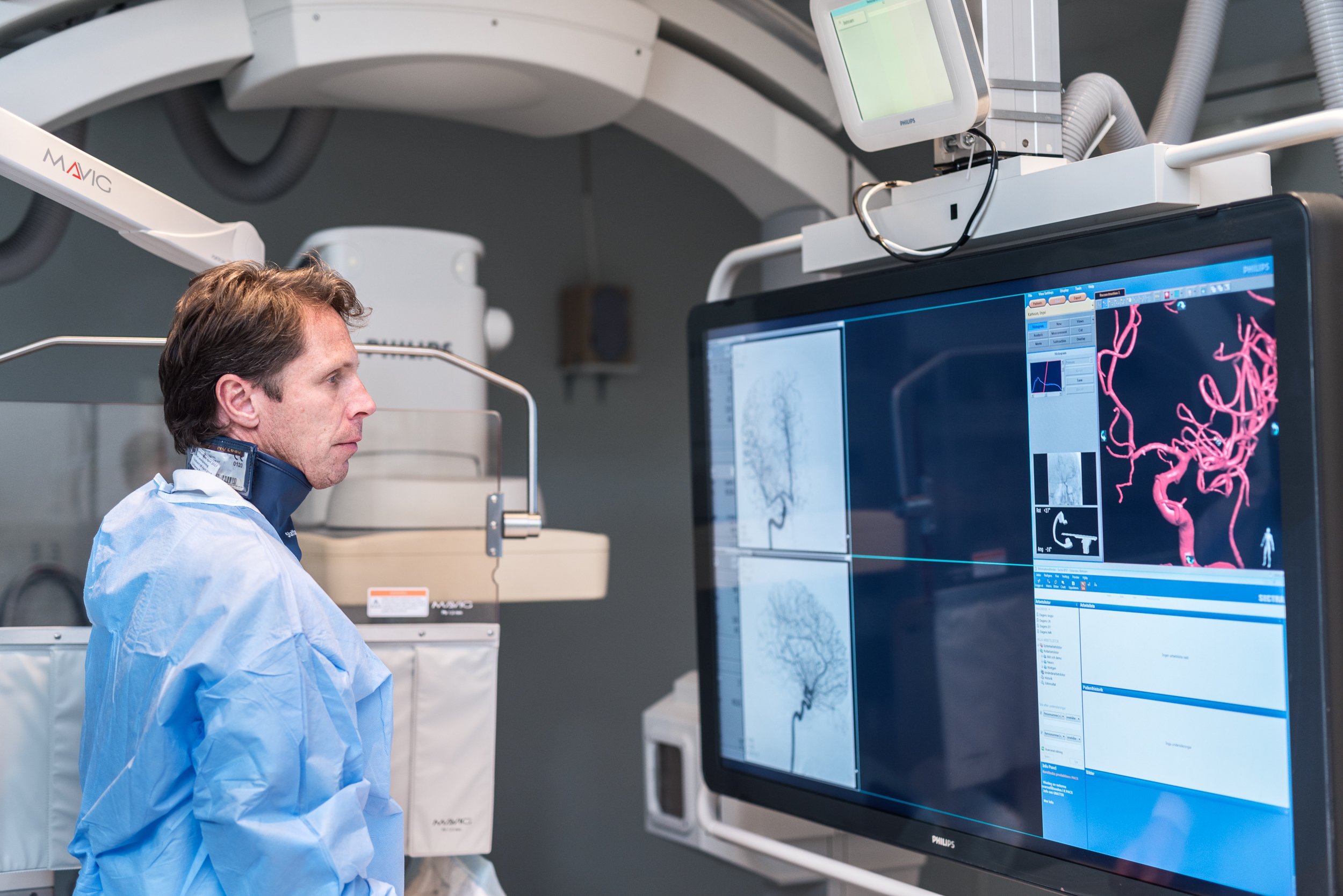 MedTechLabs is now open – the research centre formed by a close collaboration between Karolinska Institutet (KI), the Royal Institute of Technology (KTH) and Stockholm County Council (SLL). The objective of the centre's first project is to develop technology to improve diagnosis and treatment of patients who have, for example, suffered a stroke.
MedTechLabs shall work with advanced research into medical technology. The centre will be located in the BioClinicum in Karolinska University Hospital. Researchers from KI and KTH will work there together to develop technology and methods that can be implemented into health care.
A pilot project has already been implemented, led by Staffan Holmin, Professor at the Department of Clinical Neuroscience at KI and Consultants and R&D Managers at R&D neuroradiology at Karolinska University Hospital, together with Mats Danielsson, Professor at the Clinic for Physics of Medical Imaging at KTH. The two Professors are together with Jan Andersson, Director of Research and Innovation at SLL, the instigators for the new research centre.
The aim of the pilot project is to develop technology that can be utilised for diagnoses and treatment of cardiovascular diseases including strokes and cancer. Spectral CT is an advanced X-ray method with high resolution and a completely new functionality that improves the security of diagnosis and treatment. Endovascular technology is utilised to navigate around the body's vessels, using X-ray images, to extract blood clots, for example. The technology also allows samples to be taken or medicines to be injected or deposited locally in organs that are difficult to access.
"Medical technology has a major impact on the outcome for patients. Many lives have been saved by technology," confirms Staffan Holmin.
Where advanced technology and the needs of patients meet
MedTechLabs shall focus on the needs of the major groups of patients, but the main starting point for the centre is technical innovations, according to Staffan Holmin.
"We have to find a match between advanced technology and the needs of health care."
Staffan Holmin has collaborated with KTH for several years.
"Engineers have an entirely different way of thinking and can solve problems I did not believe were possible, and in an organised fashion. On the whole, it is very positive to form teams of persons who have varying expertise."
In total, the pilot project will employ around 12 persons. Prominent researchers making their mark will be recruited from Sweden and abroad.
MedTechLabs also aims to educate health and medical care personnel, so that they can subsequently make use of the methods in healthcare.
Proximity to health care is essential
It was very important that the centre could be located nearby the hospital, according to Staffan Holmin.
"We wanted a test lab for new medical technology in an environment where patients were fully safe and where we have access to a full range of medical personnel, from anaesthetists to intensive care personnel," he says.
From SLL's perspective, the investment in MedTechLabs is largely the result of a need to in a safe manner test medical technology innovations.
"For many decades, we have had a polished processes for evaluating the safety of pharmaceuticals and vaccines. Now, as the first facility in Europe, we are able to evaluate similarly how safe medical technology is, in so-called phase one trials, before continuing on evaluating its medical effect. In addition, we get better documentation of the entire development process," says Jan Andersson.
Anders Gustafsson, Dean of Research at KI, tells us that the main reason why KI is taking part in MedTechLabs is the rapid development within medical technology.
"Medical technology is of increasing importance, and KI does not have a proper organisation for this field. We can also benefit from increasing our collaboration with KTH, and naturally we are very happy to have the financial support of the County Council. Both health care and research are increasingly technological, so this is obviously a win-win situation," confirms Anders Gustafsson.
What are KI's long-term goals for MedTechLabs?
"We hope this collaboration will increase survival rate and quality of life for patients. It will also generate new and interesting research. Prominent clinical research centres around the world, such as John Hopkins and Mayo, have a similar working method and produce quality research that is rapidly implemented to benefit patients."
Additional projects to be launched
Scheduled opening of premises in BioClinicum is 2018-2019. Until then, the pilot projects will be run from premises at KTH and Karolinska University Hospital.
KTH will be the principal for MedTechLabs. The centre has a steering group with four committee members from the County Council, and two members each from KI and KTH.
Activities are financed by all three parties.
Symposiums and seminars will also be held at MedTechLabs.
Further projects will be implemented during the first four years. After four years, activities will be subject to evaluation.
Text: Ann Patmalnieks
Foto: Erik Flyg
Links