Published: 14-05-2019 11:14 | Updated: 26-05-2019 15:50
Spring's conferment ceremony something of a record-breaker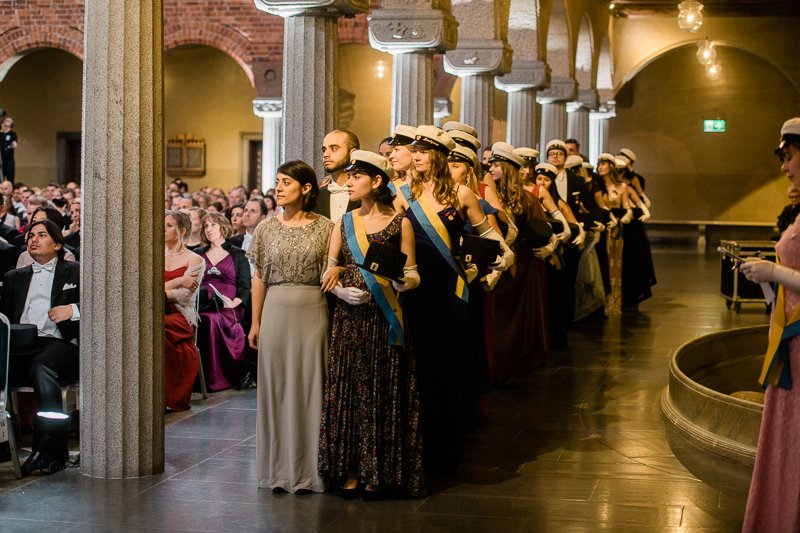 This spring's conferment ceremony at Karolinska Institutet was something of a record-breaker. As many as 157 new doctors of medical science received their hat and diploma in Stockholm City Hall before being given a cannon salute in celebration of their having earned the highest academic degree.
The honorary doctors were welcomed first onto the podium in the Blue Hall to receive their insignia – hat, diploma and ring: Paolo Chiesi for having supported Karolinska Institutet's research on Curosurf, the substance that treats preterm babies with respiratory distress syndrome, since 1987; Douglas Easton for having devoted the past thirty years to identifying genetic causes of breast cancer; and Sophie Ekman, the school doctor who has been a driver of public health campaigns in school health services, including the anti-drug campaign Just Say No.
When it was time for the student marshals to usher in the promovendi, the new doctors of medical science, to have their hats placed ceremoniously and deservedly on their heads by academic vice president of doctoral education Robert Harris, it was with pride that they passed in a steady stream in front of family, friends, supervisors and guests of honour.
Robert Harris opened his speech by turning to the promovendi to pay tribute to their four to five years of doctoral studies, crowned with a thesis and its public defence: 
"I salute you all," he said, adding that this was their last step in one adventure and their first step in the next.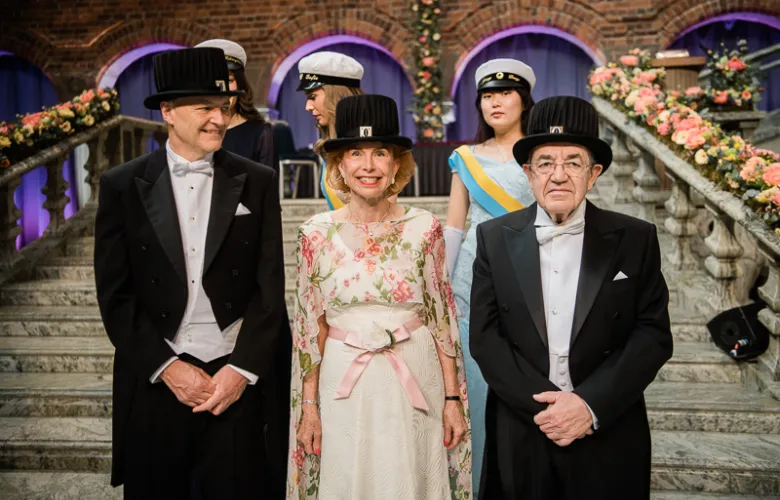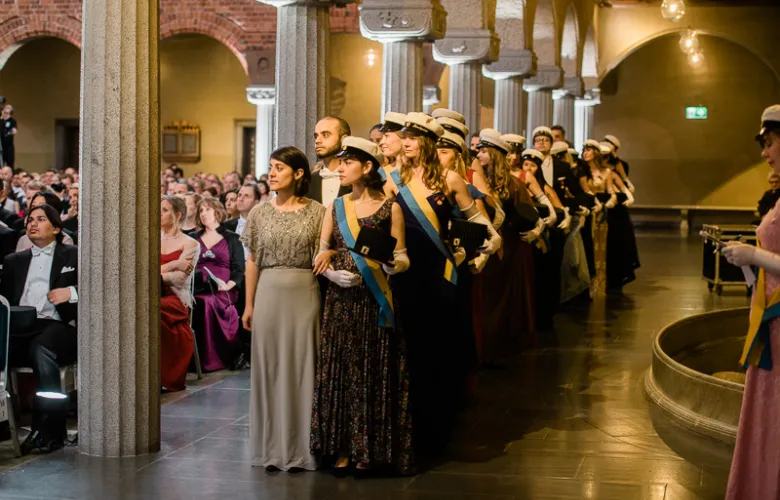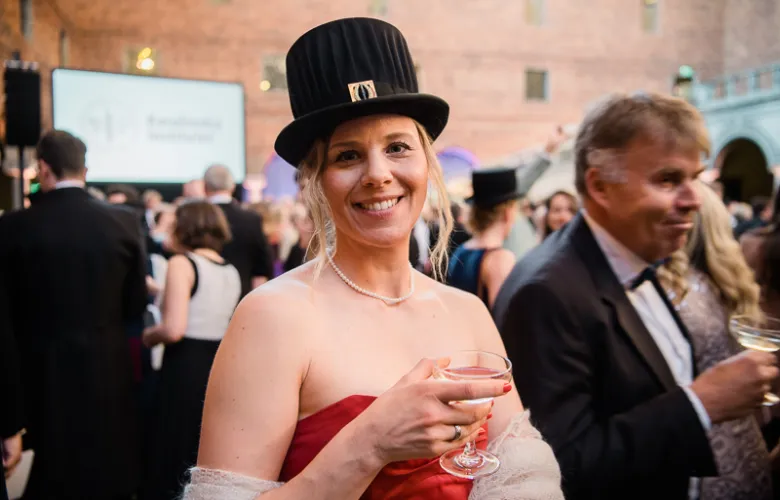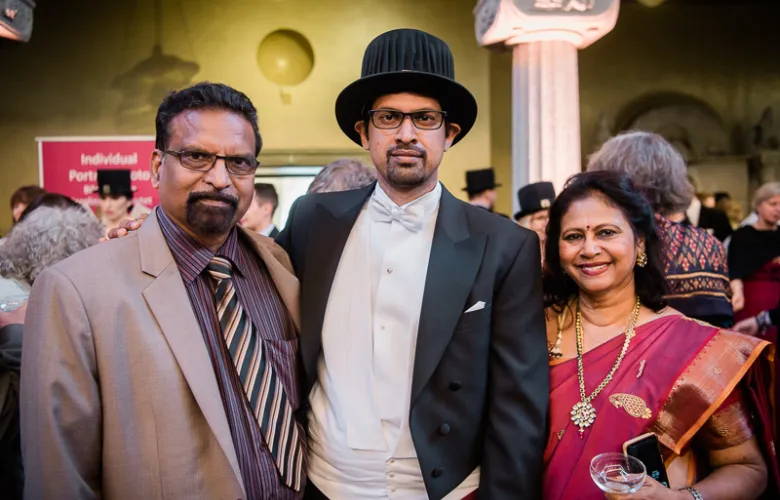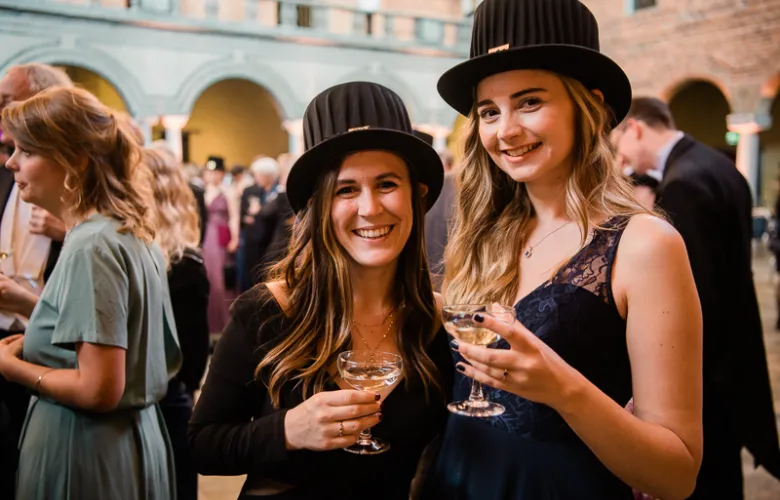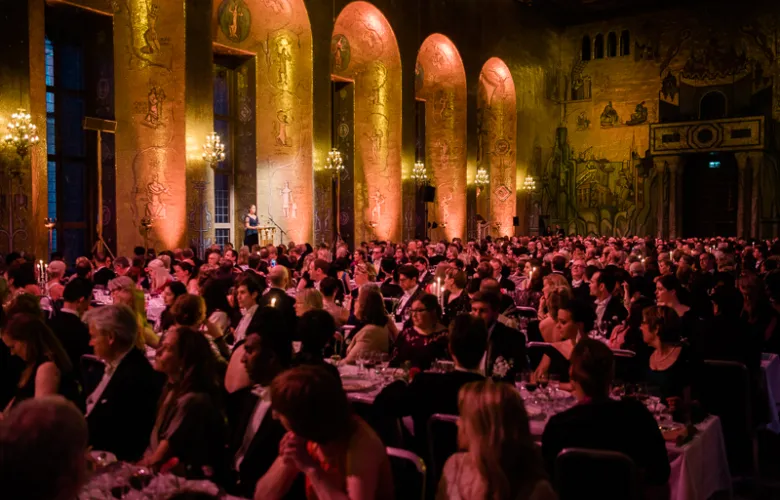 "I feel so proud," said Doctor of Medical Science Kristina Lundwall straight after the ceremony; she has already taken her first step and is now engaged in clinical work while also applying for research grants.
Parvin Kumar
Parvin Kumar, Doctor of Medical Science, with family. Photo: Erik Cronberg
Parvin Kumar was surrounded by his family and was moved and surprised by the ceremony in the city hall:
"I didn't expect to be part of such a good tradition, I didn't expect the artillery and the good music," he said.
Adolf Fredrik's girls' choir under choirmaster Fredrik Winberg, and Oskar Nilsson and the Hebbe sibling trio Emelie, Josefine and Maria provided the music, with everything from a Norwegian bridal march and the Värmland song to numbers from the musical Jekyll & Hyde, a soul medley and Justin Timberlake's megahit "Can't stop this feeling". 
Elizabeth Thompson Linnea Haeggblom
Elizabeth Thompson and Linnea Haeggblom, Doctor of Medical Science. Photo: Erik Cronberg
Doctors of Medical Science Elizabeth Thompson and Linnea Haeggblom said that for them, the evening marked the end of a chapter, an occasion that they got to celebrate with their friends. 
This was something that Dr Marie Højriis Storkholm brought up in her speech during the evening's banquet in the Golden Hall when addressing all the new doctors:
"Five years ago I travelled to KI with a question… Did I find answers… well… I found friends. Don't walk alone. Walk together."