Published: 12-04-2022 10:04 | Updated: 20-04-2022 10:33
Interview with medical students from Uganda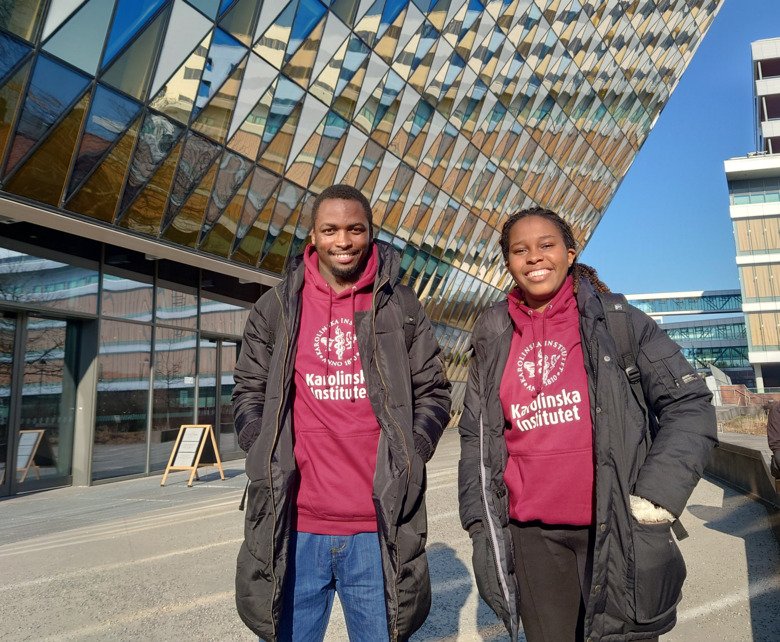 Allan Bakesiga and Linda Atulinda are medical students at Makerere University in Uganda. They are currently doing an exchange at Karolinska Institutet through a collaboration between the two universities. It is one of the most comprehensive international collaborations at KI which has enabled students, researchers, and professors to do exchanges both ways for many years.
Linda and Alan arrived in Sweden in February and will stay until the end of April. They are both in their final semester in medicine specializing in surgery and came here to get international experience.
"It is my first time outside of Uganda and Africa, so it is completely different in all aspects. Especially coming in the middle of winter and experiencing the pain when your hands are freezing. But thankfully many arrangements were already set which made it easy to settle in", says Allan.
Linda agrees and adds that she enjoys the clean and fresh air Stockholm has. She explains that Kampala, Uganda's capital city, is busier and dustier.
Different systems let each country thrive in its own way
The structures in both healthcare and studies differ in Sweden and Uganda. Linda and Allan explained that the demand for specialists in Uganda is high but the resources to be able to practice as a specialist are limited. For patients living outside of Kampala, it can be difficult and expensive to travel to receive the specific medical care needed.
"If you work outside of Kampala you need to be able to do everything as a doctor. Whilst in Sweden there is more focus on specialization and there are more doctors who are specialists. It is a system that works here but in Uganda, a doctor needs to be more all-round", says Linda.
Linda and Allan enjoy the study system in Sweden. They say that the study environment is more flexible and tolerant.
"Back home many students feel stressed, but I find KI to be very student-friendly and allow for breaks during classes. Which is something I have realized is important here in Sweden: the need to take breaks", says Linda.
In Uganda, there are more patients than doctors. Therefore, students get to work on patients more than in Sweden.
"If a patient comes to a student hospital, they can't choose if they want to have a student or not. The fact that there are so many patients in Uganda means that you as a student will definitely have the chance to work on a patient", says Allan.
"It is because the two countries have different systems which let each country thrive in its own way", Linda adds.
Hopes for the future
After graduation, Linda and Allan want to work in Uganda. Linda would like to make a career out of her extracurricular activity where she is working with different organizations to coordinate service and information within healthcare to make sure it meets the patients' needs. Alan is thinking of continuing within the academic field and going into research.  
We also asked what advice they would give prospective students.   
"Keep open-minded, and don't decide on your specialisation too fast. Try more things and be open-minded", says Allan.
"Enjoy the student life as much as possible. It is important to experience things outside of school too. You will learn communication and leadership through extracurricular activities", says Linda.
When we asked them what advice they would give international students coming to Sweden they said:
"Remember to be on time, time is important in Sweden. Not even the bus waits for you even though you come running for it at the last second", Linda says.
Allan agrees and adds:
"In Uganda, not even the organizer is there on time".
About the KI - MAK collaboration:
Makerere University in Kampala is Karolinska Institutet's main partner in Uganda.
Since the early 2000s Karolinska Institutet and Makerere University have had a strong collaboration. The collaboration includes teacher and student exchanges in both directions, within the study programmes in Medicine, Nursing, Occupational Therapy, Physiotherapy, Midwifery, and Public Health.
In May 2022, a delegation from KI will be going to Makerere University for a visit.