Published: 24-05-2023 09:40 | Updated: 01-06-2023 09:55
How KI students want to get young people moving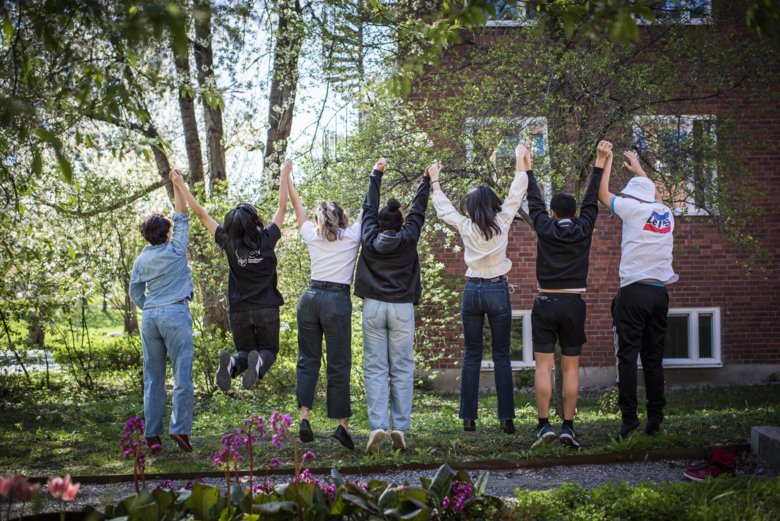 Movement and physical activity were in focus when the KI Impact Challenge event was arranged for the first time after the pandemic. About 45 students from Karolinska Institutet were tasked to come up with what is needed to make young people become more physically active. To help them, they had 30 high school students and the various steps in design thinking, a systematic problem-solving method.
By Anna Grettve
It was an ambitious programme that the students encountered over a two-day period. The event began with lectures by researchers in sports physiology and public health, and representatives of non-profit organisations, about young people's movement habits and why physical activity is so important.
Student Zara Taha, who is studying for a master's degree in global health, was enthusiastic.
"It was curiosity that brought me here today," Zara Taha said. "I think it is important to have measures that can improve the physical and mental health of children."
From blank paper to a finished proposal
On the second day, the students begin to try to solve the problem: How to increase physical activity among young people? For five hours, they are asked to follow the five steps in the design thinking process: understanding the users, defining the problem, coming up with ideas, prototyping and finally testing it.
"It's important to understand what context your product or service should operate in," says Andreas Lundquist from KI Innovations, one of the organisers. "By working with design thinking, you are reducing the risk involved in a project. It is resource-efficient to go out and talk to people, compared to product development and clinical studies."
The KI students, who are divided into seven groups, start by interviewing the approximately 30 high school students from Akalla and Åsö compulsory school, with the goal of understanding their situation better.
On the clock
Then the student groups spread out with flipcharts and Post-it notes.
Out on the terrace, Yan Peng Zhao, who studies bioentrepreneurship, takes out a watch.
"Okay, you have fifteen minutes to write down your ideas. Everything is allowed, abstract, concrete. It can be a product, a service or something completely different," he says.
The students laugh and emit a groan. Some write feverishly, others become blocked. The various proposals make people laugh.
"Discard, no way," laughs Angelo Mezzoiuso when his proposal to expand public transport to get more young people to use the bus is read out loud.
Mixed messages
On a sofa in front of a table with post-it notes, a group of students think they have received contradictory answers from the high school students.
"There were some major differences between the boys and the girls," says Bikram Bucha, who studies public health science and epidemiology. "The girls thought the boys were too competitive in sports. At the same time, the girls also said that they like to compete."
Perhaps, the students reason, the solution is that the competitive elements must be organised in different ways to suit everyone.
An app to create motivation
Down in the basement, a group of students are finished with the development of an idea. A social media app for children with a focus on physical activity.
Later in the day, the seven student groups will test their ideas on the high school students. After refining them, they will each present a finished proposal to a jury. Thereafter, a winner will be selected.
While the students continue to work in their groups to present their proposals convincingly, Lauriane Baillet, assistant principal at Akalla Elementary School, waves goodbye to her high school students outside on the stairs.
"Many of our students come from homes without a tradition of studying," she says. "This is a way for them to see that there are people similar to themselves who attend these courses. Being able to spend a day on campus can inspire further studies."
About KI Impact Challenge
KI Impact Challenge is arranged once a year (previously under the name Innovation Day). For two days, students who have signed up to apply the design thinking method try to solve a challenge.
A winner is chosen by a jury which this year consisted of representatives from Karolinska Institutet, KI Innovations, the Norwegian School of Sport Sciences, the education administration in the City of Stockholm and HEInnovaSport.
The event was organised by the Bioentrepreneurship Unit at LIME at KI and by KI Innovations. It is arranged as part of, and co-funded through, the project HEInnovaSport (an EIT HEI Initiative) and sponsored by A Working Lab.
About the design thinking method
Design thinking is a systematic method for solving problems and developing new products and services with a focus on users. The method is applied in five steps: understand the users, define the problem, develop ideas, make a prototype and test it.