Published: 27-08-2019 15:22 | Updated: 29-08-2019 13:48
Doudna held Sjöstrand lecture and met researchers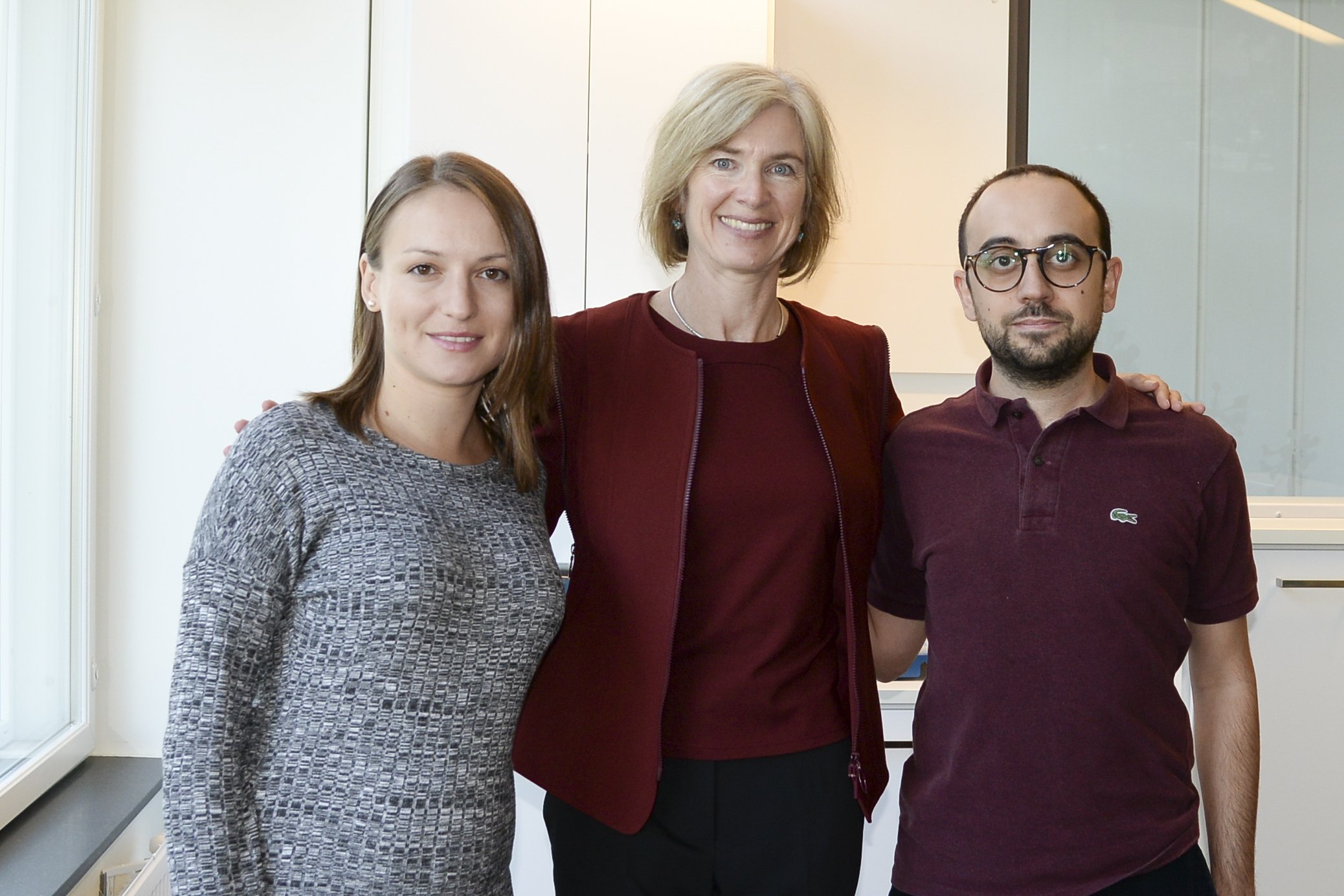 This year's Sjöstrand lecture was held by Professor Jennifer Doudna, best known for having developed the CRISPR/Cas-9 tool with professor Emanuelle Charpentier. Apart from the lecture itself, she was also involved in several activities during the day at which she met researchers and students from SciLifeLab and Karolinska Institutet.
"I've read about her work and never thought I'd get to present my own project to such an important pioneer," says KI researcher Mihaela Zabulica.
Professor Jennifer Doudna works at the University of California, Berkeley, where her research centres on the CRISPR system, RNA interference and mikroRNA. Her visit to Stockholm began with a presentation of research and career for a hundred or so junior researchers and students at KI and SciLifeLab. A small group of researchers were then invited to present their projects, and it was during this session that Mihaela Zabulica and her colleagues were able to receive some feedback from the US researcher.
"Her comment that you can't always take the easy road has really stayed with me," says Ms Zabulica.
"She opted herself to take up biochemistry when it wasn't such a hot subject, and to then research into RNA, which wasn't such a thing then. She also stressed that you have to dare to fail to achieve the really great discoveries." 
Mihaela Zabulica is a doctoral student at the Department of Laboratory Medicine researching into inherited liver diseases and their possible treatment with gene therapy.
"Jennifer Doudna also spoke a lot about collaborating and choosing a mentor with care," she continues. "Many of her examples were about how a less extroverted member of a research group has been the one to ask the vital question, and how important it is to have an accepting, open culture in which everyone can express their opinions."
Lorenzo Baronti is a doctoral student at the Department of Medical Biochemistry and Biophysics researching the same field as Professor Doudna.
"I was struck be her eye for detail in our presentations," he says. "Jennifer Doudna travels the world talking about her own discoveries, but she clearly has her finger on the pulse as regards the structural biology of proteins and RNA research.
"I found it very inspirational to hear her thoughts about pursuing an academic career and the need for perseverance and energy when doing basic research that doesn't always have an obvious application in, say, healthcare."
Jennifer Doudna exemplified this during the morning's lecture when saying that she could never have foreseen all the areas of application for CRISPR/Cas-9 when she started to develop an interest in RNA and mRNA mechanisms.
Later in the afternoon, Professor Doudna presented an overview of the current status of research into CRISPR and gene modification.
This was the second time that the Sjöstrand lecture has been arranged by SciLifeLab, Karolinska Institutet and the Journal of Structural Biology. It is held in memory of Fritiof Sjöstrand, a pioneer of electron microscopy at Karolinska Institutet in the 1950s.