Published: 14-09-2022 16:54 | Updated: 15-09-2022 13:25
Congratulations to 164 new PhDs at Karolinska Institutet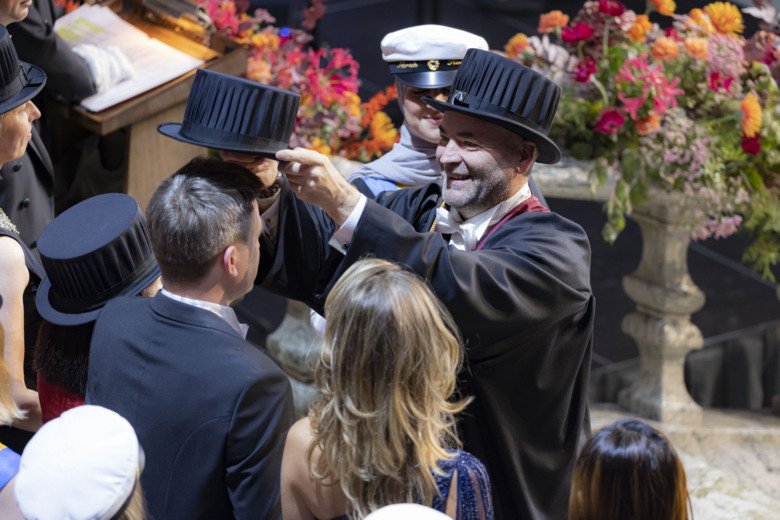 On 10 September, the second promotional ceremony of the year was held in Stockholm City Hall. 164 new doctors received their hats and diplomas as they were celebrated for achieving the highest academic degree, many of them after a long wait due to the pandemic. The number of doctors conferred at this weekend's ceremony was therefore at a record high.
President Ole Petter Ottersen during his speech to the new PhDs. Photo: Danish Saroee
It was in front of a packed-to-the-brim Blue Hall that the new doctors of medicine marched along the balustrade and down the marble stairs with Karolinska Institutet's president, vice-president and academic vice-presidents. In his ceremonial speech, president Ole Petter Ottersen mentioned, among other things, that Karolinska Institutet has had an important and prominent role in recent years, due to the pandemic and the ongoing war in Ukraine.
"When we applaud the efforts of the current generation of scientists, we should also applaud the contributions of those on whose shoulders we stand. The progress that we have witnessed over the past couple of years depends on decades of research in universities, here at home and abroad," Ole Petter Ottersen said in his speech.
The Academic Vice-President of Doctoral Education, Robert Harris, also gave a speech addressed to the new doctors. He drew a parallel to the Japanese phrase Enzan no metsuke.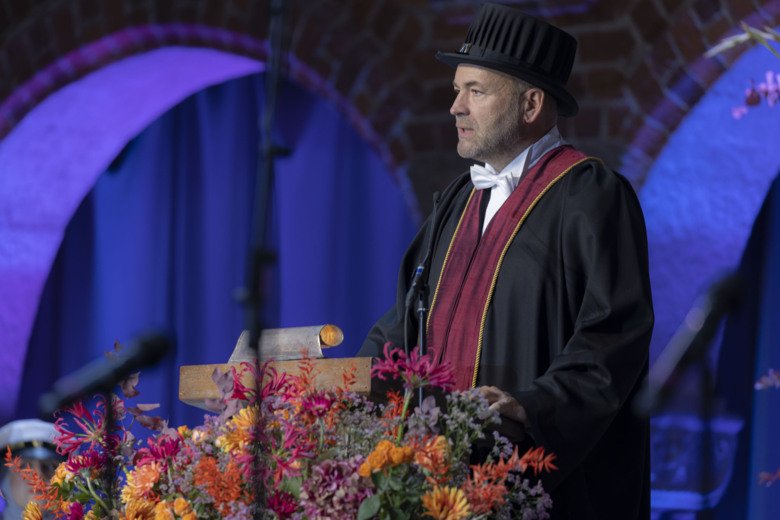 Robert Harris during his speech in front of the guests and new doctors. Photo: Danish Saroee
"It's a japanese phrase that roughly translates to looking at a far mountain. In looking at a distant mountain, on the horizon, it is important not only to focus on seeing the mountain itself, but at the same time to see all the trees, streams, flowers and animals that might be somewhere between you and that mountaintop – to focus on the whole view and not just the destination. The same principle can also be applied looking backwards in time. ," Bob Harris said.
At the conferment ceremony, the doctors received their graduation hat and degree diploma as symbols of doctoral dignity.
The musical performances during the evening were performed by Skallsjö Sommarorkester together with singers Katarina Henryson and Wilma Ogenblad and musicians Mattias Wennberg on the organ, Martin Thorell and Filip Draglund on trumpet, Svante Henryson on cello and Joel Henryson on bass.
Click on the image to see it in full page.