Published: 29-11-2022 10:21 | Updated: 30-11-2022 13:09
Become a student usher at KI - Philip and Ida now seek their successors
Conferment ceremonies, professorial installation ceremonies and degree ceremonies – the academic year is full of such formal occasions. Common to all of them are the student ushers, who help to keep the proceedings running smoothly. It is a prestigious role, say chief usher Philip Wallenius and vice-chief usher Ida Dahlgren, who will soon be graduating themselves.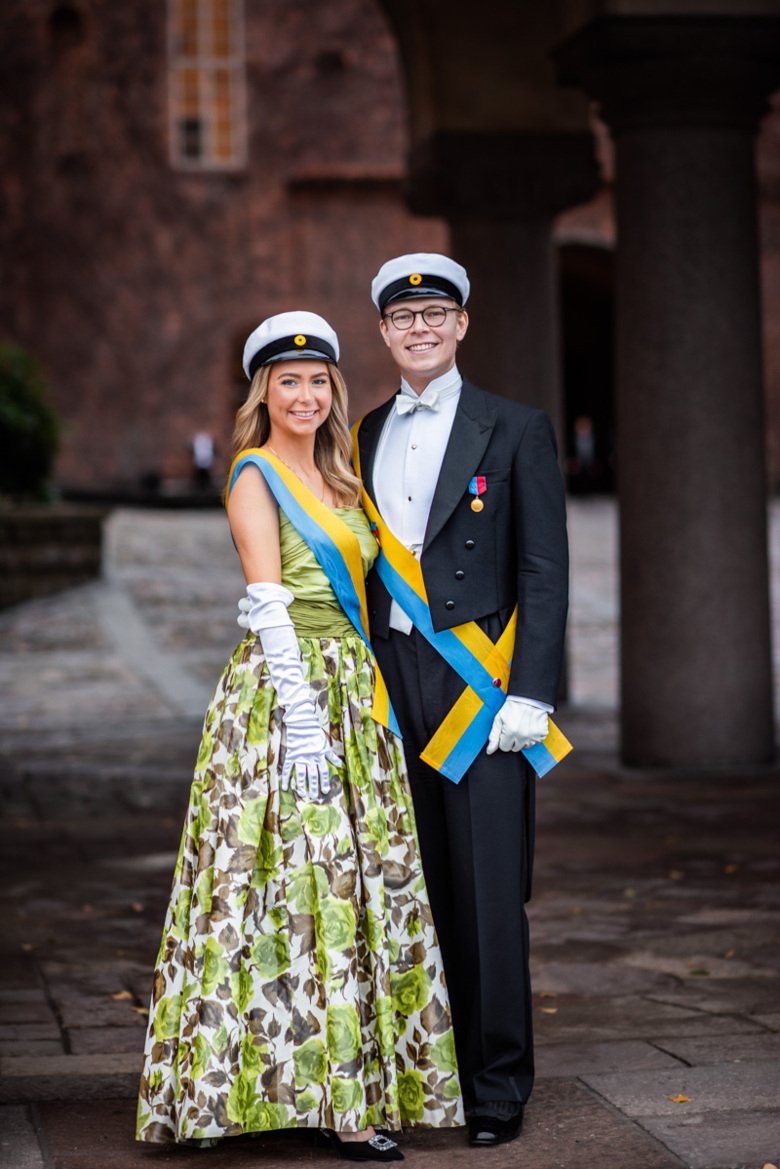 Ida Dahlgren and Philip Wallenius, at the conferment ceremony in November 2022 Photo: Linnea Bengtsson
The duties of a student usher depend on the ceremony in question, but basically they are there to help make sure that everything stays on schedule, to guide the participants and to create a pleasant all-round atmosphere.
Philip Wallenius, chief usher, is on term ten of the medical programme at KI and Ida Dahlgren, vice-chief usher is on term nine of the dentistry programme. They are one of three pairs of ushers liaising at KI's various ceremonies, along with many other student ushers who take on other assignments during the ceremonies.
Active in the students unions
Ida signed up to become a student usher when she was in her second term, and she has also held various positions in the student union. She was made vice-chief usher just over a year ago, and has since officiated at five ceremonies.
Philip, who was made chief usher at the same time, was also a student usher early on in his studies. Their joint responsibility is to recruit all other student ushers for each ceremony. They will be graduating next year, which makes the hunt for new ushers especially pressing.
An exercise in organisation and leadership
Being a student usher, particularly chief and vice-chief usher, is an exercise in both organisation and leadership and a role that is performed in what is a unique environment, they say, and recommend all students to give it a go.
During the latest conferment ceremony, it was Philip's job to present speakers and read out the names of the jubilee doctors and new PhDs in order. It can be something of a challenge to pronounce all 100 to 150 names correctly: "I'd say it's that that I devote most of my preparation time to," he says.
Ida's role during the conferment ceremony is to supervise all other ushers and make sure that the new PhDs enter the stage to receive their hat and diploma in the right order.
"The contact between the ushers, both before and during the ceremony, is one of the best things about being vice-chief usher," she says.
Ida describes it as a "family of usher students" who might never have met otherwise, and who get to meet outside the confines of their programmes and cohorts at KI.
Praise from the Crown Princess 
With their positions about to expire – there are still a few ceremonies to go - Ida Dahlgren and Philip Wallenius both have lots of great memories they can look back on.
"Like when the Crown Princess couple attended for Prince Daniel's honorary doctorate and the Crown Princess praised my dress;" says Ida. "This was particularly heart-warming because it was my grandmother's old dress. Or when we had a new doctor who ran off between dress rehearsal and ceremony to go to a wedding and retuned at the last second completely out of breath," she laughs.