Published: 24-03-2023 14:50 | Updated: 24-03-2023 15:38
"We-spirit" at the installation of KI's new president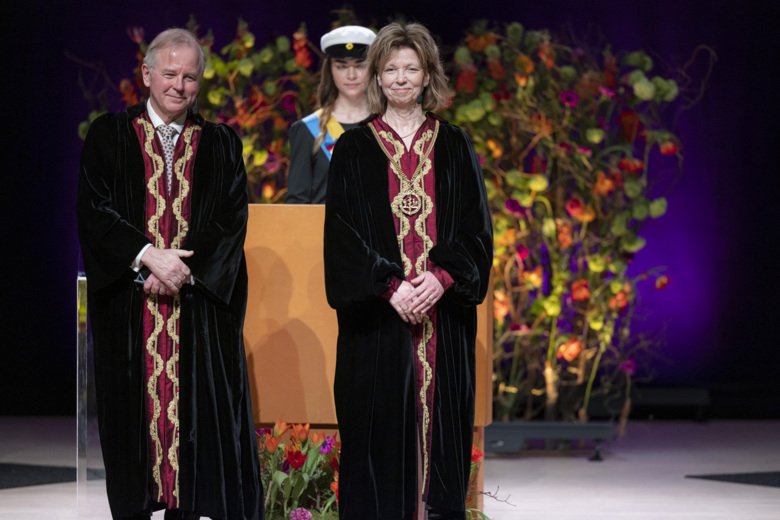 Training the medical professionals of the future. Facilitating groundbreaking research. And working towards a knowledge-based society enriched by academic freedom. It's a major undertaking that Annika Östman Wernerson shoulders as Karolinska Institutet's 24th president. But she won't be doing it alone – everyone at the university will have to do their bit.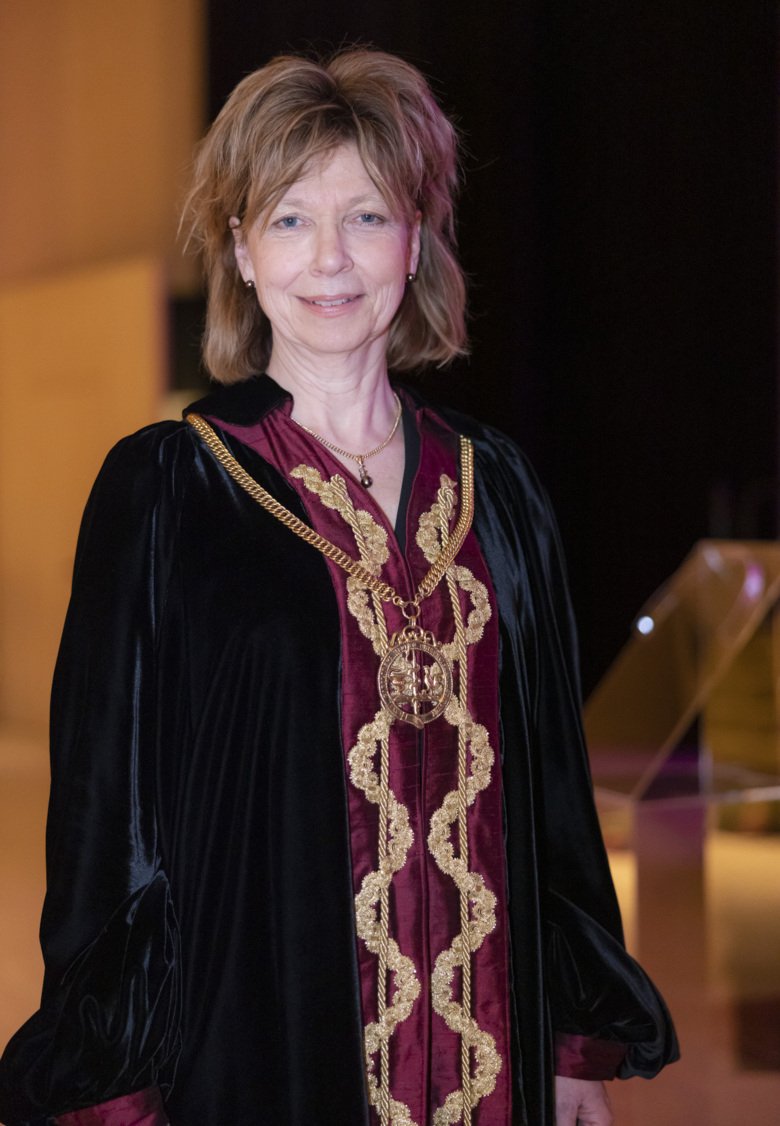 Annika Östman Wernerson with the president's chain. Photo: Danish Saroee
"To accomplish this mission, we must work together, all of us: researchers, teachers, students and staff," said Annika Östman Wernerson in her installation speech on March 23, 2023. "KI is us. Together, we are changing the world."
A much longed-for spring sun warmed the glittering façade of Aula Medica as over 700 guests gathered to take part in the traditional ceremony to mark the installation of KI's new president. Annika Östman Wernerson officially took over as president after Ole Petter Ottersen on March 1.
"It was the first day in almost 14 years that my diary was empty," said Professor Ottersen.
His time as president was one in which the university underwent a radical refocusing driven by the COVID-19 pandemic.
"The coronavirus did not come with an instruction manual. This we had to create ourselves, through our research and through our international networks," he said. "Annika, you are taking over a university that passed the test – that demonstrated, during the pandemic, just how important a university is to society."
Important then, important now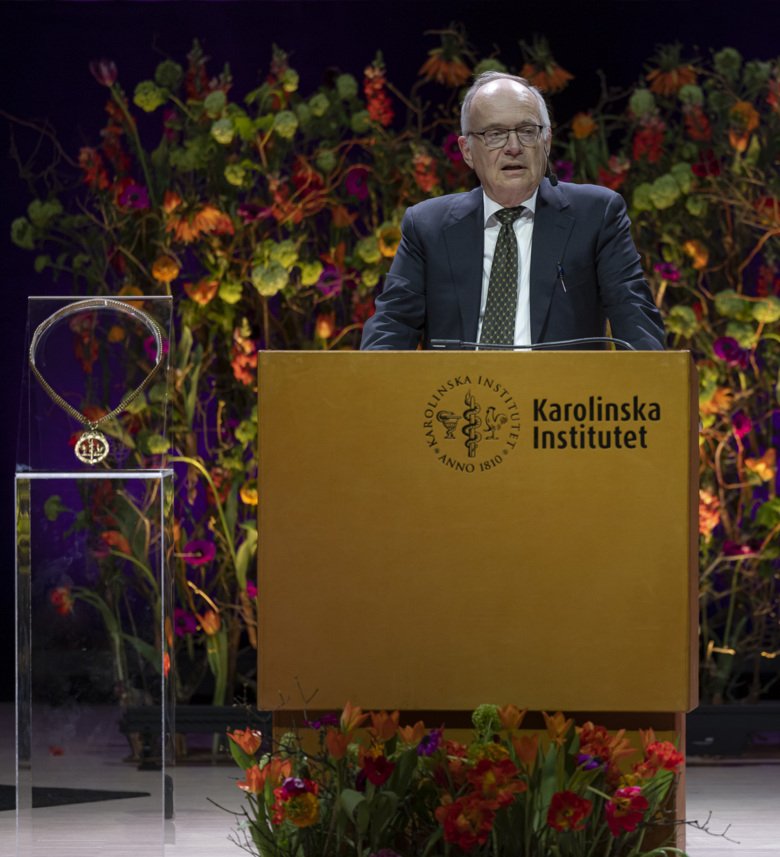 Göran Stiernstedt spoke at the ceremony. Photo: Danish Saroee
Historical parallels were drawn by KI Chairperson Göran Stiernstedt.
He noted that KI was founded 212 years ago to train skilled army surgeons needed to care for soldiers wounded in battle. Even if its mission has expanded since then, the need to supply the country – now the world – with qualified medical professionals and evidence-based knowledge remains, be it for pandemic, war, natural disaster or climate change.
"In many ways your background is ideal," Göran Stiernstedt told the new president. "You are familiar with KI, its history and its present. You also know that it is not easy to lead a university like KI, where it might feel as if the number of wills is even greater than the number of staff and students," he added, eliciting general nods of approval and chuckles of acknowledgement from the audience.
As president, Professor Östman Wernerson is in charge of over 5,000-plus employees and 6,500 students. She began her KI journey as a student almost 40 years ago, before becoming a teacher, researcher and professor of kidney and transplant science at KI and consultant at Karolinska University Hospital. She has also been a dean and the academic vice president for Higher Education.
But an academic career was never a given. She grew up in a family without an academic background and it took some time before she dared to become a doctor.
Wants to inspire new generations
"I hope that my story can inspire new generations contemplating a career in healthcare or in medical research," she said.
Two of the students in the hall were Lovisa Hagenfeldt and Petra Waters, the respective chairs of the Medical Students' Association and the Student Union of Odontology.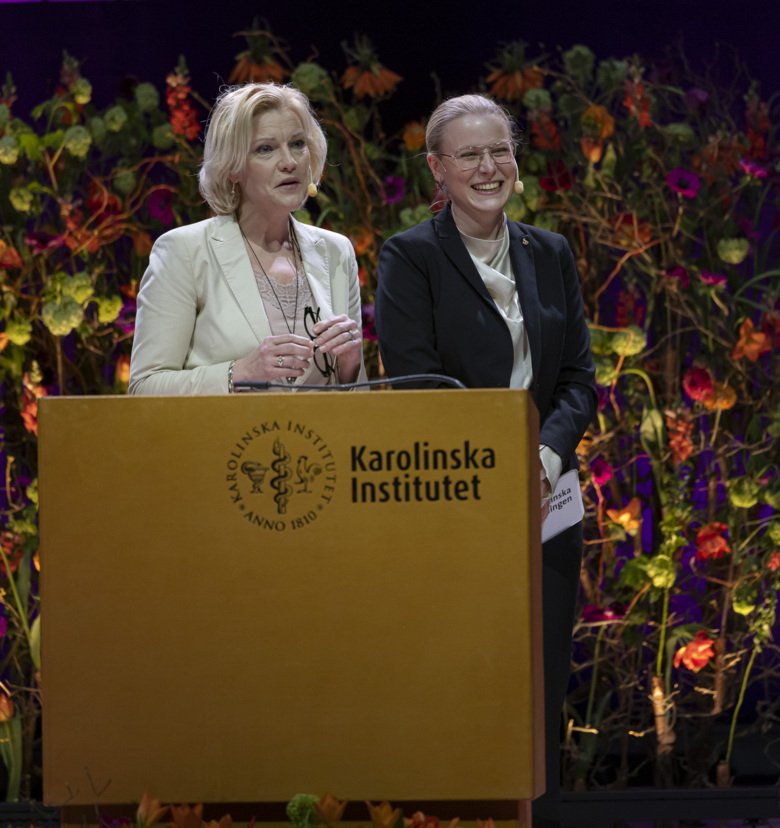 Petra Waters and Lovisa Hagenfeldt, chairs of the student unions, had some ideas for the new management. Photo: Danish Saroee
"I have a great deal of trust in Annika's leadership," said Hagenfeldt. "She has always been ready to listen to the views and opinions of the students."
This said, both wanted to see greater engagement in student issues coming from the management. Such initiatives could be enabling students from different study programmes to meet and collaborate, or investing more money on the initiative of the student unions.
"More activities need to find space in Flemingsberg," said Waters, and welcomed both Östman Wernerson and KI's new vice-president, Martin Bergö, to the student pub in Flempan on Fridays.
Dialogue meetings underway
Dialogue meetings are something that the new management wants to see and is planning for both campuses.
"I want us to be more open with each other, I want us to tie research and education closer to each other, and I want us to show respect for each other's competence," said Östman Wernerson.
Among the entertainment provided was a comedic film made by the students that had a serious subtext highlighting the sometimes tough financial and housing conditions that students face. The ceremony also included the handing over of the presidential chain of office, a string quartet and a choir, followed by a social gathering.
Photos from the ceremony