Published: 03-09-2020 12:05 | Updated: 03-09-2020 12:10
They are awarded the 2020 ERC StG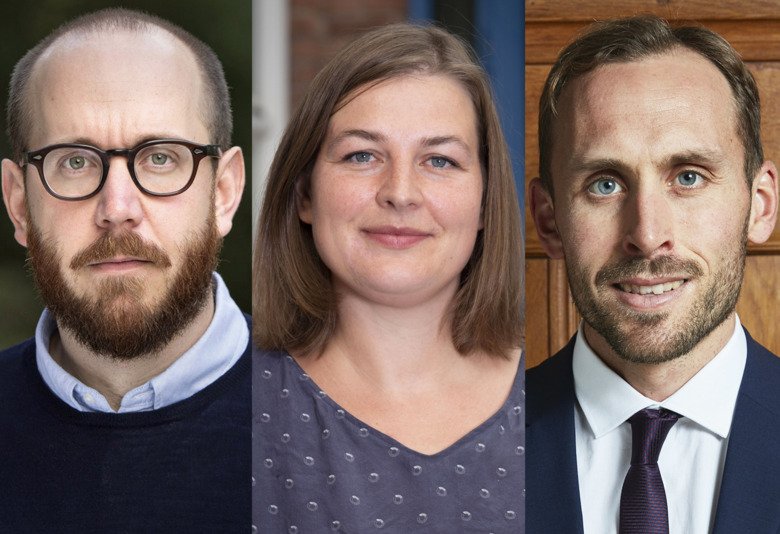 Three researchers at Karolinska Institutet have been awarded the 2020 ERC Starting Grant: Niklas Björkström, Janina Seubert and Nils Landegren. Their projects concern resident organ-specific immune cells, the cognitive mechanisms behind our preference of certain foods, and sex-differences in the human immune system and the risk of autoimmune disease. In all, the European Research Council will support 436 early-career researchers with this prestigious grant.
The European Research Council Starting Grant (ERC StG) aims at supporting up-and-coming research leaders, who are building their research teams and are on their way to establish their own line of research. The researchers included in the programme are awarded up to EUR 1.5 million over a five-year period. In total, the ERC in this year's call will invest EUR 677 million in young research leaders around the world. About 13% of the applications were approved.
Here are the awarded projects at KI:
Tissue resident immune-cells
Principal investigator: Niklas Björkström, Department of Medicine, Huddinge, also at the Centre for Infectious Medicine.
Project: Dissecting tissue-resident lymphocyte homeostasis in humans (RESIDE)
Summary: The immune system is present throughout the human body. It was previously believed that immune cells circulated between the blood stream and different peripheral organs, continuously monitoring those for invading pathogens or transformed cancer cells. However, in recent years researchers have learnt that many immune cells instead permanently reside in peripheral organs, so called tissue-resident immune cells. In this ERC-funded project, Niklas Björkström and his team are aiming at understanding the basic mechanisms behind how immune cells become tissue resident. Furthermore, since every organ is unique in its composition, Björkström will also assess how the local microenvironment affects tissue-resident immune cell function. Understanding the basic principles behind regulation of immune-cell tissue residency will with time give new insights into how our local immune system responds during infections and cancer and what goes wrong when chronic inflammation occurs.
Mechanisms of food preference
Principal Investigator: Janina Seubert, Department of Clinical Neuroscience.
Project: Olfaction as the link between flavour preference formation and retrieval during food consumption (OLFLINK)
Summary: Human food consumption in its current form threatens global public health and ecological sustainability. Despite improved access to alternatives, a permanent dietary change continues to pose a major challenge to many people. The high reward value of sugar and salt in our diets are commonly blamed for this change resistance. Odour-taste associative learning is a key mechanism that links experiences during food consumption to subsequent food choices. For example, it can cause the smell of a food which is repeatedly paired with the taste of sugar to "smell sweet" on its own and thereby elicit appetite. The goal with OLFLINK is to gain mechanistic insight into the processes that control the encoding and retrieval of odour-taste associations. Combining methods from perceptual psychology and cognitive neuroscience, the researchers will determine the neural coding mechanisms that allow odours to evoke taste associations, delineate the cortical structures that control access to these associations in different environmental contexts, and determine how cortical processing of food flavour is regulated by feedback from the digestive system.
Sex differences in the immune system 
Principal investigator: Nils Landegren, Department of Medicine, Solna. 
Project: Deciphering sex differences in the human immune system (SEXimmune)
Summary: Women face a four-fold higher risk of developing autoimmune diseases, while men as a group have worse outcomes of infectious diseases, including COVID-19. The basis of these sex differences in immune-dependent disorders are poorly understood, and they are not taken into account in current clinical practice. In the ERC-funded project Nils Landegren and co-workers will undertake a broad investigation of the biological basis of sex differences in the human immune system. To understand the immune-regulatory roles of sex hormones, the team will study longitudinal samples from women and men undergoing sex reassignment treatment. As a complementary model to capture effects mediated by sex chromosomes, immune cells with female vs male karyotypes will be compared in mosaic individuals. These two model systems will be complemented with population-based studies, taking advantage of new data from some 500,000 women and men in the UK Biobank to reveal how both variation in sex hormone levels and sex chromosome aberrations can influence the risk of autoimmune disease. The studies will serve to support development of new treatment strategies for sex-biased autoimmune disorders and infectious diseases.
The ERC StG in numbers
The ERC starting grant is awarded in three categories: Life sciences (124 grants); physical sciences and engineering (186); social sciences and humanities (126).
Of this year's 436 awardees, 37% are women.
The most successful countries are Germany, the UK and the Netherlands.
Sweden has with its 23 grants a leading position among the Nordic countries. 
More about the ERC