Published: 21-02-2017 17:20 | Updated: 06-05-2022 17:16
State visitors from Canada learned more about KI's research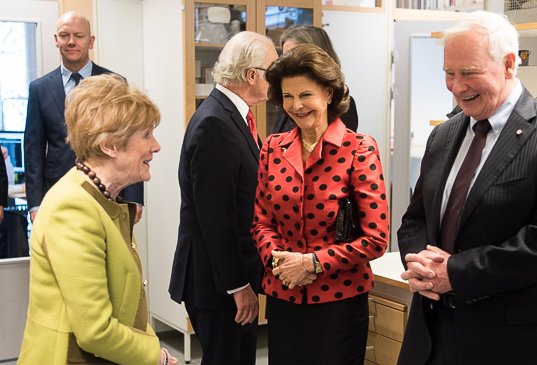 On Tuesday 21 February Karolinska Institutet was visited by the Governor General of Canada David Johnston, his wife Sharon Johnston and the King and Queen of Sweden. The visit took place in conjunction with the state visit by the Governor General and his wife to Sweden at the invitation of the King.
Queen Silvia and Mrs Johnston began the day with a visit to NASP, the National Centre for Suicide Research and Prevention of Mental Ill-Health, at Karolinska Institutet, where they were welcomed by professor Danuta Wasserman.
The Queen and Mrs Johnston heard facts and figures about suicide and suicide prevention and among other things learned that researchers at NASP and Columbia University in New York have developed YAM, Youth Aware of Mental health, a school programme to promote discussion and develop skills to face life's challenges and increase knowledge of mental ill-heath.
"The way you work is rather special, that you go where the children are instead of expecting the children to come to you," said Mrs Johnston.
Programme offered to schools
Danuta Wasserman told the visitors that it can be difficult to get schools interested in the programme because they are afraid it will steal time from school work. There is also a certain resistance on the part of school staff to someone coming from outside and taking charge of their pupils, even if the pupils themselves prefer it.
After the visit to NASP, the Queen and Mrs Johnson together with the King and the Governor General continued on to research group leader Anna Falk's laboratory where they were welcomed by Karolinska Institutet's acting Vice-Chancellor Karin Dahlman-Wright. Philanthropist and former NHL player Mats Sundin, Canada's Minister of Science Kirsty Duncan, Nobel Laureate Art McDonald and Canada's Ambassador to Sweden Heather Grant were also present.
In the lab, researchers create 3D models of the brain to study differences between brain cells in patients with neurological diagnoses, such as autism or Alzheimer's disease, and those in healthy people. Anna Falk told her visitors that one challenge for researchers is to find out why the neurons from people with Down's syndrome are shorter and behave differently to the neurons rom other people.
"One of our grandchildren is two years old and has Down's syndrome. We wish you every success in your research," said Governor General Johnston.
Round tale discussions on exchanges
The morning ended with talks and round tale discussions in the Nobel Forum, in which representatives from Karolinska Institutet and the Mats Sundin Fellowship in Developmental Health also took part. In 2012, he former NHL player Mats Sundin donated money to Karolinska Institutet and the University of Toronto to male scientific exchanges possible between the two countries.
Governor General Johnston appreciated the visit and wants to see continued collaboration between our two countries.
"We are very happy to have visited Karolinska Institutet to learn more about your work and vital collaboration with academic institutions in Canada. The Mats Sundin Fellowship is an excellent example of the type of partnership that can carry science forward. Sweden and Canada should continue their close and innovative collaboration," said the Governor General.
During the afternoon the Queen and Mrs Johnston also visited the Aging Research Center (ARC) at Karolinska Institutet.
Text: Stina Moritz