Published: 14-09-2021 13:21 | Updated: 14-09-2021 13:21
More student life on KI's Instagram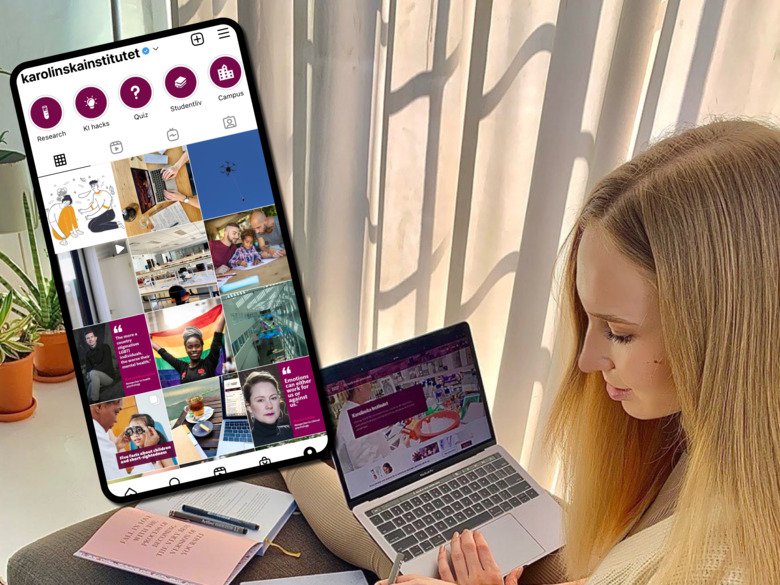 Have you noticed that more student-related content has appeared on Karolinska Institutet's official Instagram lately? KI has recruited students from the national programs to share their experience on the account @Karolinskainstitutet.
Amalia Sund is a nursing student, studying her third semester at KI. She is one of the students who shares her study experience on KI's Instagram @Karolinskainstitutet. She shares both posts and stories and answers questions about life as a student and about the national study programs at KI. 
- I usually post tips. It can be anything from study tips, outdoor activities and reading tips and more. I also think it's fun with quiz on the story, says Amalia.
Amalia has received very positive feedback, both in comments from followers and from her classmates who would like to be part of a post. She has noticed that she gets most interaction from followers when she posts stories.
- The biggest engagement is on story when I have a question box where you can send in an anonymous question or comment. I think there are many who have questions but do not know where to turn or simply want to send in an anonymous question, says Amalia.
She focuses on posting things that she herself would have liked to see. And now that she has gotten to know the followers a little bit, she can post content that they wished for. Amalia's posts are mainly aimed at prospective national students who are curious about what life is like as a KI student. For similar content aimed at international students you can visit the account @kistudents. Both the accounts are however also inspiring for current students, looking for tips and fun information about student life at KI.  
Soon, Amalia will be joined by two more KI students, a medical student and a physiotherapy student, who will also share their study experiences during the autumn. Amalia herself already has a plan for how her content will develop in the coming months
 - This autumn I will have an internship in somatic care, so there will be some posts about that. Then I hope to continue with different study tips and how to keep the motivation going during the autumn and winter, says Amalia.