Published: 15-11-2022 13:56 | Updated: 15-11-2022 13:56
Mattias Schedwin and Kevin Baker report from ASTMH 2022 in Seattle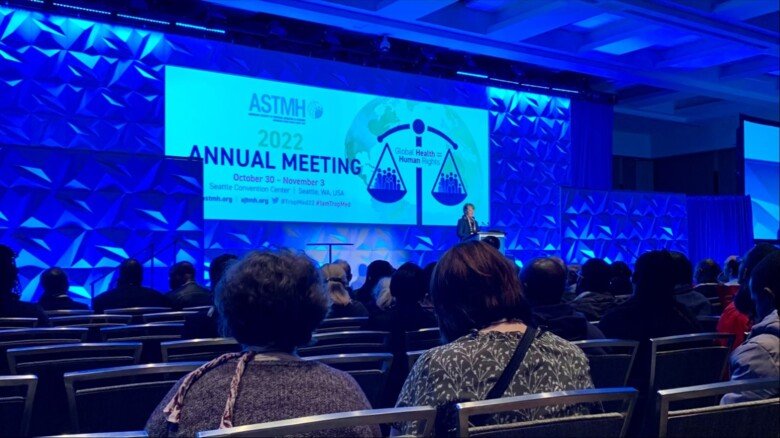 The world's biggest community for tropical medicine and global health, the American Society for Tropical Medicine & Hygiene (ASTMH), had its annual meeting between the 30th of October and November 3rd in Seattle, USA. Global Child Health and SDG research team members Mattias Schedwin and Kevin Baker that participated and were selected to present their research, share their experiences and thoughts from the conference.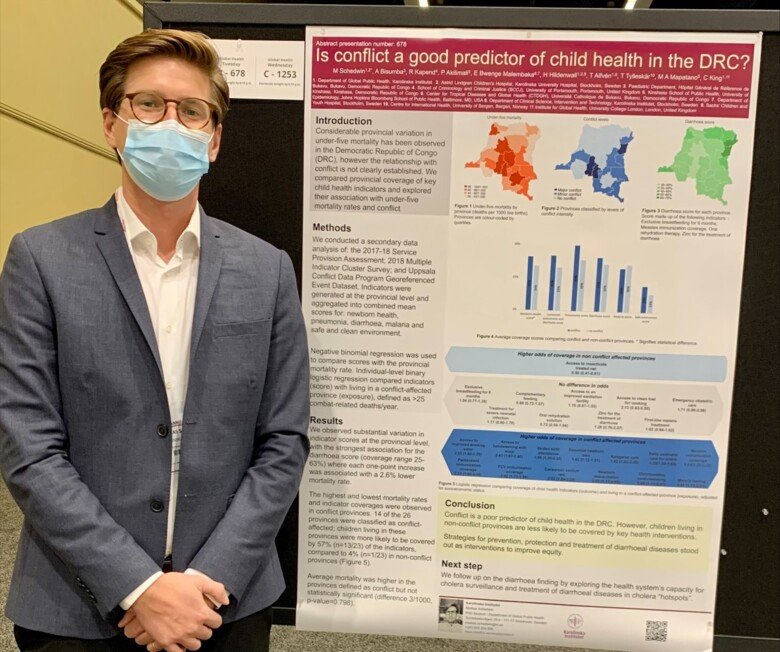 Mattias Schedwin with his poster at ASTMH 2022 in Seattle. Photo: Private
End of October, 4 000 people got together over four days to exchange knowledge, deepen collaborations, and expand their current network during the annual ASTHM meeting. This was done through 150 sessions and 2 000 posters ranging from malaria and neglected tropical diseases to more general questions related to global health. One of the poster presentations was by Mattias Schedwin who attended his first in person conference as a PhD student. His presented research focused on conflict and child health in the Democratic Republic of Congo.
"I really enjoyed the discussions with researchers performing similar research to mine and the new contacts made. One thing I noticed, though, was that the title I had chosen for my poster, "Is conflict a good predictor of child health?", made many people walk by and say, "I am sure that the child's health is worse in conflict settings", which is not to what our study showed. This spurred many interesting discussions", says Schedwin.
He continues to explain how the conference made him realise that the field of global health is big and that there are experts in every field.
"It is important to find your niche if you really want to contribute to generating new ground-breaking science. It was also fascinating to see icons in the field of global health in real life. It is easy to put them on a pedestal when you read their work, but when you see them in real life, it becomes clear that they are ordinary people with great dedication".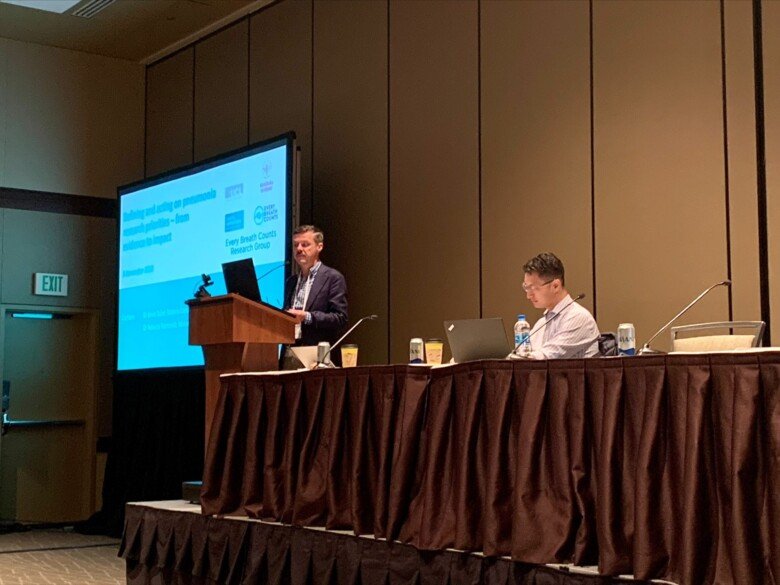 Dr Kevin Baker presenting at an Every Breath Counts symposium at the conference on priorities to lower the global burden of pneumonia. Photo: Private
Another participant was Dr Kevin Baker, who is a senior research advisor at Malaria Consortium in London. He is leading the research group for the Every Breath Counts coalition that held a symposium at the conference on priorities to lower the global burden of pneumonia with speakers highlighting pneumonia research priorities for the next 10 years, work in Chad and Ethiopia developing national pneumonia control strategies, modelling work on the impact of improved oxygen interventions in high burden countries and work on the introduction of the PCV vaccine in Somalia, Guinea, Chad and South Sudan.
"While pneumonia continues to be the biggest infectious killer of children under 5, its research profile at conferences such as ASTMH continues to be extremely low. It was great to see the level of engagement at our symposium and hope that next year we will continue to grow the collaboration and engagement in much needed pneumonia research" says Baker.
Are we focusing on the right things and what are the inequalities in global health research
Mattias Schedwin describes two core questions lingering underneath during the whole conference. The first one was mentioned by the president, Daniel Bausch,during a plenary session; Are we focusing on the right things? We are generating more and more knowledge, but are we really changing people's lives – Is our research translated into action? Schedwin retells that the question was nicely discussed during the tribute session to Paul E. Farmer, one of the most known researchers in the field of global health that suddenly passed away earlier this year. His wife and a panel of persons that Farmer had trained talked about his view on health as a human right and that we need to ask ourselves the question every day if what we are currently doing is contributing to creating access for the most vulnerable populations.
The second question concerned decolonising global health.
"One session was dedicated to this topic, where everyone got to share their thoughts and opinions. Many stated that the current way of performing research on global health is unacceptable with the large inequalities that exist between researchers from the global north and the global south. The organiser acknowledged this, but during the following sessions, you could still feel the imbalance that exists in the research field today" says Schedwin.
Leaving encouraged to continue working for change
"We must continue to work together to increase and improve the knowledge base in relation to the pneumonia response if we are to achieve SDG 3.2 (end preventable deaths of newborns and children under 5 years of age)", says Baker on what he takes with him from the conference.
"This first in-person conference gave me many new insights, created new connections, and spurred me in continuing the struggle to ensure that every child has the same possibilities to survive and thrive; and creating a more just and equal platform where each researcher has the same chances of making their voice heard and getting their research funded", says Schedwin.