Published: 26-05-2023 11:38 | Updated: 26-05-2023 11:40
Malawian midwife Tiwonge disseminates learnings from KI programme with others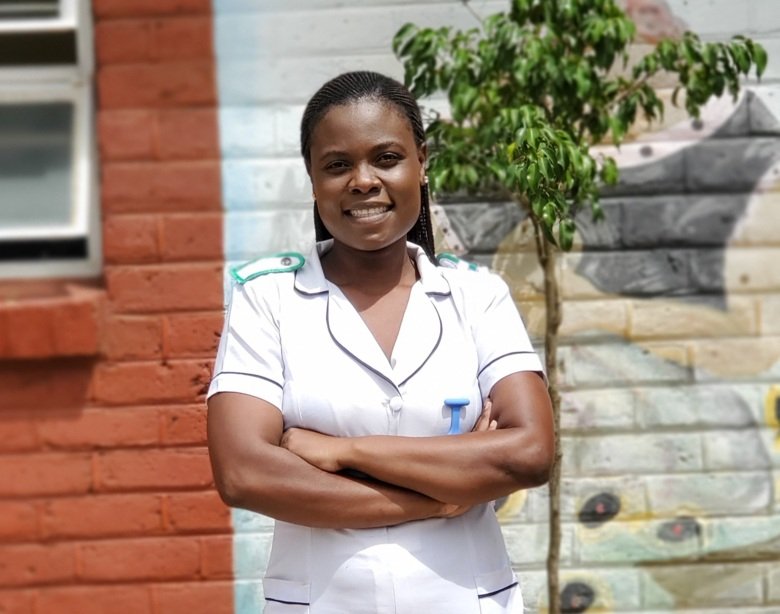 Since attending KI's capacity-building programme for leaders in women's and children's health, Tiwonge Gondwe-Mwangonde has used knowledge gained from the course to reduce the incidence of birth injuries in Malawi. She is now launching a new training programme for the region's midwives.
Tiwonge Gondwe-Mwangonde currently supervises midwives at the Limbe Health Centre in southern Malawi. Even as a child, she dreamed of working as a nurse. But when she started nursing, she felt something was missing.
"It was only when I trained as a midwife that I really came into my own. Now I can't imagine working in any field other than sexual and reproductive health," she says. 
Looking ahead, she sees herself as part of a training organization where more people can benefit from her knowledge. She chose the "Midwize: Capacity Building Training Programme for Public Health Officials in Maternal and Child Health" as a key way of doing this.
Health care in in remote health centers
When we interview Gondwe-Mwangonde, she is visiting a health centre in rural Malawi.
 "It's important to get into the field and visit more remote health centers in person to understand the challenges they're facing. I try to visit each health centre once every three months," she says. 
The day we speak, she hopes to make three visits, and she often has to get around by jeep mostly on dirt tracks. Close to 70 percent of healthcare in the Blantyre District is provided in small, community health centres in rural areas with extremely limited resources. At this health centre, the days of the week are divided between different care needs, and every two months a mobile care clinic visits.
"Although this is a small health centre, they provide all forms of care. About eight nurses work at the delivery unit and on average they admit up to 6 pregnant women in a day."
Started a study into childbirth injuries at the clinic
It has been some time since Tiwonge attended the Midwize training, but she still tries to share the knowledge she gained with more people, especially about the importance of dynamic childbirth positions, she says.
During the programme, she started a study into childbirth injuries at the clinic where she works. This showed that around 70 percent of women suffered injuries that could have been prevented by more varied birthing positions.
"Only one delivery position is preferred in hospitals in Malawi. But when we saw the benefits of more dynamic positions, we started introducing them at the clinics." 
She soon learned that there had already been a project, initiated by KI, to disseminate knowledge about the benefits of flexible birthing positions. However, Tiwonge says that learnings from that project were not sufficiently disseminated.
"When we built up a group ourselves that could train others, we got better results. People accepted the ideas more easily, and we got more people interested. It shows how difficult it is to disseminate knowledge from outsiders."
She has now raised enough funding to train another 30 midwives in the region. Previous research and data from the region indicate that the number of birth traumas has decreased, women are happier, and outcomes for newborns have also improved by using dynamic birthing positions.
Transfer of knowledge between participants and countries
The Midwize programme also resulted in a transfer of knowledge between participants and countries. When it was time to work on the project, Gondwe-Mwangonde benefited from the other participants' experiences to improve her own knowledge.
"I learned a lot at the personal presentations, especially from the Kenyan participants. During the course, it became clear that we all face similar challenges and can learn from each other," she says.
These insights inspired her and have become a driving force on a daily basis.
"The programme was extremely interesting and gave me a range of tools to use in my work. So, I'd really recommend it to others who want to contribute to building better healthcare," says Gondwe-Mwangonde.
Tiwonge Gondwe-Mwangonde
Family: Husband and two sons, four and seven years old.
Lives: Blantyre, Malawi.
Hobbies: Enjoys working out at the gym and playing volleyball. She likes to dance and spend time with friends and family.
About the programme
The "Capacity building programme for public health officials in maternal and child health (MIDWIZE)" is funded by the Swedish Institute through the SI Public Sector Innovation Programme, which targets universities and colleges. The training programme is carried out in cooperation with key public sector actors in low- and middle income countries with the aim of promoting innovation and sustainability in partnering countries.
MIDWIZE is a a one-year online training programme which is delivered within the Centre of Excellence for Sustainable Health, collaboration between Karolinska Institutet and Makerere University in Uganda.