Published: 11-05-2023 10:51 | Updated: 15-05-2023 14:11
Listening to students over coffee and buns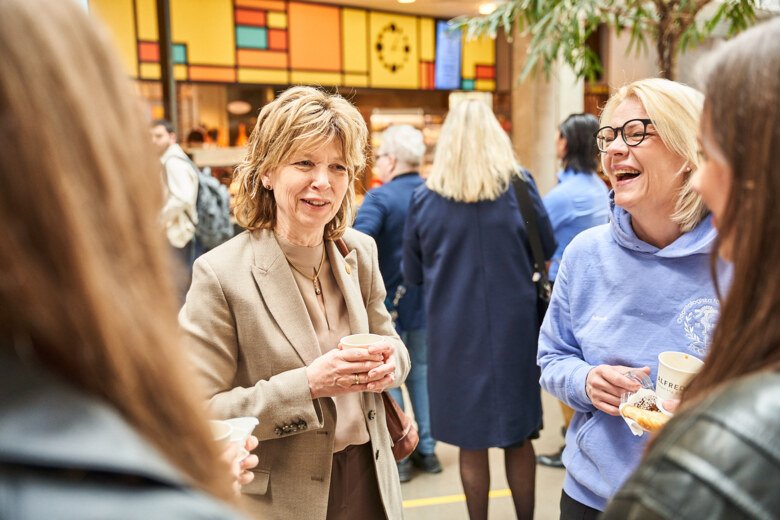 350 cardamom buns awaited KI's students as they gathered for a coffee and chat with the new president Annika Östman Wernerson, who had arranged the informal meeting with the student unions to encourage a closer dialogue with the university management.
Many students took this opportunity to meet the President over her favourite coffeetime titbit when she visited Campus Flemingsberg on 5 May and Campus Solna four days later. Her aim was to get a little insight into everyday student life and the issues that concern them most – and she got it:
"Some students told me how messy it could get when educational plans are changed and the effect it's had on them, others were worried about starting a job after graduation," said Professor Östman Wernerson afterwards.
Important to meet and network
"It's nice to have the President come here to meet us students, it feels as if she listens to us and is interested in what it's like to study here," said dentistry student Ibrahim Can Topal.
Many of the questions were about what the students can do to influence their education and life at the university.
"My advice to other students is to take every opportunity to meet the unions and the management on campus on slightly less formal terms, and today's coffee meeting with the President is an excellent way to do this," said students Fredrik Nilsson and Victor Svedberg.
Be more assertive
Elin Törnqvist, vice-chairperson of the Medical Students Association in Stockholm (MF), urged the students to be more assertive.
"You have to make a bit of a nuisance of yourself as a student and make demands on your education," she said. "A good way to make your voice heard is to get involved in the union, which appoints many of the student representatives that sit on the various boards, councils and other decision-making bodies at the university."
Master's students Celine van de Ven and Manojj Dhinakaran described how hard it can be for international students to understand and make use of the Swedish healthcare system. In that KI is a health-orientated university, they felt that this was an important issue that the management needed to be particularly aware of.
Easy to talk to the President
"It means a lot to us that the President has this inclusive motto: KI is us," said Manojj. "It makes her come across as easy to talk to."
Psychology students Michelle Smirnova Ponomarenko and Anghel Marina felt that the management listens to them, and like the way that Professor Östman Wernerson is holding onto her roles in teaching and research.
"She really has got both feet on the ground," said Michelle.
Professor Östman Wernerson was pleased to have this opportunity to meet the students.
"I myself had lots of opinions when I was a student, but had little idea about where decisions affecting my education were being taken. As President, I want to build closer contacts with KI's student unions and students by continuing to teach and, not least, by working together with the unions."
How you can influence your education and your life as a student: