Published: 17-04-2023 06:00 | Updated: 17-04-2023 14:05
KI's new University Director Veronika Sundström: "We depend on each other to succeed"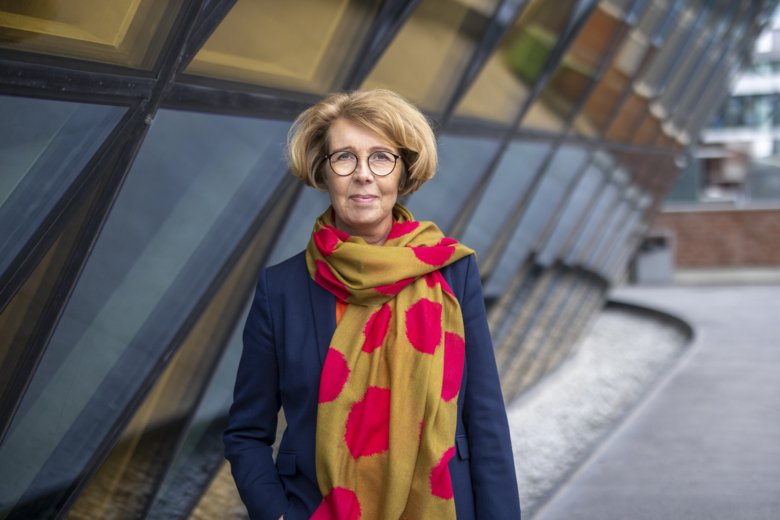 Veronika Sundström is Karolinska Institutet's new university director as of 17 April. Her job is to lead KI's central administration consisting of ten offices and over 500 staff. The president, vice-president and university director together comprise the university's senior management.
"I'm very excited to start at KI, which has a special role to play in Swedish medical research and education, and also significant international standing," says Veronika Sundström, who is the former university director of Luleå University of Technology. "It was particularly evident during the pandemic how the knowledge generated at KI and the work it was doing contributed to society."
Veronika describes herself as a busy bee and expects her early days at KI to be quite intense as she gets to know how the university operates. So it's good that what she hates most is having too little to do. But she's also looking forward to discovering Stockholm and perhaps visiting the theatre now and again. In the intervening time, she'll be travelling back to Luleå to be with her family and their two tabby cats Busan and Tintin.
"Change must always be for the better"
It's not as if Veronika always wanted to become a university director. She grew up outside Luleå on a farm that has been in the family for generations. Surrounded by horses, sheep, calves and rabbits, she dreamed of being a vet. But she never had a career plan and soon noticed that she was motivated by the idea of working with issues that make a difference for people.
Now, in the company of President Annika Östman Wernerson and Vice-President Martin Bergö, Veronika Sundström makes up KI's new senior management. She describes the trio as "prudent and pragmatic".
"We're in agreement that we have to be tuned in to the organisation to understand what its different parts think and need before we make any changes. Change must always be for the better and not something that's done just for the sake of it."
She has had many official dealings with government agencies throughout her professional life, especially in the fields of healthcare and education.
"The tension between academic freedom and public remit is a classic one, but both are needed," she says.
Core activities and administration intimately linked
Many of us at KI have heard the President Annika Östman Wernerson utter the motto "KI is us". How will you help enhance this spirit?
"I'm good at summarising things and seeing the whole picture," says Veronika Sundström. "'KI is us' is a good motto as it also has a personal side. We all depend on each other to succeed and there's a strength in that. It's rare for someone to make a difference acting alone. It often takes a chain of people and skills to get things done."
Veronika Sundström sees three principal tasks for the KI administration. The first is to support the university's core activities – education and research; the second is to ensure that the university as a public authority does what the legislators have decided; and the third is to help the president lead the organisation as a whole.
"It can be easy to forget that these three aspects are intimately linked. But if we're to administrate the university efficiently, safely and cost-effectively, we must see the whole picture, along with the departmental core activities too."
Planning and follow-ups are important
What is your take on working effectively?
"We need good forums where we can welcome our different perspectives. If everyone feels engaged and listened to, we can hammer out solutions together."
Operational planning and follow-ups are areas in which Veronika Sundström feels at home. It was when she delved into these issues at Region Norrbotten almost 20 years ago that she felt she had come into her own.
"Management issues, which include planning and following up, are crucial to all sectors and are the basis of the one KI concept. I want to keep the organisation unified as a single entity through clear leadership," she says.
A relaxed atmosphere
Now that she's joined KI, she plans to start by getting to know the ins and outs of the organisation.
"I have the privilege to step into an organisation that's already excellent and professional," she says "But this doesn't mean we can or should sit on our laurels. My goal is for everyone to have the same notion of what's important at any one time. The administration needs to be coordinated so that it can engage with the core organisation clearly as a unit."
She values informal encounters, like a quick chat at the coffee machine, and is keen to help stimulate a relaxed atmosphere in which people can have a laugh, even at their own expense.
"I like thinking collectively – you don't have to be highly eloquent to express yourself. You can be professional without being too serious."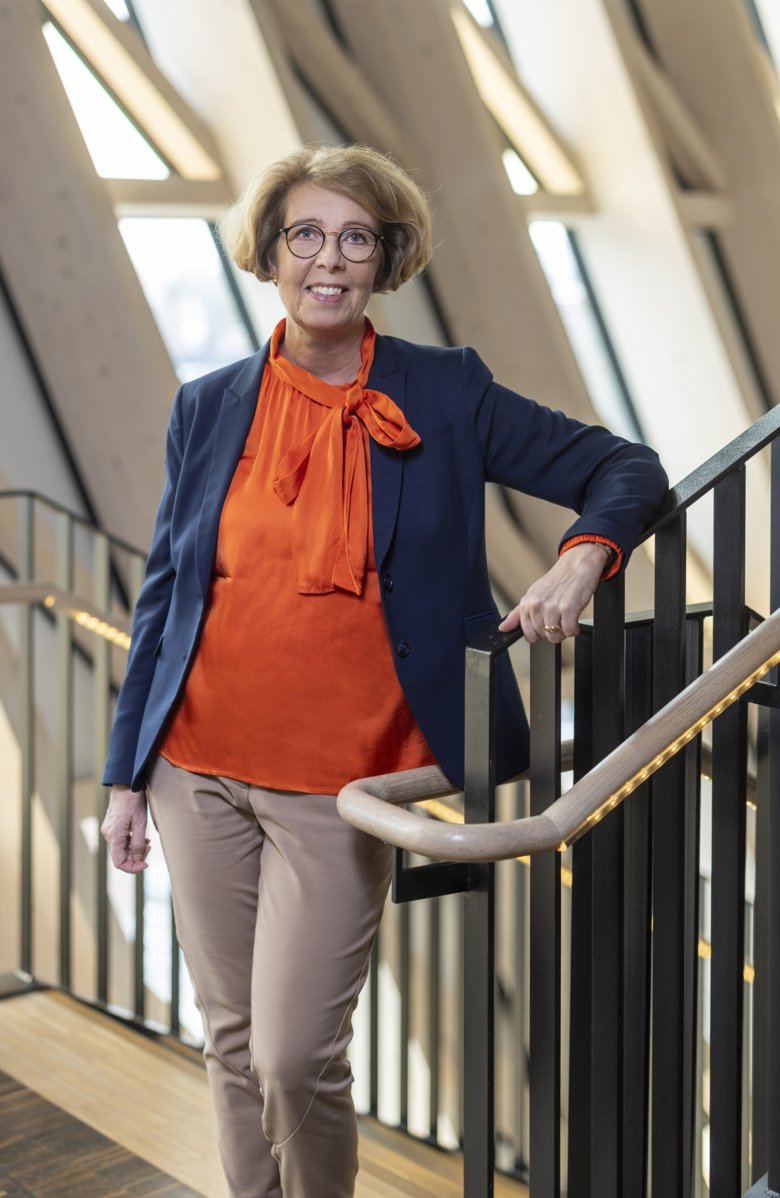 Veronika Sundström, University Director at Karolinska Institutet. Photo: Liza Simonsson
Short facts about Veronika Sundström
Currently: KI's new university director.
Background: Previously university director at Luleå University of Technology. Before that, worked for over 20 years in Region Norbotten, including as regional director. Began her career as communications officer for various government agencies.
Family: Husband, two adult children studying at Luleå and Umeå, and the tabby cats Busan and Tintin.
Favourite dish: Grilled herring on flatbread with almond potatoes.
Favourite book: Hunting and Gathering by Anna Gavalda or Cutting for Stone by Abraham Verghese.
How others describe Veronika: Open and modest. Straightforward and able to make quick decisions. But is also willing to change her mind if presented with a more persuasive argument.
"We-spirit" at the installation of KI's new president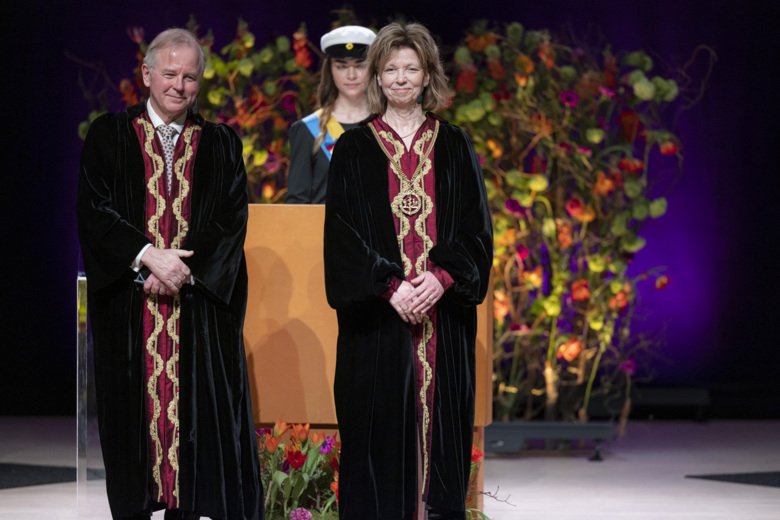 "We-spirit" at the installation of KI's new president
Training the medical professionals of the future. Facilitating groundbreaking research. And working towards a knowledge-based society enriched by academic freedom. It's a major undertaking that Annika Östman Wernerson shoulders as Karolinska Institutet's 24th president. But she won't be doing it alone – everyone at the university will have to do their bit.
KI's new vice-president – the cancer researcher with the empirical mindset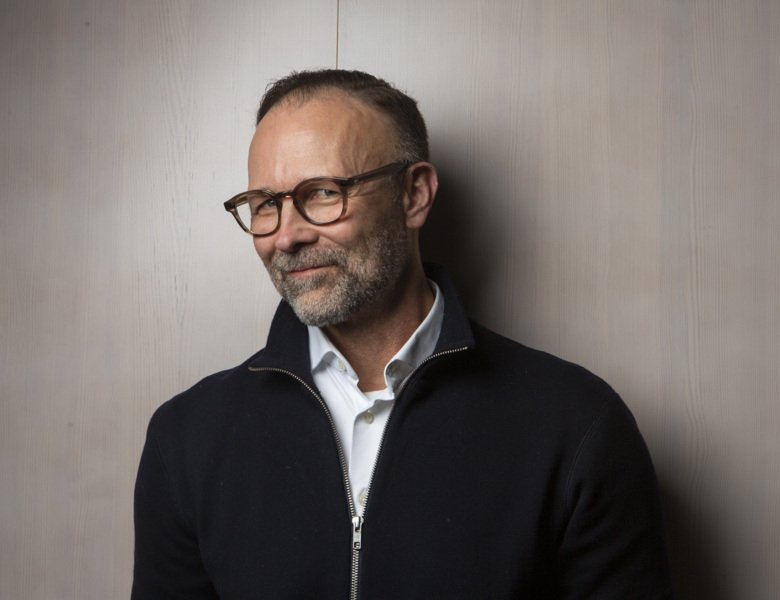 KI's new vice-president – the cancer researcher with the empirical mindset
KI's vice-president is Martin Bergö, a professor of molecular medicine whose most significant discovery to date is that antioxidants can accelerate tumour growth. He aims for a research-inspired leadership, and will start by tuning into the voice of the university and channelling the collective wealth of ideas to make KI even better.