Published: 23-09-2021 14:34 | Updated: 01-10-2021 11:46
KI students win first prize in an international thesis award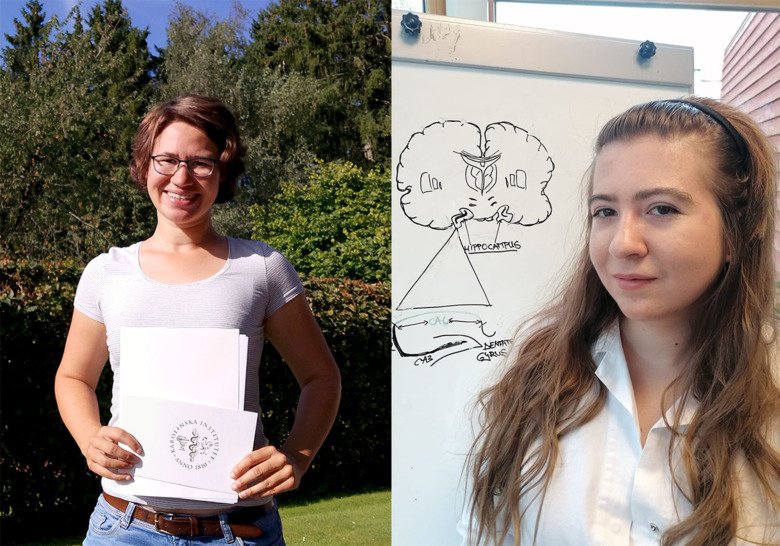 Two students at Karolinska Institutet (KI) recently won first prize in The Global Undergraduate Awards 2021, an award in which some of the world's foremost students participate.
Delia-Denisa Dunca and Jenny Gehlen, both from the Biomedicine program at KI, became Global Winners in their respective categories, Medical Sciences, and Life Sciences, in the Global Undergraduate Awards 2021.
Delia-Denisa won the category Medical Sciences with her thesis: Neurodegeneration, Autophagy, and Amyloid-beta metabolism in Alzheimer's disease.
– When I was nominated by Karolinska Institutet to participate in the award, I felt a great honor because it means that they trust me, and I felt that I have come a long way since I started my studies. Winning was not something I had expected, says Delia-Denisa.
Delia-Denisa's two supervisors, researcher Per Nilsson and doctoral student Richeng Jiang, are both happy and proud.
– Delia's energy, hard work, and great interest in understanding more about the disease mechanisms behind Alzheimer's resulted in her excellent degree project. Delia worked extremely hard, setting up experimental conditions to isolate neurons from our Alzheimer's mouse models with laser microscopy. This allowed us to identify over 2,000 proteins and led to us being able to find changes in the synapses, says Per Nilsson.
KI student Jenny Gehlen, who did an exchange semester at ETH Zürich in Switzerland during the spring, also received first prize as a Global Winner in the category Life Sciences for her thesis: Functional Analysis of Volumetrically 3D Bioprinted Bone-like Tissues. 
– I've been always aiming high for everything I started and I'm proud that my efforts were acknowledged, and my thesis was awarded as Global Winner. I'm really looking forward to the Global UA Summit in November where I will present my work in front of other top students and researchers, says Jenny.
About the Global Undergraduate Awards
The Global Undergraduate Awards recognize undergraduate research projects. Each year, high-quality research papers are presented by students in 25 different categories, including medicine, life sciences, economics, philosophy, linguistics, psychology, and more. The awards contribute to connecting the world's top students and academics across cultures and disciplines.
KI has for several years had many students who participated and were placed in the top. In addition to Delia-Denisa's and Jenny's achievements, eight other KI students were awarded as Highly Commended Entrants this year, which are participants whose contribution has been ranked in the top 10 percent in their category. More than 2,500 degree projects have been carefully examined by several experts.
All students who have received an award or chosen as highly commended students are invited to the gala UA Global Summit in Dublin, Ireland in November to receive their awards and meet the other students. Winning degree projects are also published in The Undergraduate Library.
The Global Winners from KI:
Delia-Denisa Dunca, Medical Sciences
Jenny Gehlen (ETH Zürich & Karolinska Institutet), Life Sciences
The Highly Commended Entrants from KI: 
Anton Berggren, Medical Sciences
Helena Forsberg, Medical Sciences
Valentina Gustafsson, Medical Sciences
Johanna Hagman, Medical Sciences
Dilara Kaya, Medical Sciences
Elin Söderqvist Rohlin, Medical Sciences
Love Strandberg, Medical Sciences
Hannah Stigsdotter, Life Sciences