Published: 26-11-2019 12:55 | Updated: 29-11-2019 07:40
From zero to prototype in three hours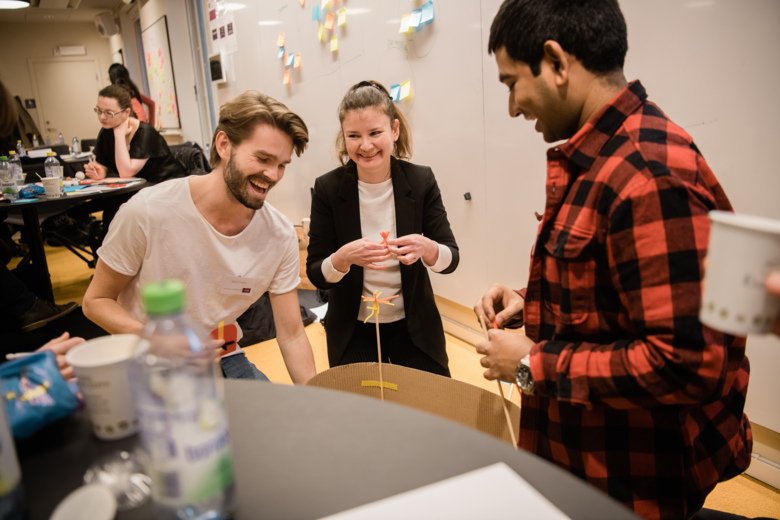 Nearly 90 students participated in this year's edition of the EIT Health Innovation Day, which was held at the Karolinska Institutet on November 15. The task was to develop a product that solves a problem for a patient with multiple sclerosis.
Cardboard and wooden rods. Steel wire, foil and pipe cleaner. This year's edition of EIT Health Innovation Day has reached prototype construction. Andreas Lundquist, project coordinator and teacher at the Bioentrepreneurship Unit at Karolinska Institutet, fills a table with material for the nearly 90 participants.
From frustration to results
"It is extremely high tempo; it goes from zero to prototype in three hours. There may be frustration, but in the end everyone usually comes up with something good. It's cool to see," says Andreas Lundquist.
Innovation Day is part of the European innovation initiative EIT Health and it is the fourth time it is being held at the Karolinska Institutet. The day is open to students from all KI's educational programs.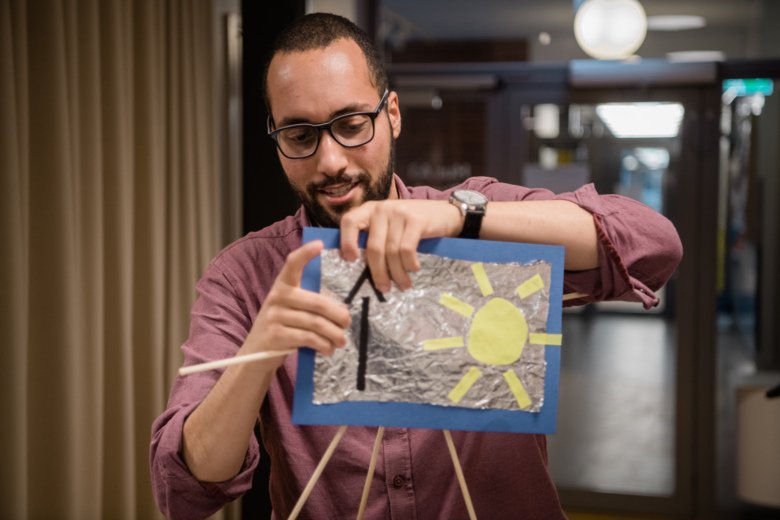 "I'm here to see if innovation and entrepreneurship is interesting and to meet students from other programmes. We need interdisciplinary thinking to contribute to better patient care. I'm interested in global health and believe that innovation will play a big part in this area." says Muaad Hussien, student at the medical programme. Photo: Erik Cronberg
"The purpose is to give the students a first insight into entrepreneurship and basic tools for managing ideas," says Andreas Lundquist.
Solving problems for patients with MS
The day started with some inspiring lectures. The students then worked in groups with participants from different programs and year courses, together to develop a product. This year, the task is to solve a problem at home for a patient with multiple sclerosis, MS.
The work follows an innovation method called design-thinking. Here, the user's perspective is central and during the day, patients from the association Neuro Ung med MS participate to share their experiences and give feedback on the participants' ideas.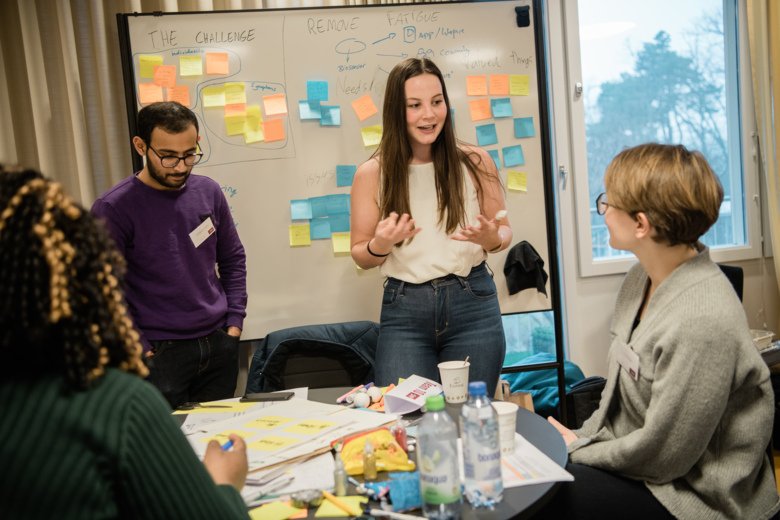 "The day was very good, especially when we interviewed actual patients. It feels meaningful, learning about real problems and perhaps even finding solutions. I want to work in an innovative environment. Here I can find inspiration through other students and representatives from the industry." says Juli Alhusen, doing her master thesis at the Department of Physiology and Pharmacology. Photo: Erik Cronberg
"We see this as a way to help develop innovations – you can't invent anything without talking to the person who will use the product. It will be very exciting to see what solutions come up," says Mattias Millbro, chairman of Neuro Ung med MS.
Planned by students for the first time
To their aid, each group has a student from the bio-entrepreneurship program as a coach. This year, the events are also planned and implemented for the first time by students.
With a prototype of aluminum foil attached around one leg and a type of pipe cleaner around the other, participant Nerea Capon Lamelas explains how their idea has evolved.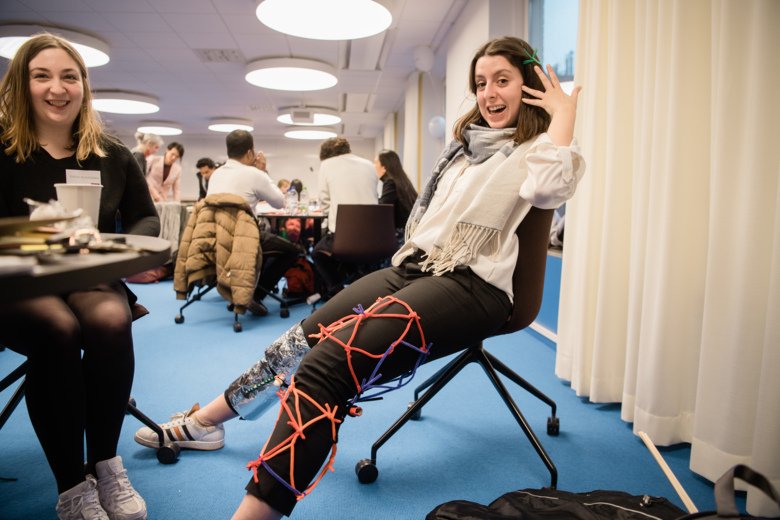 Nerea Capon Lamelas, who is doing her master's thesis at the Department of Neurobiology, Care Sciences and Society. Photo: Erik Cronberg
"We changed our design after feedback from the user," says Nerea Capon Lamelas, who is doing her master's thesis at the Department of Neurobiology, Care Sciences and Society.
She is very happy with the innovation day so far.
"It's really fun and interesting. I have a background in molecular research and want to use my knowledge to create products and new solutions. Here I learn techniques to do it," she says.
Best contribution can win a trip
At the end of the day, the groups present their products to a jury with representatives from academia, industry and users. Innovation Day is held at universities in several different European countries and the best contribution is winning a trip to Paris to meet the other winners. But to the closing mingle in the pub at the Medical Association, all participants were welcome.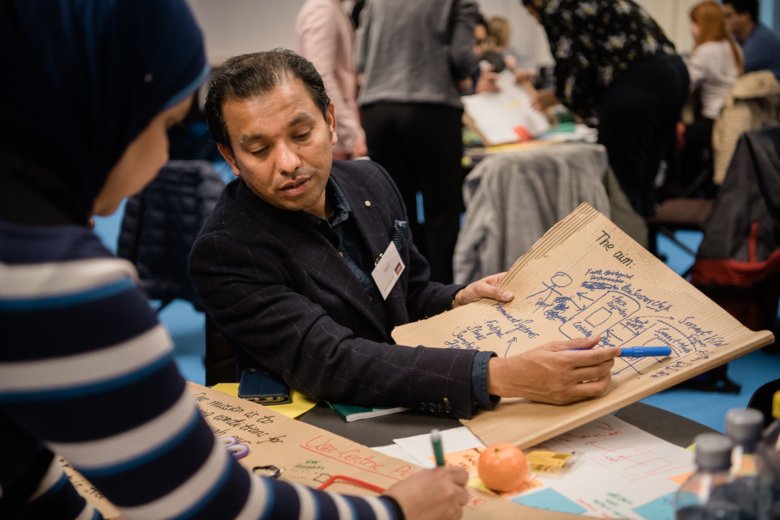 "We work with a biochip based and automated solution that can make life easier for the patient with the help of biosensor data. The innovation day has been a fantastic opportunity to meet people from different disciplines, with different expertise, and creating ideas in an innovative way. I've learned a lot about timing and the importance of presenting ideas and arguments in a convincing way." says Abid Ali Fareedi, participant in the winning group and student at the Master's Programme in Health Informatics. Photo: Erik Cronberg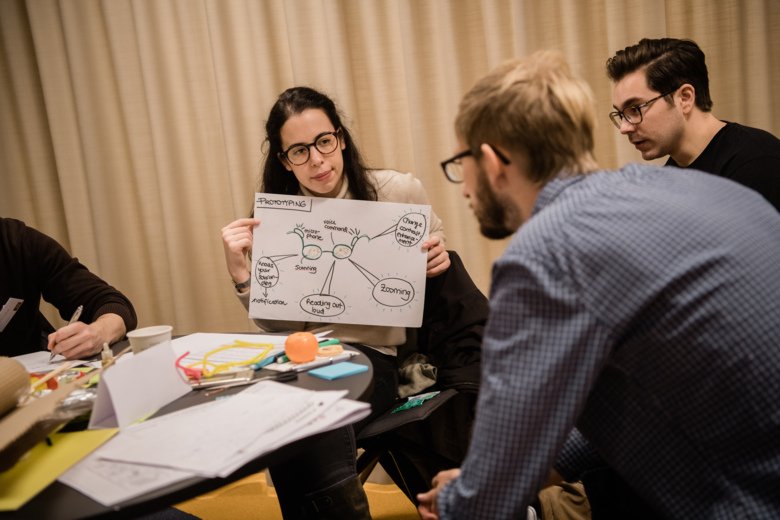 "This day gives tools on how to bring your idea forward. I am a physician and might not build prototypes in my every day working life. But I'm interested in innovation, and if I'm faced with a problem, I can use the methodology I learn here to find innovative solutions." says Orsolya Réka Süli, student at the master programmme in Health Economics, Policy and Management. Photo: Erik Cronberg