Published: 07-12-2015 14:59 | Updated: 29-07-2021 16:04
Clarity technique now at KI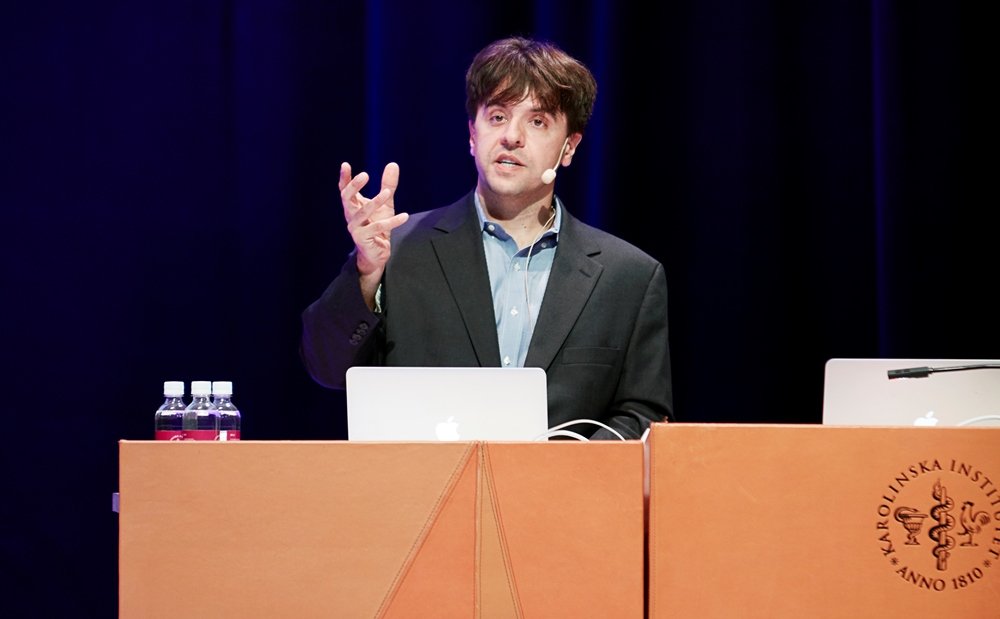 Karl Deisseroth is a professor at Stanford, where his group has developed two spectacular scientific techniques – optogenetics and Clarity. He has also been working since 2013 at Karolinska Institutet, which has just invested in a Clarity facility.
Neurons activated and deactivated by laser. Transparent brains that can be studied without sectioning. Neuroscientist and psychiatrist Karl Deisseroth has an eye for spectacular innovations, and when he gets mentioned in the media he is often hailed as a potential Nobel laureate.
Both the techniques developed by his lab – optogenetics and Clarity – are used today at KI, providing valuable tools for scientists examining neuronal structures. But what is more important still, as head of the Department of Neuroscience Sandra Ceccatelli stresses, is that KI has managed to bring Deisseroth on board as a foreign adjunct professor.
"It's a privilege to have such an esteemed scientist pay us regular visits, share his expertise, lecture to doctoral students and discuss matters with colleagues," she says.
Technique in its infancy
KI's Clarity facility was ready for use just a couple of months ago. The technique is used on prepared (dead) tissue to render it transparent, making it possible, for example, to study cerebral structures without cutting up the brain tissue.
"There are two parts to the method," explains Ole Kiehn, professor of neuroscience at KI. "Firstly there's the chemical process of making the tissue transparent, and secondly the digital imaging, which requires advanced microscopes, a lot of time, and a lot of storage capacity."
Clarity is a very promising technique, but is in its infancy and needs to develop, he explains.
"You get great pictures, but we've got to get more out of it than that. For one thing, there has to be more software development in the field."
Clarity, which is only a couple of years old, is not the first research tool that Professor Deisseroth's group has launched. In an article published in 2005 they laid the foundation for optogenetics – a now widespread method that is used by several groups at KI. Put simply, optogenetics is about fitting a switch to individual cells in the brain and spinal cord, enabling them to be turned on and off in an instant.
"The method has provided us with an unprecedented opportunity to determine the function of different cells," says Marie Carlén, researcher at the Department of Neuroscience. "Most revolutionary is the time-scale: we can switch these cells on and off with millisecond precision. In just a few years, optogenetics has given rise to a great deal of new knowledge about which cells do what in the brain. We've started to understand how different behaviour, from locomotion to decision-making, is created and executed, and to grasp the basis of phenomena such as attention, memory, fear, hunger, sleep and drug dependency."
Introduced to KI and Sweden in 2007
Professor Kiehn and Dr Carlén are two relative veterans of optogenetics. Kiehn introduced the technique to KI and Sweden in 2007, the same year as Carlén, then doing postdoc research, began using it at the Massachusetts Institute of Technology. It was not until a few years later that the technique saw its true breakthrough.
"In our first five years with optogenetics, we sweated away in the lab to solve a whole load of problems," says Professor Deisseroth. "It was only later, around 2009, that it became an important, widespread method. It seems to me the way Clarity is developing is not unlike the first years of optogenetics – although actually things might be moving a little quicker. There have already been several interesting Clarity articles, including ones from KI."
What is about KI that attracts you?
"KI's neuroscience has a strong tradition in imaging, physiology, genetics and anatomy," says Professor Deisseroth. "There are people here who are fascinating to talk to. I also feel a strong bond with Sweden since my mother's father was Swedish – Olof Lundberg, who emigrated to New York in the early 1900s."
Text: Anders Nilsson
First published in Swedish in KI Bladet 4/2015
CLARITY at Karolinska Institutet
The new CLARITY facility is jointly run by the Department of Neuroscience and CLICK (the Centre for Live Imaging of Cells at Karolinska Institutet), but can also be used by other research groups. The technique works with most of the body's organs.