Published: 01-11-2023 09:12 | Updated: 01-11-2023 13:39
Ceremony for the 2023 KI Global Master's Scholarship holders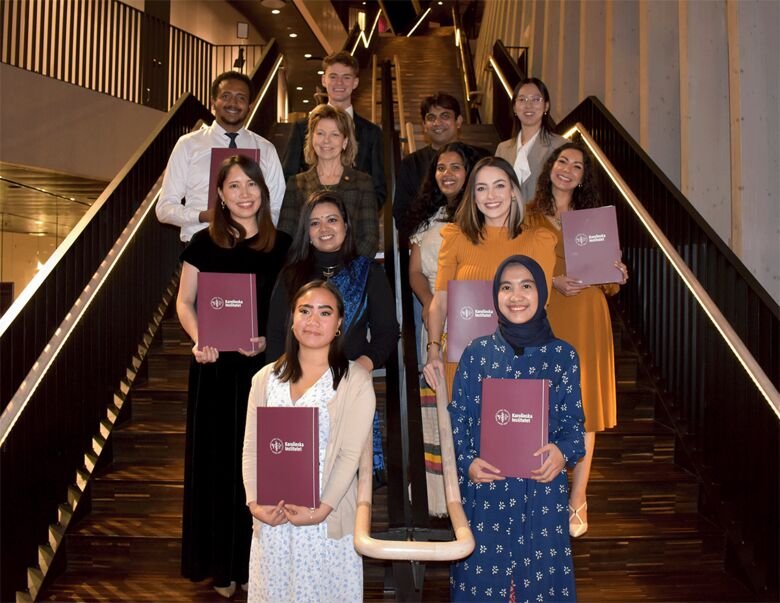 Twelve international master students from ten countries received Karolinska Institutet's Global Scholarship during a ceremony in Aula Medica.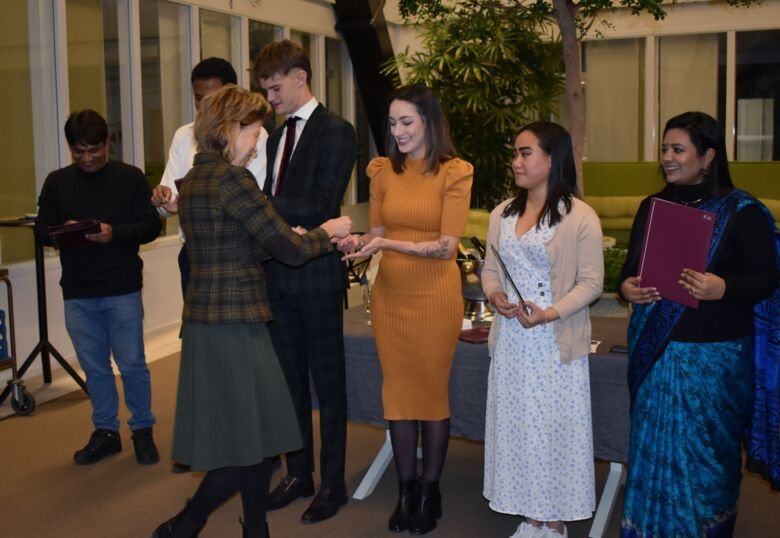 Awarding of scholarships during the ceremony in the Orangery. Photo: Amanda Nelzén
In addition to the expectant scholarship holders and their entourage, programme directors, managers from the various master's programmes, and representatives from the International Office gathered to celebrate this year's recipients of KI's Master's Scholarship. 
"It is an honor to meet all this year's scholarship recipients and important for KI to recognise them. The scholarships are an appreciated tool for KI's global programme that benefits KI's entire internationalisation work", says, Erika Dabhilkar, Head of Unit at the International Relations Office.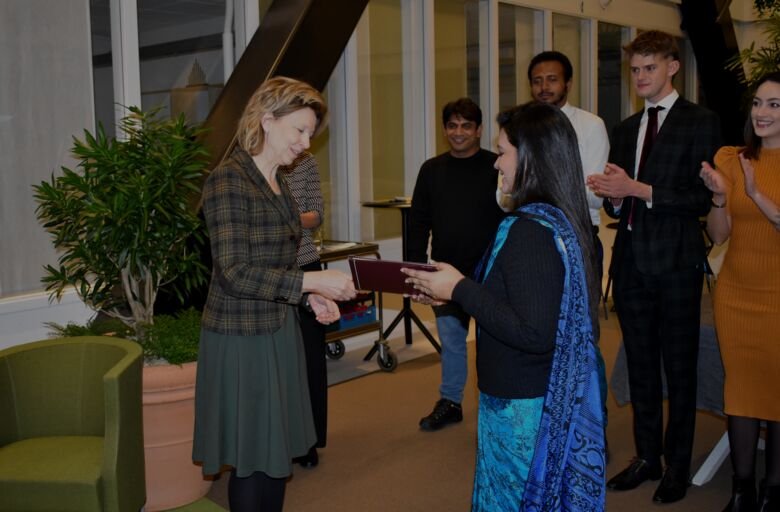 Adrita Kaiser, master's student in global health, receives the scholarship from KI's President. Photo: Amanda Nelzén
Awarding of scholarships and speech by KI´s president  
Present in the Orangery was KI's President Annika Östman Wernerson who handed out the scholarships. In her speech, she emphasised "KI is Us" and the importance of community - not least when you arrive as a new student in a completely new country. She also talked about the importance of students to KI's internationalisation and encouraged them to: "Embrace change, seek knowledge and never stop learning".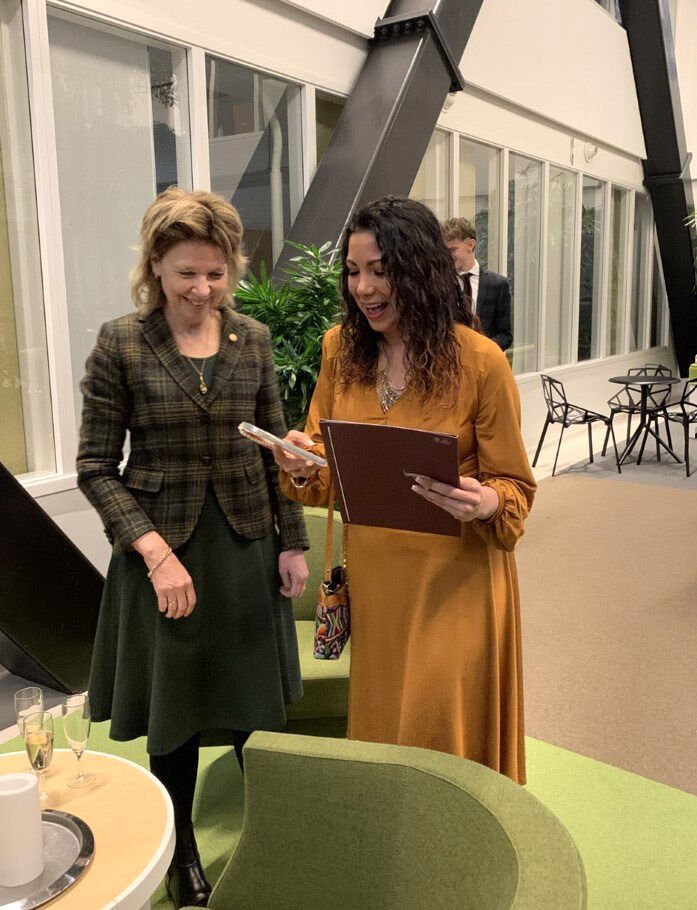 Madahi Mejia, Master's student in Global Health and President of KI. Photo: Emma Karlsson
After the awarding of the scholarships, a Nobel lecture was held by Abdel El Manira, member of the Nobel Committee, who spoke about this year's Nobel Prize winners in Physiology or Medicine and their discoveries that enabled the development of effective mRNA vaccines against COVID-19. The ceremony ended with a joint dinner in Aula Medica. 
"We were impressed by the speeches made by the president and member of the Nobel Committee. And after getting to know the other awardees, members of my faculty, and leadership better, I feel even more proud to have received the scholarship", says Emile Pernet, master's student in biomedicine from the UK.
Facts about the scholarship
5855 students applied to KI's Global Masters Programme 2023.
361 were admitted, of which 12 received the master's scholarship. 
The scholarships cover tuition and semester fees and are awarded by the Swedish Council for Higher Education (UHR).
2023 Master's scholarship holders
Congratulations to all scholarship holders!
Eyerusalem Abebe, Ethiopia 
Master Programme in Nutritional Sciences
Akari Fujisawa, Japan
Master's Programme in Translational Physiology and Pharmacology
Rafiqul Islam, Bangladesh 
Master's Programme in Public Health Sciences
Adrita Kaiser, Bangladesh
Master's Programme in Global Health
Jiayi Li, China
Master's Programme in Biomedicine
Madahi Mejia, Guatemala 
Master's Programme in Global Health
Phobe Nerone, USA
Master's Programme in Global Health
Emile Pernet, United Kingdom 
Master's Programme in Biomedicine
Putri Rezqita, Indonesia 
Master's Programme in Bioentrepreneurship
Giulia Timm Lima, Brazil 
Master's Programme in Bioentrepreneurship
Vasini Yugendran, Sri Lanka
Master's Programme in Nutritional Sciences
Yophtahe Woldegerima, Ethiopia
Master's Programme in Global Health