Published: 10-05-2023 17:13 | Updated: 23-05-2023 12:09
An adventure through the brain - a Stratneuro initiative to raise public awareness on brain research at Karolinska Institutet
Between 13 and 19 March 2023, neuroscientists around the world took the initiative to spread the word about the importance of brain science as part of the "Brain Awareness Week". The Strategic Neuroscience Research Network (StratNeuro) at Karolinska Institutet took the opportunity to initiate a recurring outreach event to spark enthusiasm and raise awareness for neuroscience research, which was also part of the global campaign.
If you passed by Karolinska Institutet and BioClinicum on Solnavägen on 18 March, you probably heard the buzzing of some 300 participants mingling with our researchers!
PhD students, postdocs, and researchers at Karolinska Institutet engaged in the brain fair, En resa genom hjärnan (roughly translated An adventure through the brain), with hands-on demonstrations, games and experiments.
Cecilia Odlind, editor in chief of the magazine Medicinsk Vetenskap, and one of the hosts of Karolinska Institutet's podcast Medicinvetarna, acted as Moderator at the symposium which took place during the busy day.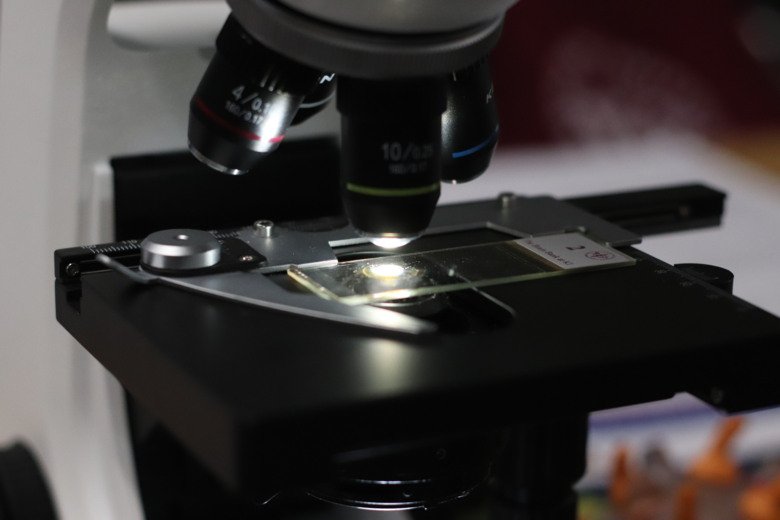 Microscope used at one of the demo stations during the "An adventure through the brain"-day. Photo: Johanna Mayer
Lectures and Q&A
Neuroscience experts informed the audience of a wide range of topics during five different lectures, which also included Q&A sessions.
Karin Jensen, from the Department of Clinical Neuroscience, talked about "How the placebo effect works" and Christian Rück, from the same department, held a lecture entitled "Unhappy in paradise – our time's diagnosis". Jens Hjerling-Leffler from the Department of Medical Biochemistry and Biophsyics touched upon "Schizophrenia and the building blocks of the brain", Nitya Jayaram-Lindström from the Department of Clinical Neuroscience, talked about the "Science behind loss of control" and Arvid Guterstam, also from the Department of Clinical Neuroscience, explained how "Our brain perceives the gaze of others".
Demo stations
Our public demonstration stations were a success! We are very grateful to Matti Nikkola, at the Department of Cell and Molecular Biology, for lending us some of the lab and learning material and poster boards that are used in other public outreach activities such as Berättarministeriet and others which he organises.
At the backyard brains demonstrations, participants were able to try neuro-prosthetics, force their friend's arm to move under their control, or appreciate the pattern and sounds of their muscle potential by using the muscle-spiker box. Some of the more competitive visitors could be found at "THE CLAW" station to compete in controlling tasks using a robotic claw. The backyard brains were made possible by a hard working team of volunteers who worked hard to prepare and make this a fun learning experience for visitors: Marta Graziano, Marina Slashcheva, Clarissa Anna Pisano, Birte Schmid, Vilma Alanko, Liesbeth Voorbraeck, Radhashree Sharma, Josep Carbonell Roig, Ayu Tamaki and StratNeuro board member Emanuela Santini.
At the "An eye on balance" demonstration, Esra Öncel, Josephine Nilsson and Wouter Jongeneel explained how oculomotor function and binocular vision affect human perception, and participants could test their balance in virtual reality assisted challenges.
At the "look inside the brain" stations, Johanna Mayer, Makoto Shimozawa and Delia Denisa Dunca showed participants sections of the mouse and human brain under a microscope and Pierre Fontanel and Laurence Picton allowed visitors to virtually explore the nervous system of a zebrafish.
Not only our participants' balance but their mental state was put to a test by performing various memory tests, at the "Mental state and memory test" station with Hong Xu and Yuxi Zhou.
At the "Genetics and headache" station, Felicia Jennysdotter Olofsgård and Christina Christodoulopou encouraged both young and old visitors to try their skills in performing routine experiments used in genetic clusters headache research and were informed about most recent discoveries in the field.
Anna Canal Garcia, Blanca Zufiria Gerbolés, Mite Mijalkov, Jiawei Sun and StratNeuro adjunct board member Joana Pereira gave an introduction to structural and functional Magnetic Resonance Imaging (MRI) and how it is used to study connectivity of the brain with their demonstration "BRAPH2: Interaction with different brain networks".
Sebastian Blomé and Livia Rühr showed the meaning behind the "Pavlovian Pain" and how easy it is to trick the brain by triggering emotional responses.
Finally, Kalicharan Patra, researcher at the Department of Neurobiology, Care Sciences and Society and at Stockholm University, also came to present a book he has illustrated, entitled "How does the brain work?" and written by Klas Kulander, Professor of Neuroscience at Uppsala University, and the President of the Swedish Society for Neuroscience.
Swedish Society for Neuroscience
Åsa Konradsson Geuken, Associate Professor at Uppsala University and President Elect of the Swedish Society for Neuroscience (SSFN), paid us a visit and informed visitors and researchers about the Swedish Society for Neuroscience.
SSFN membership benefits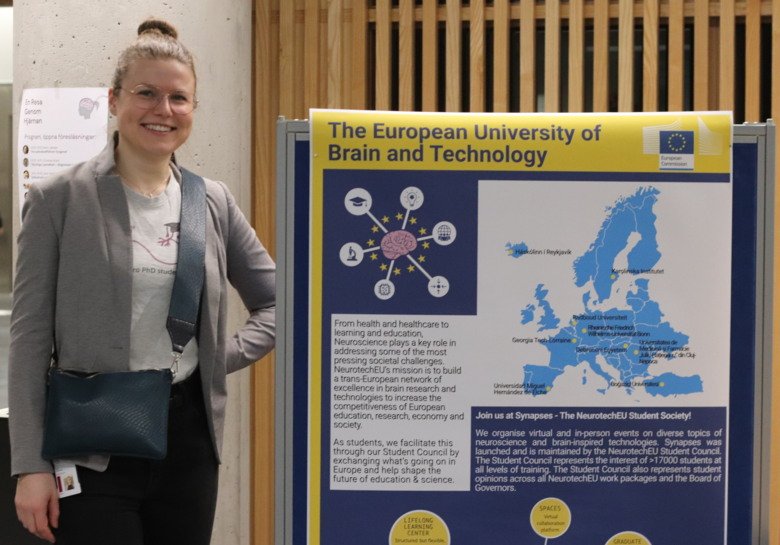 Julia Spielbauer by the NeurotechEU poster. Photo: Johanna Mayer
NeurotechEU
Julia Spielbauer informed visitors about NeurotechEU, the European University of Brain and Technology, of which Karolinska Institutet is one of the alliance members.
More on how Neurotech will impact neuroscience education and innovation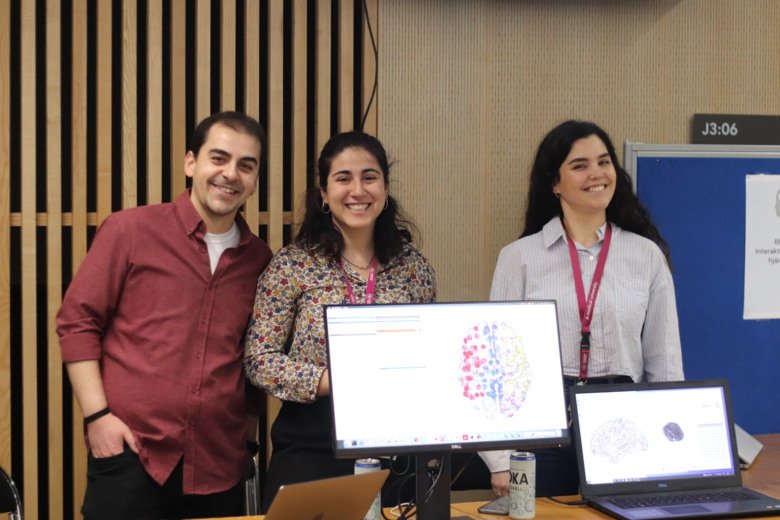 From left to right: Mite Mijalkov, Anna Canal Garcia and Blanca Zufiria Gebolés. Photo: Johanna Mayer
The event was an impactful opportunity to inspire the next generation of scientists and inform the general public about the importance of brain research in health and disease.
We hope to see you all in 2024!
Text by Julia Spielbauer and Vasco Sousa.
Organisers
En resa genom hjärnan was organised by Vasco Sousa, Johanna Mayer, Anna Canal Garcia, Marta Graziano, Marina Slashcheva and Julia Spielbauer.
Next year's "Brain Awareness Week"