Published: 28-10-2021 16:36 | Updated: 28-10-2021 16:42
Professor Miia Kivipelto Awarded the 2021 Melvin R. Goodes Prize for Innovative Research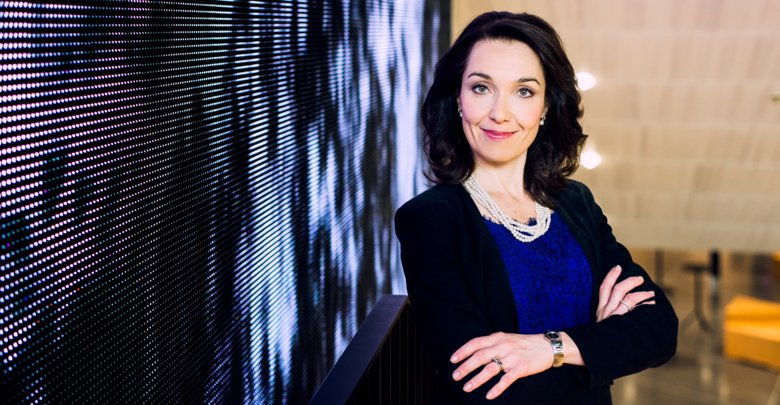 The 2021 Melvin R. Goodes Prize was awarded to Professor Kivipelto, who received the prize at the ADDF Annual Fall Symposium on Thursday, October 28th.
The Goodes Prize includes a $150,000 award and will support Professor Kivipelto's continued research on prevention, early diagnosis, and treatment of cognitive impairment, dementia, and Alzheimer's disease.
Introducing the award, Nancy Goodes said, "When we first launched the Goodes Prize our goal was to honor Mel and his legacy in the drug development field, while also supporting cutting-edge science championed by the ADDF, and this award does just that. We are delighted to present this year's Goodes Prize to Professor Kivipelto, whose monumental work with the FINGER trial has transformed how we view lifestyle interventions for Alzheimer's prevention."
Professor Kivipelto expressed her gratitude for the honor, "On behalf of my team and me, I am incredibly honored to receive such prestigious recognition. This award is especially significant as Mel Goodes, a prominent leader in the pharmaceuticals industry, and his work has positively impacted numerous patients. Receiving this award is an inspiration as we continue with our research into the prevention of Alzheimer's. The award is also a great recognition for the AD prevention work and the multidomain FINGER model targeting several risk factors and mechanism at the same time. I believe that given the complex and multifactorial etiology of dementia and late-onset AD, this multidomain approach is needed to get an optimal preventive effect."
"We are having very exciting times in Alzheimer research and the prize gives lot of extra energy and encouragement for me and my whole team to continue our research to develop the next generation of clinical trials and to facilitate rapid translations of the results into clinical practice and sustainable implementations."
Melvin R. Goodes Prize
Melvin R. Goodes Prize is an annual award given by the Alzheimer's Drug Discovery Foundation (ADDF) to leading researchers making important strides towards the development of effective treatments and a cure for Alzheimer's.
The Goodes Prize was established in 2015 by Melvin Goodes, an honorary member of ADDF's Board of Governors, and Nancy Goodes, a member of the ADDF's Board of Governors.
Professor Kivipelto is the Principal Investigator of the FINGER trials and the founder and scientific leader of World-Wide-FINGERS network, the first global network for multidomain dementia prevention trials, now including 40+ countries. The goal of this unique multidiciplinary network is to test, optimize, and adapt the FINGER model in different populations and settings. While also supporting data harmonization and sharing in order to discover the most effective and feasible preventive methods globally. As part of the WW-FINGERS, Prof Kivipelto is leading the MET-FINGER trial using for the first time an updated FINGER 2.0 approach, combining more personalized FINGER-based intervention with a possible disease modifying drug.