Published: 02-11-2023 11:41 | Updated: 02-11-2023 14:26
KI researchers welcomed the Prime Minister and the Minister of Health on their visit to GMS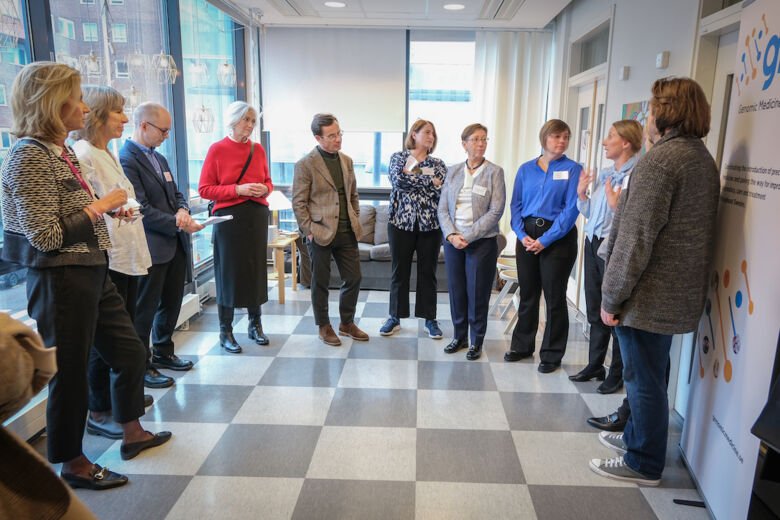 On 1 November 2023, Prime Minister Ulf Kristersson and Health Minister Acko Ankarberg Johansson, visited Genomic Medicine Sweden (GMS) to learn about the work on precision medicine for improved cancer care. Some of the topics discussed included broad gene sequencing as part of personalised healthcare, as well as the treatment and accessibility of data.
During the visit, the Prime Minister and Health Minister learned about the importance of new targeted drugs for children with cancer. Knowledge is built for both care and treatment through the analysis of the genome, known as whole genome sequencing, enabling the development of innovative treatments.
For adult cancer patients, the trend is also moving towards analysing hundreds of genes to provide refined information for accurate diagnosis and treatment.
The visit also included a tour of one of the laboratories where gene sequencing takes place. The technology is advancing rapidly, and today it is possible to read the genetic code of 36 individuals within 24 hours. In gene sequencing and precision medicine in general, large amounts of data are generated that need to be processed and visualised in a user-friendly way for healthcare professionals. GMS Informatics plays a key role in performing these tasks.
Prime Minister Ulf Kristersson and Health Minister Acko Ankarberg Johansson asked many questions and discussed topics such as data sharing, both nationally and internationally, AI, and the importance of clinical studies in Sweden.
Anna Martling, Professor and Dean at Karolinska Institutet, with a mission to drive precision medicine work, emphasised the importance of collaboration between research and healthcare. She mentioned that precision medicine centres are currently being established throughout Sweden, which also creates opportunities for more patients to benefit from what GMS is doing. She believes that it is essential for us to collaborate, both by pooling resources regionally and through national coordination.
"We believe that a coordinating national infrastructure is a prerequisite for an equitable and resource-efficient implementation of precision medicine in healthcare," added Anders Edsjö, senior physician at Region Skåne and deputy director of GMS.
Genomic Medicine Sweden (GMS) is a national initiative with the vision of strengthening Swedish healthcare, research, and collaboration with the industry in precision medicine. GMS comprises regions with university-affiliated healthcare and the universities of Gothenburg, Linköping, Lund, Stockholm, Umeå, Uppsala, and Örebro. In collaboration with patient organizations, healthcare, universities, and the industry, GMS is developing improved diagnostics based on broad gene sequencing. This enables more individualised treatment choices for conditions such as rare diagnoses, cancer, and infectious diseases.