Published: 23-03-2020 16:11 | Updated: 27-03-2020 14:52
Karolinska Institutet formalises and strengthens its partnership with the City of Stockholm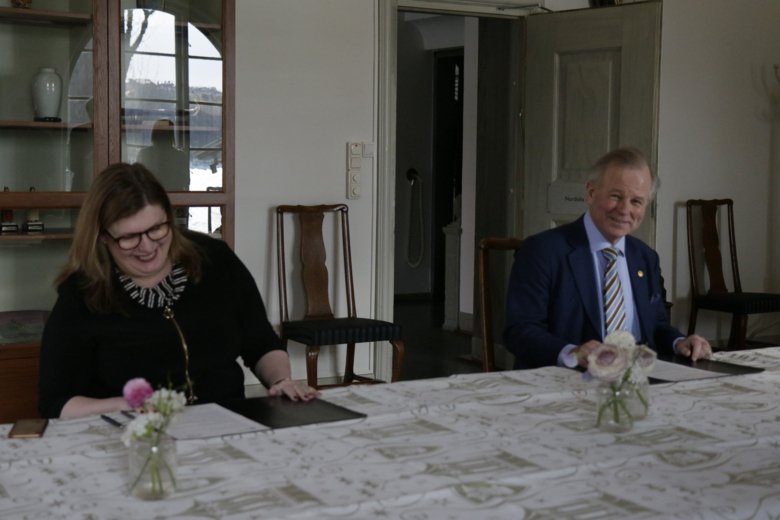 President of Stockholm City Council, Cecilia Brinck and the President of Karolinska Institutet Ole Petter Ottersen sign today, 23 March, a declaration of intent on a collaboration.
"The City of Stockholm has long been seeking to increase its collaboration with the academic sector, so I'm delighted to be able to sign this declaration of intent today with Karolinska Institutet," says Cecilia Brinck. 
The purpose of the agreement is to strengthen and systematise the partnership between the two parties by establishing a common collaboration organisation for education, research, development, innovation and corporate alliances.
"The universities in general play a special part in society by generating knowledge and practicable innovations, helping to overcome the challenges facing it and driving its development," says Ole Petter Ottersen. "This is particularly true of the medical field, one in which KI, as a leading medical university, has an especially important role. A role in which close partnership with the City of Stockholm is vital."
Common challenges
The partnership's departure points are the challenges facing the medical and social services and the potential mutual benefits of AI. These areas deal with a wide range of issues, including method development, digitalisation, work processes, skills supply and preventative work.
Given the great demand for competence in areas such as elderly care, both parties have an interest in examining the opportunities for creating more clinical placements for students.
"A changing demographic in Stockholm is placing new demands on the health and social care that the city offers its more senior residents," says Cecilia Brinck. "Along with digitalisation and AI, there are structural challenges that the municipality and the university can address together, an endeavour that I look forward to following."
Develop collaborations
The intention is that the City and KI will develop collaborations on the basis of the needs identified at a strategic management level through annual dialogue. The partnership will begin by creating a joint task force to map out current relations in education, research, development innovation and corporate alliances.
"The times we live in demand close partnerships between different aspects of society: politics, academia, civil society and the public and private sectors. Together we can achieve so much more to establish Stockholm as a city of health," says Ole Petter Ottersen.
The agreement will be finalised this autumn.
The City of Stockholm already has long-standing collaboration agreements with the Royal Institute of Technology and Stockholm University.