Published: 22-09-2020 15:19 | Updated: 18-01-2022 13:27
Federico Iovino awarded the Bjarne Ahlström Minnesfonds pris 2020 for research in Clinical Neurology
KI researcher Federico Iovino has been awarded the Bjarne Ahlström's Minnesfonds pris 2020 (Bjarne Ahlström's Memorial Fund Prize 2020) for his research in Clinical Neurology and on the study of inflammatory mechanisms that affect the function of the central or peripheral nervous system. The prize which consists of SEK 1000,000 is awarded annually and is distributed partly as an individual prize of SEK 50,000, partly as a research grant of SEK 950,000.
Federico Iovino is an Assistant Professor at the Department of Microbiology, Tumor and Cell Biology, in Birgitta Henriques-Normark's group. He is the Principal Investigator of a research team studying host-pathogen interactions in bacterial meningitis, inflammation of the meninges occurring as consequence of a bacterial infection of the brain, research for which he is awarded the Bjarne Ahlströms Minnesfonds pris 2020.
At the time of his death, Bjarne Ahlström left all his estate to the Foundation, which aims to promote scientific research in the field of medicine, and to provide support for the preparation of teaching and education in these subjects.
What does this imply for you and for your research?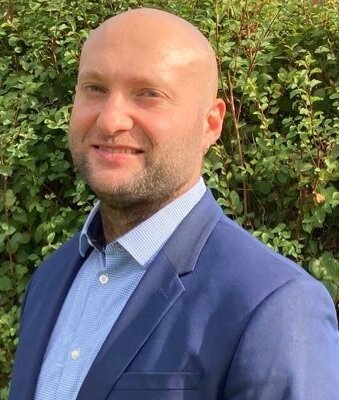 Federico Iovino. Photo: Melania Minoia
"I am honoured to receive the award since it means that what we do daily in the lab, our research and our results, are considered important from both a scientific and a medical perspective", says Federico Iovino.
"Our research mainly focuses on fundamental biology, but all our projects have a translational medicine angle. In fact, our ultimate goal is to develop novel approaches to reinforce the brain immune system towards bacterial infections and also to protect neurons from interaction with bacteria."
"The funding from the foundation is extremely important since it will allow me and my team to continue our research over the next two years."
What happens next?
"The next step for us is to fully understand the molecular mechanisms that characterize the phagocytosis of bacteria by microglia; we want to identify the proteins of Streptococcus pneumoniae, which are the leading cause of bacterial meningitis worldwide, that stimulate microglia to phagocyte and kill bacteria. In parallel, we want to understand how Streptococcus pneumoniae in the brain interacts with neurons and cause neuronal death, and this is important since a major issue for the patients that recover from bacterial meningitis is the occurrence of brain sequelae (hearing loss, cognitive and motor disabilities) due to neuronal damage caused by the bacterial infection."
"We hope to publish our first results by the end of this year."
The prize ceremony will be held on the 29th September 2020. It will be a lunch ceremony organized by the foundation 'Bjarne Ahlströms Minnesfond för Medicinsk Forskning'.