Published: 05-09-2023 12:04 | Updated: 05-09-2023 12:22
They are awarded ERC Starting Grants 2023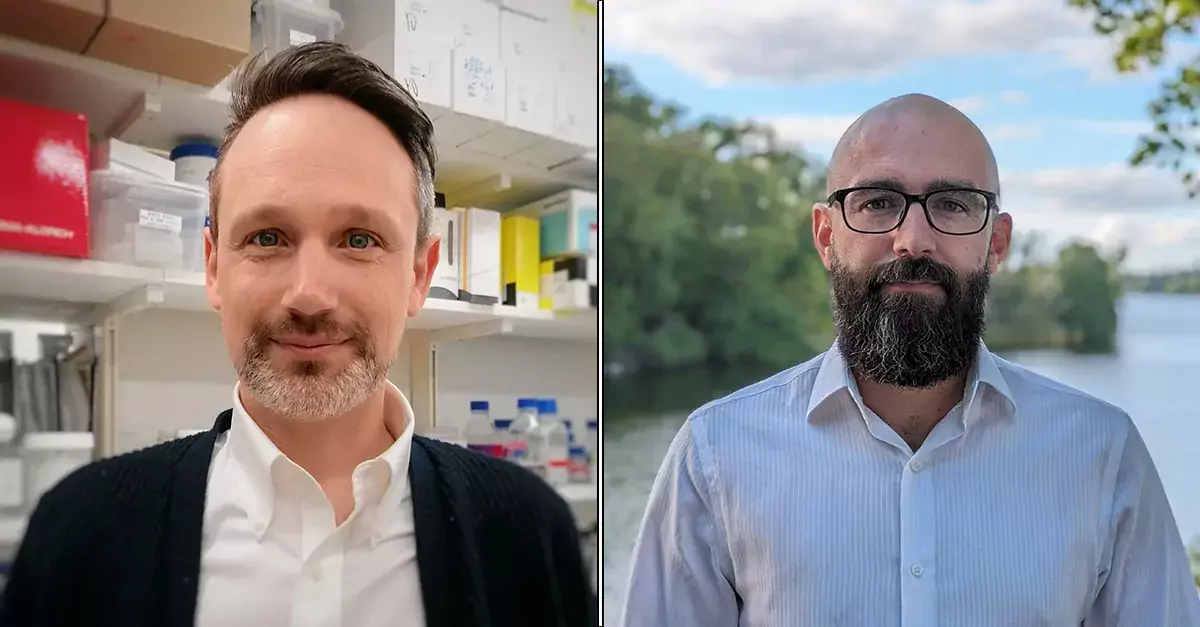 Two researchers at Karolinska Institutet have been awarded ERC Starting Grants, totalling 3 million euro over five years. Kasper Karlsson and Juan Pablo Lopez will each receive EUR 1.5 million for projects that aim to fight cancer in children and understand how psychedelic compounds can be used to treat psychiatric disorders.
The European Research Council (ERC), the EU's main research funding agency, announced on Sept. 5 that it would allocate EUR 628 million in Starting Grants to support 400 young research leaders. About 14.8 percent of the applications were approved. Here are the awarded projects at KI:
Principal investigator: Kasper Karlsson, assistant professor at the Department of Oncology-Pathology
Project title: "Precision Lethality to overcome clonal heterogeneity in high-risk neuroblastoma"
Project description: This project aims to identify which combination of drugs most effectively kill neuroblastoma cells, a type of cancer that mainly affects children. Tumors can be hard to treat because they vary in nature depending on genes and environment. Therefore, a combination of drugs is often needed to eradicate all types of cancer cells.
In this project, the researchers will use innovative techniques to study thousands of cancer cell clones in neuroblastoma organoids. They want to see which subpopulations of cancer cells that survive when they treat them with different drugs. This will help them identify other drugs that could target those resistant cells that survive the first treatment. The goal is to find targeted therapies that complement the usual treatment of neuroblastoma patients and thereby help more kids beat cancer.
Principal investigator: Juan Pablo Lopez, assistant professor at the Department of Neuroscience
Project title: "FASTer: Identifying the Fast-acting Antidepressant Signatures of Treatment Response with psychedelic compounds"
Project description: This project aims to understand the molecular mechanisms, cellular circuits, and complex behaviors associated with the fast-acting antidepressant effects of psilocybin. Using animal models, FASTer will address questions such as: Why does one individual respond to a particular treatment, whereas another does not? What are the neurobiological mechanisms responsible for improvement of symptoms? Why do males and females respond differently to antidepressant treatments?
Combining molecular, behavioral and advanced computational tools, FASTer will establish an automatic behavioral tracking system to deconstruct the behavioral "language" associated with treatment response. In addition, this project aims to identify the brain cells and circuits responsible for the fast-acting and sustained antidepressant effects of psilocybin. This project holds promise for translatability of preclinical findings and impacting the development of fast-acting and efficacious treatments for psychiatric disorders.
About ERC Starting Grant
The ERC Starting Grants aims to support up-and-coming research leaders, who are building their research teams and are on their way to establishing their own line of research. They are worth up to 1.5 million euro over five years. The application deadline for the next funding call is Oct. 24.