Published: 25-01-2022 13:50 | Updated: 26-01-2022 09:01
Prince Daniel, Soumya Swaminathan and Shinhiro Takeda are appointed honorary doctors at Karolinska Institutet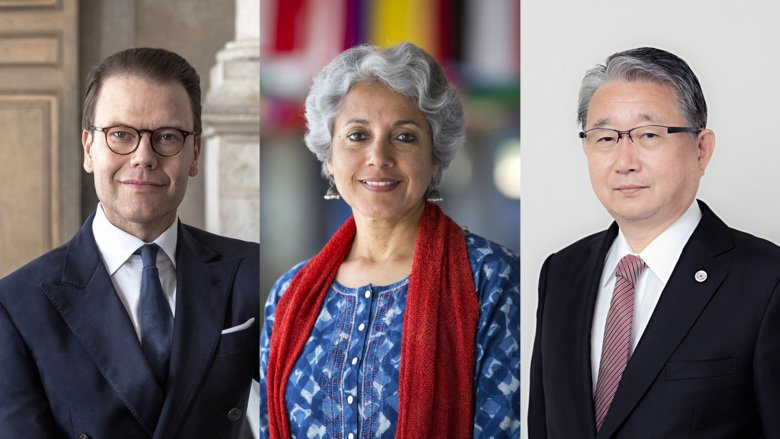 Karolinska Institutet (KI) has today decided to confer honorary doctorates upon HRH Prince Daniel, Dr. Soumya Swaminathan and Professor Shinhiro Takeda. The formal ceremony will take place in conjunction with a graduation ceremony to be held in Stockholm City Hall (COVID permitting) on 29 April.
HRH Prince Daniel has had a long and active interest in public health, and over the years has worked extensively to raise awareness of the need to promote healthier lifestyles among children and teenagers, to reduce health disparities, and to support medical research and education.
Through this untiring health-related work, Prince Daniel has become a vital and visible driving force in this field, both at home and abroad. Since his focus has always been firmly fixed on evidence-based methods, his links with KI were forged early on. He is the founder and patron of En Frisk Generation (EFG – A Healthy Generation), which has been run in partnership with KI for the last ten years. EFG works to help families in deprived areas to adopt more active, healthy lifestyles, and is run in association with schools, municipalities, and local societies. The methods employed have been scientifically assayed in a controlled and published research study conducted by researchers at KI.  
Prince Daniel and Crown Princess Victoria are founders of Generation Pep, whose goal is to provide all children and teenagers better opportunities for more active and healthy lives, regardless of their background, circumstances, or abilities. Generation Pep has become a strong, credible, and unifying force in public health work in Sweden within just five years, and Prince Daniel is deeply and actively engaged in its activities. Generation Pep is currently running a large health-promotion project in which KI is an important knowledge partner, this collaboration being regulated in an agreement signed by KI and the Swedish Crown Princess Couple's Foundation.
Prince Daniel trained as a youth recreation leader and has a background in personal training. He studied at KI between 2011–2013. He is also honorary chairperson of the Swedish Heart-Lung Foundation, which annually awards grants from its Prince Daniel Grant for Promising Young Researchers fund.
Dr. Soumya Swaminathan is chief scientist of the World Health Organisation (WHO) and has been vital in fostering collaborations between the WHO and KI. She has supported and actively promoted greater international engagement for KI in a variety of ways, such as her recent participation in the Rosling Seminar, as well as many other events and development projects involving both organisations. 
Dr. Swaminathan is an inspirational leader within the global health arena and is a key figure in KI's ambition and vision to be a globally active university working for better health for everyone. She personifies the keywords of KI's Strategy 2030: 'Groundbreaking, global and engaged'.
Dr. Swaminathan is from India and trained as a paediatrician, having studied in both the USA and the UK. She has headed the Indian Council of Medical Research and India's governmental Department of Health Research. In 2017 she was recruited to the WHO, where she has been vice-Director General. In 2019 she became the WHO's chief scientist and head of the organisation´s research division. She currently leads the COVAX vaccine initiative on behalf of the WHO, which includes the transfer of mRNA vaccine technology and production competence to low and middle-income countries, an initiative that KI is actively engaged in.
Dr. Swaminathan's commitment to promote global health, international partnerships and collaboration in research and knowledge development has meant – and continues to mean – a great deal to KI's growth into a university that is even more visible and active in the international arena.
Professor Shinhiro Takeda has spent the past two decades systematically and strategically creating a world-leading academic and clinical collaboration in order to further develop and implement advanced, life-saving ventilatory strategies for patients with acute respiratory diseases by means of ECMO (Extracorporeal Membrane Oxygenation, a therapeutic technique for oxygenating the heart and lungs outside the body). In tandem with his own research he has also made valuable contributions to various translational research projects in applied physiology and pharmacology with colleagues at Karolinska Institutet (KI).  
Professor Takeda's research has had a significant effect on both KI and the entire global scientific community within this field, most notably during the implementation phase in which research findings result in direct clinical and therapeutic benefit. His collaborations with KI have been extensive and intensive for many years, and he has also supported KI by helping to finance a number of research projects. His consistent dedication to supporting bilateral research activities has introduced and fostered new generations of young clinical scientists within the field, providing new opportunities for establishing collaborative networks between Karolinska Institutet, Sweden and Japan. 
Professor Takeda is from Japan and is the president of the Kawaguchi Cardiovascular and Respiratory Hospital in the suburbs of Tokyo. In 2020 he established the ECMO therapy organisation for the patients with COVID-19 as chairperson and coordinator. In this capacity he has connected several leading international institutions for ECMO therapy, including KI and Karolinska University Hospital. In 2021, Professor Takeda received the Japanese Prime Minister's Award in Health Care for his outstanding contributions to improving survival by developing and implementing ECMO therapy.
KI's Honorary Doctors
Karolinska Institutet confers honorary doctorates upon academics who have made vital scientific achievements or significant contributions to KI, or to individuals who have not formally achieved a doctoral degree, but who have otherwise been instrumental in the advancement of research and development.
Nominations can be made for:
scientific achievements, especially those with a relationship to Karolinska Institutet
significant contributions to the university and its activities
significant contributions to the world, to Sweden or to society within the areas of interest of Karolinska Institutet.
Honorary Doctors at Karolinska Institutet