Published: 22-11-2019 16:09 | Updated: 03-12-2019 11:20
Three questions to researcher Nicola Orsini - on the highly cited list for the third time in a row
Nicola Orsini, associate professor of medical statistics at the Department of Global Public Health , is one of the researchers at KI that qualify for the annual list of highly cited researchers compiled by Web of Science.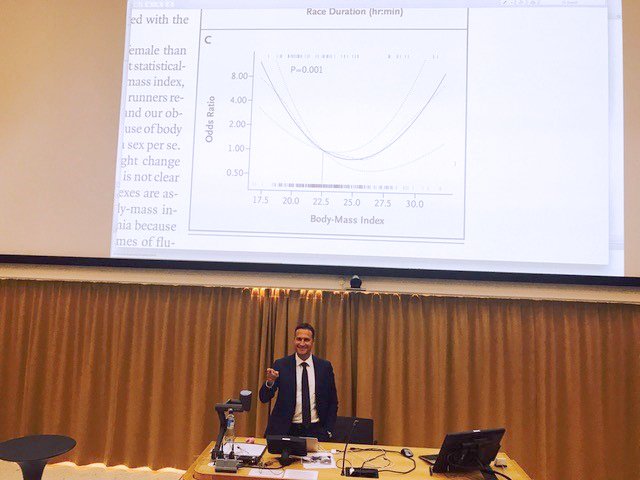 Nicola Orsini, associate professor, during a lecture.
Tell us, what does it mean for you to be included on the list?
"It means that many scientists all around the world are happy to cite my papers because they found them particularly useful in their own research. So, I feel grateful to Karolinska Institutet and anyone; professors, colleagues, students, who encouraged me throughout the years.
Although it may appear a good thing to have an impact on other scientists, particularly with quantitative methods, I feel also the responsibility that comes with it."
This is not the first time your name is included, why do you think that is?
"That's right, considering that about 1 every 1,000 scientists are named in the list, the chance of being recognized for three consecutive years is quite low. Not sure it's worth to find explanations for such an unlikely event, at the of the day there has been multiple highly cited papers scattered over the years."
Do you have any advice for other researchers?
"My tips are: 1. Be ready to engage in research that you have never heard of; 2. Try to have an impact on a single colleague before speculating about the impact on the world's population of scientists; and 3. Just relax, do your best, because there is no way you can manage your peers' citations."
"Dissemination requires a strong dose of interaction with others. Therefore, I encourage other researchers to get involved in educational activities, I know it's a pain but it's a unique way to develop communication skills and get to the fundamentals of the research field. Education has something in common with citation, that you have no control on what is coming up next with your student or your paper. And that feels great."