Published: 12-01-2023 12:48 | Updated: 12-01-2023 12:48
"Our objective is fewer heart attacks"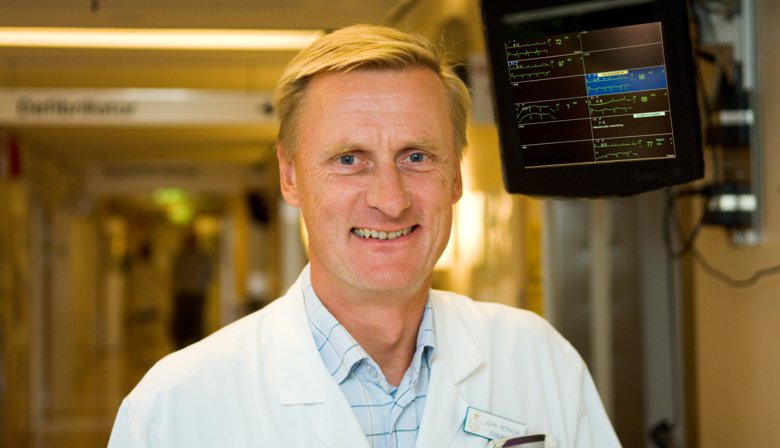 Meet research group leader John Pernow, Division of Cardiology, Department of Medicine, Solna.
Endothelial dysfunction in atherosclerotic cardiovascular disease
Our research aims to increase the knowledge about the causes of atherosclerosis and to develop new treatments that reduce the risk of heart attacks. We focus especially on risk factors such as diabetes and high cholesterol. We are also conducting research on how to limit the injury to the myocardium that occurs in a heart attack.
Combined studies
In our studies, we combine laboratory-based studies at BioClinicum with patient-centered studies at the clinical department of Cardiology. In the laboratory we study the link between injury to the endothelial cells, i.e., the layer of cells that covers the inside of the blood vessels and development of atherosclerosis. We discovered that a contributing factor to this was increased activity of the enzyme arginase. We transferred these findings to a clinical study in patients with type 2 diabetes and coronary heart disease in which we demonstrated that inhibition of the enzyme activity resulted in improved endothelial cell function.
We have further developed this research and are currently trying to understand the preceding stage, that is, what initiates the injury to the endothelial cells. We recently made an important discovery. When we analyzed erythrocytes (red blood cells) from patients with the risk factors for type 2 diabetes and high cholesterol, we found that their function had changed, which caused dysfunction in the endothelial cells.
We will now investigate how to normalize the function of the erythrocytes through interventions and hope that this may contribute to the development of new treatment strategies.
The research group
Having the opportunity to combine basic research with treatment studies on patients with diabetes and coronary heart disease is, and have been, crucial for our research. The combined expertise in cardiovascular pharmacology, molecular biology, and clinical cardiology of our group members gives us the possibility to perform true translational research ranging from bench side experiments to clinical studies. We are currently approximately 10 people in the group working together. On site you find us on the 8th floor of BioClinicum, and at clinical research unit at Norrbacka S1: 02 within the hospital area.