Published: 28-10-2020 09:20 | Updated: 29-10-2020 10:08
New Professor in Speech and Language Pathology starts at the Division of Speech and Language Pathology , CLINTEC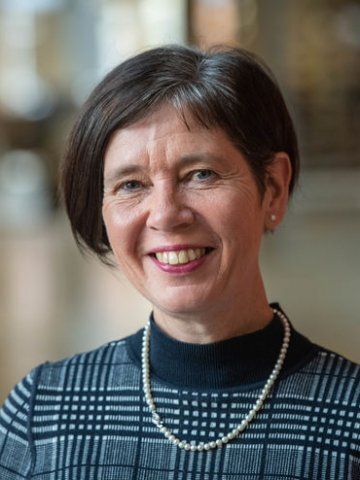 Christina Samuelsson has been appointed professor of speech and language pathology (SLP) at the Department of Clinical Science, Intervention and Technology, CLINTEC combined with a position as speech language pathologist at Medical Unit SLP, Karolinska University Hospital.

The professorship is primarily financed by direct government funding and FoU, and currently has a main focus on acquired communicative disabilities in adults.
Professor Samuelsson, 54 years of age, is a licensed speech language pathologist. After undergraduate education in Gothenburg 1986-1989, she worked clinically at Västervik Hospital for 15 years. She then began research studies and defended her dissertation in Lund in 2004. Since then, she has worked as a senior lecturer and full professor of SLP at Linköping University.
Professor Samuelsson has long experience and great interest in education. She will participate in the development of the SLP programme as well as in teaching and supervision, and she will work for continued strong research connection in SLP education. Samuelsson's research comprises adults with acquired aphasia, people with communicative disabilities in dementia, and children with language disorders and children with hearing loss. Samuelsson is a Swedish partner in a Horizon 2020 project that deals with digital services in elderly care. Professor Samuelsson has also been working for more than 10 years at CEDER (Center for DEmentia Research) at Linköping University, and in connection with this she has contributed to an EU-funded project where digital web-based conversational support has been developed and tested for people with dementia. She is currently also leading a project funded by the Swedish Research Council on early lexical development and the development of gestures in children with language disorders and deaf children with cochlear implants.
The common denominator of Professor Samuelsson's research interests is a focus on ecological validity. Samuelsson's research is data-driven, and it is based on the participants' everyday lives and what may constitute communicative problems that affect their activity and participation. Samuelsson will develop research on the possibility of strengthening activity and participation for people with aphasia and people with dementia as well as children with language impairment and hearing loss. The professorship in SLP is associated with employment as a speech language pathologist, and Samuelsson plans initiatives in order to strengthen the ecological validity of SLP services.