Published: 10-01-2020 09:07 | Updated: 13-01-2020 10:21
KI researchers participated in hackathon with aim to find digital solutions to fight Antimicrobial Resistance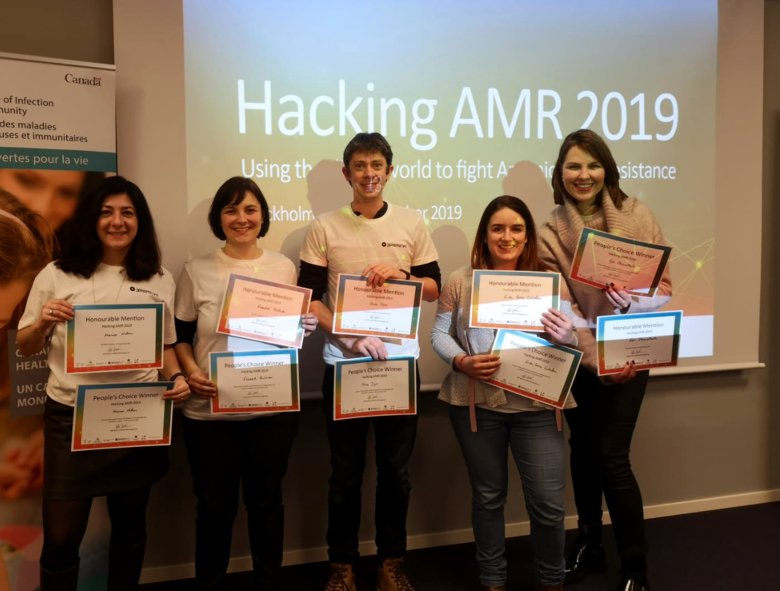 On 13-15 December, researchers from the three departments GPH, MTC and MBB at Karolinska Institutet, participated in the Joint Programming Initiative on Antimicrobial Resistance Hackathon: Using the digital world to fight antimicrobial resistance. A three-day event that seeks to produce innovative digital products or prototypes that can bring concrete solutions to address the issue of Antimicrobial Resistance.
The team developed a prototype for "The waiting room game", an educational role-playing game that helps people learn about the simple actions they can take in their daily lives to help combat antibiotic resistance, for example washing their hands and taking antibiotic courses correctly, together with facts about antibiotics and antibiotic resistance.
"Once the game is developed, we hope to pilot test it in Swedish primary care waiting rooms where patients typically experience a few minutes of waiting before consulting with medical professionals", says Oliver Dyar, Department of Global Public Health. 
"This is a time where people can be more interested to hear about messages about antibiotic resistance, and about what they can do as individuals to help".
The team competed against five other teams and won the Judge's runner up award and the People's choice award. The team members from the Department of Global Public Health were Oliver Dyar, Erika Saliba Gustafsson and Lukas Abraszek. They competed together with Elisabeth Reithuber from the Department of Microbiology, Tumor and Cell Biology, Evangelia Daskalakis from the Department of Medical Biochemistry and Biophysics, and five other team members.
About the JPIAMR Hackathon