Published: 03-06-2019 16:00 | Updated: 17-06-2019 12:30
SASUF Research & Innovation Week
An interview with the NVS's delegates at the South Africa-Sweden University Forum Research & Innovation Week.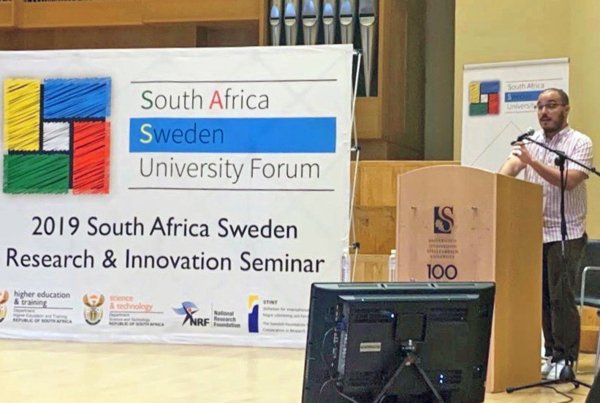 What is the South Africa-Sweden University Forum and what is its purpose?
The South Africa-Sweden University Forum (SASUF) is an internationalisation project comprised of a network of universities in Sweden and South Africa together with embassies, civil society organisations, funding agencies and ministries in both countries. The purpose of SASUF is to foster collaboration between Sweden and South Africa in research, education and innovation. SASUF is a project running from 2017 to 2020.
Is it the goal of SASUF Research & Innovation week?
The first Research & Innovation week was held last year in Pretoria, South Africa. This year it was located in Stellenbosch, South Africa. The main goal of these events is to bring together researchers from Sweden and South Africa, enabling internationalisation and connection between researchers and funding agencies, industry, ministries and surrounding society in working towards the Sustainable Development Goals (SDGs). The next Research & Innovation Week in 2020 is due to be held in Uppsala, Sweden.
How many researchers attended the SASUF Research & Innovation week 2019?
The SASUF Research & Innovation Week 2019 was attended by 450 researchers and representatives from nearly 40 South African and Swedish universities. This included a diverse range of pre-conference Satellite events co-facilitated by South African and Swedish partners. Satellite events were hosted across South Africa and topics ranged from basic cellular research to more societal issues such as ageing, mobility and global warming.
How did you get involved?
In order to be one of the delegates from Karolinska Institutet you had to either be directly invited by the organisers or to apply to attend the meeting. In the latter case, one had to motivate how their research would contribute to one of the SASUF themes and how establishing collaborations with a South African university would be beneficial for both sides. Anna Cederbergs stiftelse för medicinsk forskning financed the KI delegates' trip to Stellenbosch.
Who attended the SASUF Research & Innovation week from NVS?
A delegation of 14 participants from Karolinska Institutet, including PhD students and Professors from different departments attended the meeting.  Four of these researchers were from the Department of Neurobiology, Care Sciences and Society (NVS): Professor Staffan Josephsson, Dr Ann-Helen Patomella and Sophie Gaber (PhD student) from the Division of Occupational Therapy, and Dr Nuno Leal from the Division of Neurogeriatrics.
What were you doing there?
The NVS delegates delivered oral presentations on the theme of "Understanding the burden of disease in Sweden and South Africa" where they presented their current research. Furthermore, Sophie Gaber also promoted the NVS Doctoral Student Council and Dr Leal promoted the Centre for Alzheimer Research. Presentations were also delivered by delegates from other universities according to 5 additional themes (Climate change; Education; Social transformation; Sustainable urbanisation; Digital technologies). All of the themes harnessed the United Nations SDGs as a springboard for addressing global health, technology and social issues. Besides the main event, the delegates also had the chance to meet with potential collaborators through Satellite events organised by themselves.
What will you bring with you from there?
Overall, it was a fruitful meeting. Several new collaborations were established and the possibility of new projects realised. We also got to know that SASUF offers different funding opportunities to support both short-term and long-term collaborations between South African and Swedish partners. Therefore, possibilities exist to fund these new projects. Funding opportunities can be found on the SASUF website: https://sasuf.org/south-africa-sweden-university-forum/