Published: 06-12-2017 11:39 | Updated: 06-12-2017 11:46
Peter Ueda wins Researchers' Grand Prix 2017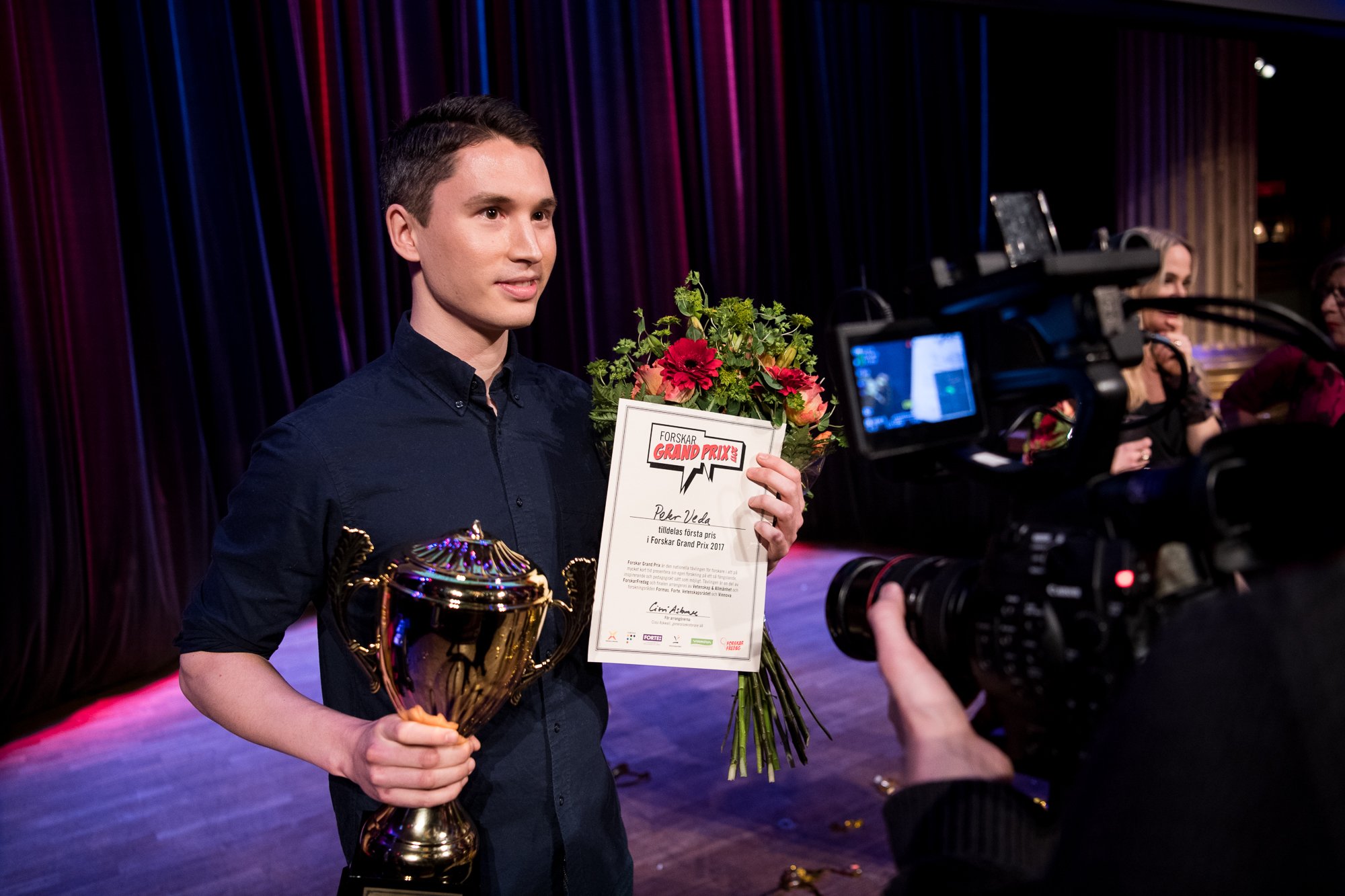 Peter Ueda, postdoc at the Department of Medicine, Solna, Karolinska Institutet, has won the Researchers' Grand Prix 2017 and is therefore the Swedish champion in making a four-minute presentation of his own research.
During his presentation, Peter Ueda explained how he uses large data files containing millions of observations to discover how treatments for a wide range of illnesses can be improved.
Peter Ueda also carries out research into the side-effects of pharmaceuticals and how well they actually work, as well as finding new ways to identify patients with a high or low risk of illness (for example myocardial infarction) or adverse reactions, so that treatment can be tailored to the individual.
Congratulations on winning the Researchers' Grand Prix! How does it feel?
"It feels good," says Peter Ueda.
Why did you take part in the competition?
"I was contacted by the press office at KI, who wanted me to be involved, so I accepted. I usually say yes to things. Unless I say no."
What was the most difficult part?
"Being nuanced and restrained, while at the same time not holding back so much that you lose your flow."
What was the most fun?
"Drawing pictures. I love drawing. The medical profession is cool, but it's very much algorithm-based and there aren't many opportunities to express yourself. And you never get the chance to be ironic, which I had now. And it was fun to work with the skilled and enthusiastic organisers."
What do you think the prize will lead to?
"I'm not a big fan of the trend for us researchers to sell our ideas and visions like a group of inspirational speakers. The Americanised form of presentation isn't quite compatible with the scientific approach, where you have to be critical and constantly reassess assumptions and hypotheses. I tried to strike a tone in which I avoided being boring while still not being another Steve Jobs. I hope to be able to continue to develop this."
What are your top tips to other researchers who want to be better at presenting their research?
"Question the format. Is a lecture really the best thing to do, given what you want to achieve? For example, there's a lot of evidence to show that listening to lectures isn't very effective if it's about teaching, so maybe you should use some other form of communication.
"Script first, then the pictures. In this age of PowerPoint, the usual approach is to start by creating slides and then having the presentation consist of you talking about the slides. Start instead with a script and then make pictures to support your narrative. A picture plus a narrator's voice are the same components as in a documentary film, and no editor makes the film first and then thinks about what to say about the pictures!
"Slides are free. You're often given an instruction to make a presentation of 'no more than X slides'. This isn't logical, as the limiting resource is time and not images, after all they're free. Divide up the content into as many pictures as are required to help people understand what you're talking about."
During the Researchers' Grand Prix, researchers compete to present their work in the most entertaining and informative manner possible in only four minutes. The winner is decided by the audience together with a panel of expert judges.