Published: 15-02-2023 14:51 | Updated: 15-02-2023 14:54
"Karolinska Gut Group"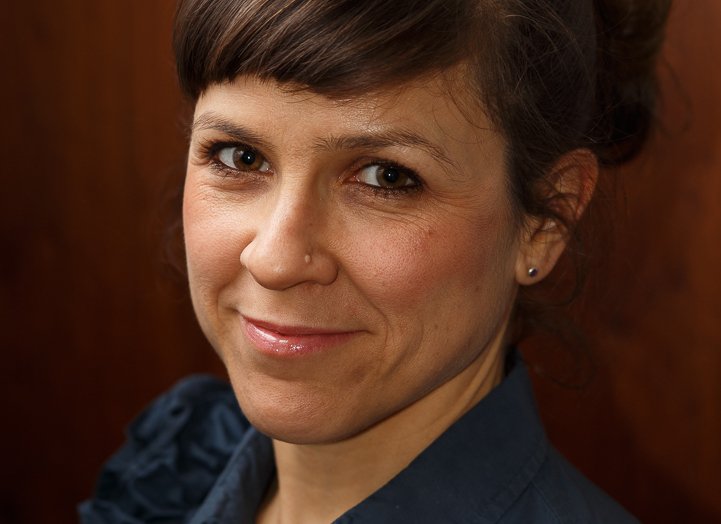 Meet Charlotte Hedin, research group leader at the Division of Clinical Medicine, Department of Medicine, Solna.
We are "the Karolinska Gut Group". Our research deals with all things within luminal gastroenterology. We have a broad portfolio of projects and group members with clinical work at both the Karolinska, Ersta Hospital and Gastromottagning City. Within the group is Professor Rolf Hultcrantz and Adjunct Professor Peter Thelin Schmidt, two adjunct lectors, four PhD students and four affiliated members.
Our research
Our research covers a range of areas within gastroenterology including inflammatory bowel disease (IBD), diverticular disease, endoscopic techniques, nutrition in chronic fatigue syndrome and colon cancer – including hereditary cancers such as Lynch syndrome.
Within the area of IBD we drive translational and register based studies. A major goal for our IBD research programme is to delineate the molecular and nutritional pathways that underpin mucosal healing. Furthermore, we aim to determine pathogenic factors including the role of genetics, environmental factors, luminal microbiota and gut permeability in the pathogenesis of Crohn's disease by studying a cohort of patients and their healthy siblings.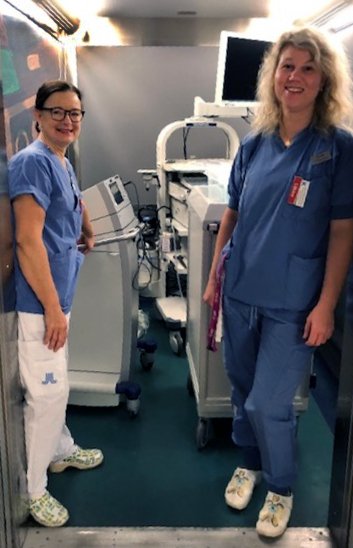 Kaisa Fritzell (Academic nurse) and Ann-Sofie Backman (Lecturer) in the elevator about to perform endoscopy on a patient with hereditary bowel cancer syndrome. (Photo: private.)
In endoscopy, we investigate whether patients with IBD have a greater risk of complications during colonoscopy. In another endoscopy-based project we evaluate a newly developed method for examination, treatment and screening of pre-stages of anal cancer. Many patients develop IBD as children. Together with implementation experts, we are carrying out a research project on improved transfer from a paediatric clinic to an adult clinic.
Within the field of hereditary cancer our goal is to shed light on a relatively new branch within the field of gastroenterology, i.e. oncogastroenterology, and to establish evidence based clinical routines regarding preventive treatment and surveillance of the patients with hereditary risk genes for colorectal cancer.
"The Karolinska Gut Group" is also a key centre for several national IBD projects, with me (Charlotte Hedin) on the steering committee for projects within the Swedish Organisation for the Study of IBD(SOIBD). We are also actively participating in international projects including the Health Outcomes Observatories and the GEM Project.
Possible new treatment for IBD
One of our central IBD studies is aimed to answer the question "how does the gut heal?" with longitudinal RNA sequencing in patients with acute severe ulcerative colitis – documenting the molecular pathways that lead them into remission.
Most treatments for IBD (as with most immune-mediated diseases) are based on immunosuppression, with consequent side effects of neoplasia and infection. Delineating and harnessing the healing power of the gut will open the possibility to treat IBD without immunosuppression – a concept we laid out in our article "Mechanisms of mucosal healing: treating inflammatory bowel disease without immunosuppression?" soon to be published in Nature Reviews in Gastroenterology and Hepatology. This project represents a significant collaboration with Eduardo Villablanca's research group Immunology and allergy ("the Villablanca lab").