Published: 06-11-2017 02:42 | Updated: 06-11-2017 02:42
Helena Salminen new Associate Professor in Family Medicine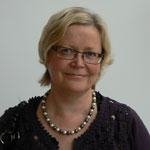 In September, Helena Salminen took up the post of associate professor at the Division of Family Medicine and Primary Care at Karolinska Institutet's Department of Neurobiology, Care Sciences and Society.
"This is splendid news for both myself and the division, in that more associate professors in family medicine can only strengthen the field, to the benefit of both students and patients in healthcare," Helena Salminen says.
Her overall focus is on clinical research in the field of osteoporosis, particularly on how to identify individuals at risk of sustaining fragility fractures. She is also engaged in pedagogical issues such as methods for evaluating the clinical teaching environment and facilitating student training in primary healthcare using virtual patients.