Published: 16-05-2016 13:12 | Updated: 16-05-2016 17:35
Congratulations, all new doctors!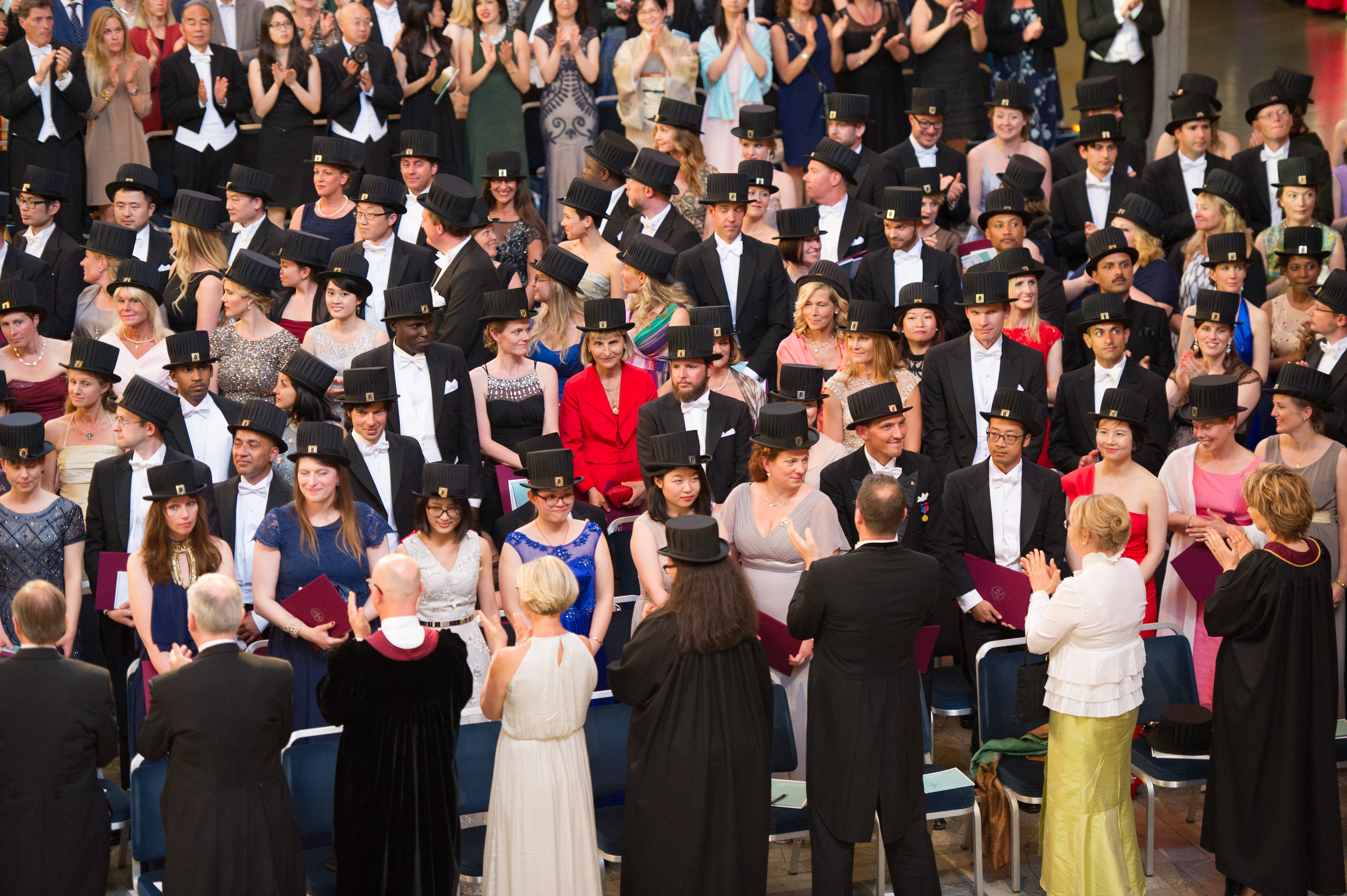 The city of Stockholm was at its best for Karolinska Institutet's spring conferment ceremony, held on Friday, May 13, at Stockholm City Hall. A warm afternoon sun glistened off the water as elegantly clad evening attendants entered the cobblestone courtyard.
As the clock approached 5 pm, the melody of "Puttin' on the Ritz" filled the air inside. The bold sound of trumpets heralded the decent of scepters and flags slowly down the grand staircase, followed by the evening's officiates. KI's Acting Vice-Chancellor, Karin Dahlman-Wright, warmly welcomed the promovendi, three honorary doctors, two jubilee gold medalists, and esteemed guests.
"A PhD is clearly not a 9 to 5 job", she addressed the new doctors, praising their new knowledge in the face of struggles and challenges that a PhD education involves.
"A doctor thesis is not the end but the beginning. Never give up! Find a way through." She assured the promovendi that, despite today's infamous date – Friday the 13th – "we are in the business of science, not superstition. There's no cause for concern."
Gold medals presented
Karin Dahlman-Wright also presented two jubilee gold medals, an award of highest honor granted to individuals who have made significant contributions to the university. She praised the accomplishments of Rune Fransson, who served as University Director between 1995 and 2007, and Professor Emeritus Torsten Wiesel, winner of the 1981 Nobel Prize in Physiology or Medicine. An interlude followed, featuring the harmonious voices of the opera trio Divine, providing a moment of reflection on the award winners' contributions and service to KI.
Gazing upward as the radiant sounds filled the room, one's attention was easily drawn to the flags of Zambia, the United States, and the United Kingdom. Their presence signified the nationalities of the evening's distinguished honorary doctors – Alimuddin Zumla, Robert Langer, and Richard Peto. Marie Wahren-Herlenius, Pro-Dean of Research, began humbly, "Humankind is amazing…", and acknowledged the great medical advances resulting from their respective discoveries.
Diplomas and doctor's hat
Finally, the newest KI doctors, who had patiently awaited their turn, were welcomed to come forward by Anders Gustafsson, Dean of Doctoral Education and Acting Dean of Research. Row by row, the promovendi ascended the grand staircase to receive their diplomas and their doctor's hat. "A PhD entails a promise of change, development and improvement," said Anders Gustafsson. "The truth is out there. Go out and show the world what a doctor from KI can do!"
The ceremony concluded just before 7pm as the processional music accompanied the traditional parade of scepters, flags and banners up the grand staircase, followed by the Master of Ceremonies. The celebration could begin!
Text: Megan Osler