Other
NEURICOO - Industry meets academics and students
Welcome to a brainstorming between academics, companies and researchers in thematic groups.

NEURICOO is NeurotechEU's university-industry collaboration structure. The aim of this event is to explore the needs and expectations of companies, clusters, academics and students in order to translate innovations into industry.
Next steps:
NEURICOO will work on developing mechanisms to address those needs and expectations. In subsequent events NEURICOO will serve as a matchmaking system to match academics to companies to assist mutual needs for collaboration.
Join the event on https://www.crowdcast.io/e/neuricoo
10.00-10.10
Welcome to NeurotechEU-NEURICOO
Prof. Can A. Yücesoy, Director, Institute of Biomedical Engineering, Boğaziçi University, Board of Governors member, NeurotechEU
10:10-10:20
Innovation in Istanbul Health Industries Cluster (ISEK)
Prof. Cengizhan Öztürk -BoğaziçiUniversity, Academic Coordinator for ISEK
10:20-10:30
Making the difference in life sciences and health
Koen van den Hurk-Innovation Manager, Health Valley Netherlands
10:30-11:30
Translation of innovations into industry
What do companies, clusters, academics need and students expect?
Four breakout sessions on key technologies providing solutions for neurochallenges:
Robotics & neuro/medical-devices
Machine learning & artificial intelligence
Diagnostics & treatment methods
Sensing technologies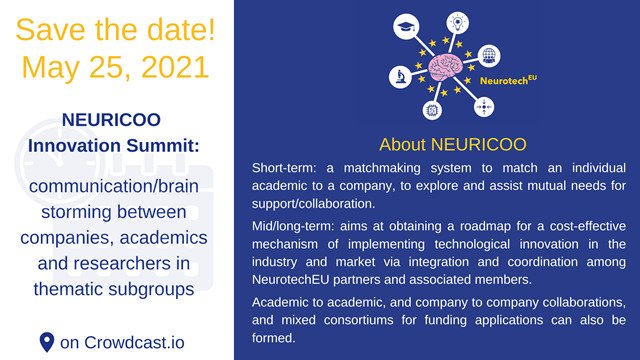 Invitation NEURICOO-event Photo: N/A