Lectures and seminars
"It matters how we open knowledge": A panel discussion on open access and equity
How can researchers and the world benefit from open access? Join the panel discussion within the Stockholm Trio University Alliance during Open Access Week. This year's theme is "It Matters How We Open Knowledge: Building Structural Equity".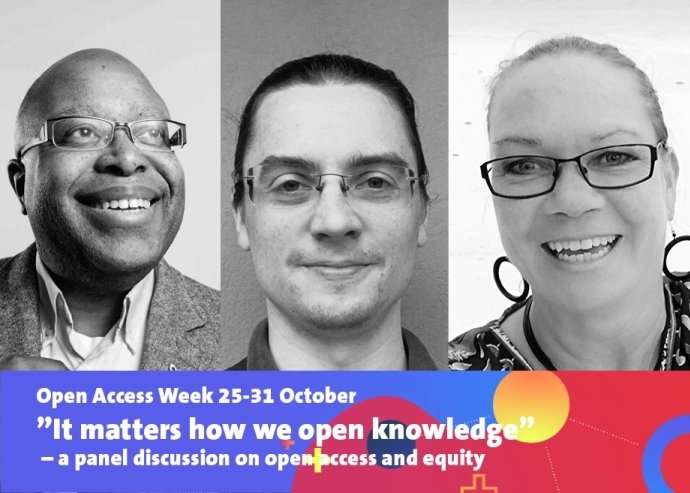 Terrence Brown, Gustav Nilsonne, Paula Uimonen.
Swedish universities have made a promise to work for equality and sustainability. One way of doing that is to make knowledge accessible for anyone in the world. This can lead to unexpected collaborations or breakthroughs. It also helps make citizen science happen, and may lead to gained trust for the scientific process within society.
So how do we reach a level where scientific results and scholarly journals are published fairly and openly? What stands in the way? And what does equity really mean when it comes to researcher's work on a daily basis?
The panel consists of three researchers, one from each university (Karolinska Institutet, KTH and Stockholm University), with a special interest or take on open access and open science.
Panel participants
Gustav Nilsonne, Associate Professor of neuroscience, Karolinska Institutet, coordinator of data domain specialists in the Swedish National Data Service consortium. Nilsonne is a long-standing advocate for open science, and is involved in numerous initiatives in Sweden and internationally to promote open access and other aspects of open science, including Open Science Community Sweden and the European Open Science Cloud Association. 
Terrence Brown, Professor of Technology-Based Entrepreneurship at the Department of Industrial Economics and Organization, KTH. Brown is a writer, researcher, consultant, entrepreneur and lecturer on creating value. He is the founding editor of the International Journal of Entrepreneurial Venturing and has an interest and experience in academic publishing.  
Paula Uimonen, Professor of Social Anthropology, Stockholm University. Committed to the open sharing of scholarly work, Paula is chair of the editorial board for Anthropology & Society, a peer-reviewed series of academic monographs and edited volumes published in open access by Stockholm University Press (SUP). She is also on the editorial committee for kritisk etnografi: Swedish Journal of Anthropology, an open access journal published by the Swedish Society for Anthropology and Geography (SSAG). 
Moderated by Göran Hamrin, Lecturer in Library and Information Science, KTH.
Stockholm Trio University Alliance
This panel discussion is carried out by the university libraries of the Stockholm Trio University Alliance. Stockholm Trio University Alliance forms a dynamic academic environment that promotes the interaction between different disciplines and raises the quality of the international research and educational environment that the three universities – Karolinska Institutet, KTH and Stockholm University – form in the capital of Sweden.
Registration and language
The panel discussion is held in English.
The webinar is being recorded. No names or pictures of the registered participants will be shown in the recorded version that will be available online for a time afterwards.
Join us online, everyone is welcome! A Zoom link is sent to all registered participants.
Registration link