Lectures and seminars
HI Conversations - Care professionals' experience of using video consultations in Sweden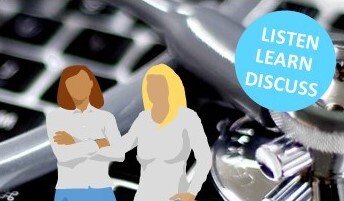 Welcome to participate in Health Informatics Conversations the 27th of May at 12.00 – 13.00 – a research seminar series arranged by HIC (the Health Informatics Centre) at LIME, Karolinska Institutet.
Presenter
Nadia Davoody, assistant professor at the Health Informatics Centre and programme director for the Joint Master's Programme in Health Informatics, Dept. of Learning, Informatics, Management and Ethics
Topic
"Care professionals' experience of using video consultations in Sweden"
The Covid-19 pandemic has affected not only our day to day life but also healthcare in many different ways. Healthcare providers all around the world have had a huge challenge in providing care to a large number of critically ill patients. As a result, several healthcare providers have increased the provision of care via digital channels that allow remote care. Video consultations have widely been growing since 2016 by private healthcare providers. The private online healthcare providers in Sweden have been criticized on several points. We have studied physicians' experiences of using and providing care through video consultations prior to the pandemic. Our main focus has been on their work environment and educational needs. 
What are the Health Informatics Conversations?
HI Conversations - a seminar series about Health Informatics
The conversations are about research-oriented health informatics topics, i.e. – presenting a published article, your research area, a relevant theory or a method etc.  
The Health Informatics Conversations will be recurring the last Thursday (except for June and December) every month at 12.00 via Zoom and last for one hour. This hour includes 20 minutes of presentation and leaves the rest of the time for discussions, all in English.
If you are a PhD-student – this is a credit-bearing activity, as long as the topic is relevant for your research.  
Links