Lectures and seminars
HI Conversations - Assessment of online information in Mental Health: the cases of websites for suicide prevention and apps for bipolar disorder self-management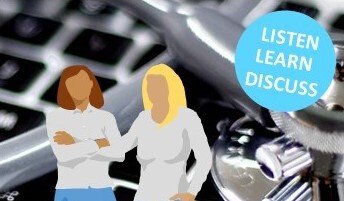 Welcome to participate in 'Health Informatics Conversations' the 25 November 2021 at 12.00.
Presenters
Stefano Bonacina, M.Sc., Ph.D., Researcher in Health Informatics, Health Informatics Centre (HIC), LIME, KI
Carlos Nalvarte, Informatician, Health informatics unit, Region Skåne
Thuani Cardoso Duarte, Dr, M.Sc.
Topic
Assessment of online information in Mental Health: the cases of websites for suicide prevention and apps for bipolar disorder self-management.
"Mental Health is defined as 'Emotional, psychological, and social well-being of an individual or group.' (NIH,1967). Among common Mental Health diseases, you find suicidal behaviors and bipolar disorders.
With the spread of Internet and the Information and Communication Technology medical and health information is widely available as websites; however, information that is retrieved online might lack scientific bases, or not being up to date. It seems essential to evaluate reliability of websites presenting suicide prevention information. Then, mobile devices and apps have completely changed our lives and they are introducing us into a new digital era. Therefore, a high level of digitalization is also changing people's approach towards healthcare. In fact, medical apps are more and more available on app stores and downloaded by consumers. However, downloading the right apps, e.g., for self-managing bipolar disorder, is a challenge.
In the seminar a summary of two pieces of research will be presented. Reliability of selected Swedish and English-language websites presenting information on suicide risk factors and warning signs has been assessed by applying Health On the Net Code of Conduct (HONcode) and 'Trust It or Trash It?' (TITI) guidelines. Then, selected apps for people with bipolar disorder were assessed using Mobile App Rating Scale, PsyberGuide Credibility scale, and Privacy Policies fairness rating."
What are the Health Informatics Conversations?
HI Conversations - a seminar series about Health Informatics
The conversations are about research-oriented health informatics topics, i.e. – presenting a published article, your research area, a relevant theory or a method etc.  
The Health Informatics Conversations will be recurring the last Thursday (except for June and December) every month at 12.00 via Zoom and last for one hour. This hour includes 20 minutes of presentation and leaves the rest of the time for discussions, all in English.
If you are a PhD-student – this is a credit-bearing activity, as long as the topic is relevant for your research.  
Links