Lectures and seminars
HI Conversations - a seminar series about Health Informatics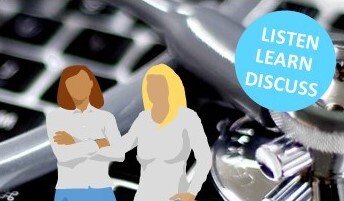 Welcome to participate in Health Informatics Conversations the 25th of February at 12.00 – 13.00 – a research seminar series arranged by HIC (the Health Informatics Centre) at LIME, Karolinska Institutet.
Presenter
Therese Scott Duncan, PhD-student, Health Informatics Centre, Dept. of Learning, Informatics, Management and Ethics
Topic
"E-patients leading the way through innovations and early adoption of digital solutions". Exploring behaviors and activities of e-patients in tandem with the progressing digital environment, will influence the future of participatory design within health care contexts as well as digital solutions within the field of consumer health informatics.
What are the Health Informatics Conversations?
The conversations are about research-oriented health informatics topics, i.e. – presenting a published article, your research area, a relevant theory or a method etc.  
The Health Informatics Conversations will be recurring the last Thursday (except for June and December) every month at 12.00 via Zoom and last for one hour. This hour includes 20 minutes of presentation and leaves the rest of the time for discussions, all in English. 
If you are a PhD-student – this is a credit-bearing activity, as long as the topic is relevant for your research.  
Links