Campus Solna

Eva & Georg Klein auditorium, Biomedicum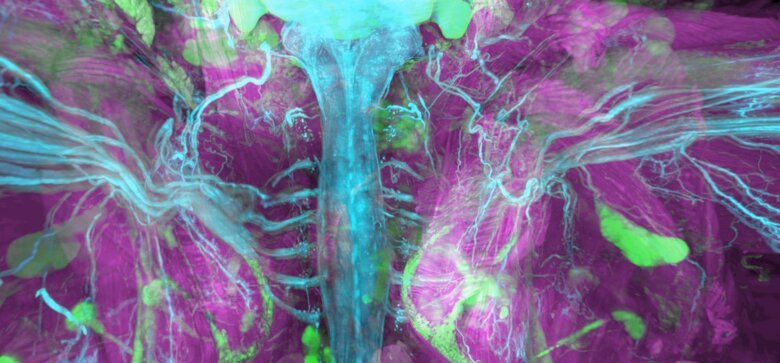 Miltenyi Biotec and the Biomedicum Imaging Core (BIC) Karolinska Institutet (KI) are proud to invite you to a day of
dazzling imagery and exploring new possibilities in light-sheet microscopy. Together with local experts, we challenge the
boundaries of knowledge with fully automated light-sheet microscopy for imaging large or multiple cleared samples with
subcellular resolution. With presentations followed by a live instrument demonstration, seeing really will be believing.
This educational event is free of charge. Refreshments will be served.
Programme
Morning presentations: 09.00 – 12:00 (Eva & Georg Klein auditorium, Biomedicum)
09:00 - 09:10 Welcome (Nikola Vojnovic, Miltenyi Biotec)
09:10 - 09:40 Whole-brain scale RNA imaging using Ultramicroscope II
Shigeaki Kanatani
Department of Medical Biochemistry and Biophysics, BIC, KI
09:40 - 10:00 Dive deeper into your samples
Christian Garm
Imaging Specialist, Miltenyi Biotec
10:00 - 10:15 Break & VR session
10:15 - 10:30 Investigating the vasculature of the whole mouse eye in 3D
Luc Krimpenfort & Tom van Leeuwen
Department of Medical Biochemistry and Biophysics, Vascular Biology & Molecular Neurobiology, KI
10:30 - 10:45 Volumetric 3D Imaging of Upper Tract Urothelial Carcinoma Reveals pS6 as a Novel Marker for Tumor Prognosis
Zoe West, Postdoctoral Fellow
Department of Medical Biochemistry and Biophysics, KI
10:45 - 11:15 Studying drug effect in the whole mouse brain
Jacob Hecksher-Sørensen, Principal Scientist
Gubra
11:15 - 12:00 3D imaging of the hepatic nervous system in nonalcoholic fatty liver disease
Csaba Ádori, Researcher
Department of Neuroscience, KI