Published: 15-04-2019 08:40 | Updated: 23-05-2019 11:13
A chat with Linda P. Sturesson on her new book "Diskvalificering av det positiva"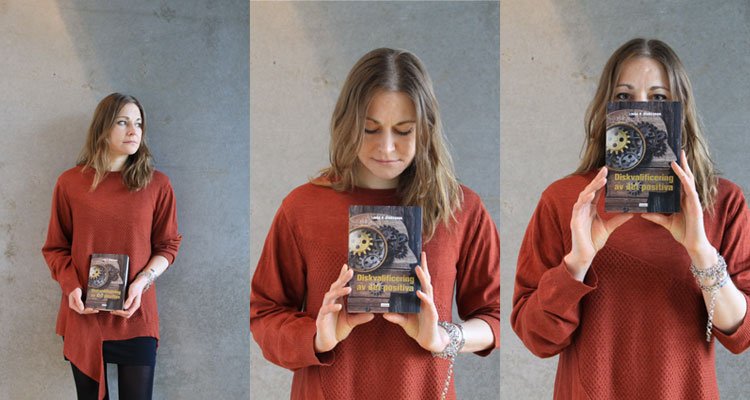 Hi there Linda P. Sturesson, PhD student at the Department of Learning, Informatics, Management and Ethics. Your new book "Diskvalificering av det positiva" (Disqualification of the positive) was released on April 11th.
Linda P. Sturesson. Photo: Charlotte Brandt
Could you tell us a little about your book?
"Diskvalificering av det positiva (loosely translated "Disqualification of the positive") is about Alexandra, who after having been diagnosed as bipolar, applies to a writing course offered by a patient association she joined. The book is also about a young girl who grew up under precarious and traumatising conditions in post-war Warsaw and who finally leaves Poland to settle in Sweden."
"Someone wrote that despite all tragedy the book is rather funny, and I think that it is a good description. The participants in the writing course, all with various psychiatric diagnoses, turn each writing session into a therapy session, and are still able to maintain a sense of humour, even though it can sometimes sound quite cynical."
How did you come up with the idea?
"The book is probably the result of many different things, but the plot started taking shape when I overheard a conversation between two young women on a bus. They seemed to want a psychiatric diagnosis before they could start studying. I am very interested in diagnoses, medication and other preventive measures having suffered from depression."
What are you up to when you are not writing fiction?
"I've been working as an evaluator since 2015 and have been enrolled as a PhD student in the research group Learning in Health Care Contexts since 2017. In my thesis project I examine the paths to the labour market for physicians with a medical degree from countries outside the EU/EEA and who have participated in a supplementary education here in Sweden."
How do you manage to combine writing fiction with your research at KI?
"Combining work here at KI with writing fiction works rather smoothly, probably because I am curious, really like to investigate and think about things, and last but not least, because I love to write. It can sometimes be nice to have to adhere to strict frames and yet be able to let your imagination drift freely."
"If I have a heavy writing period at work, I will not write as much at home. Still, I try to write fiction at least a couple of evenings a week and on the weekends, no matter what. Sometimes there is hardly any time at all, but I quit watching television several years ago and I am not too keen on cleaning so it can be a little bit messy at home."
"If I did not write fiction, have children, friends or concerts to go to, I would probably be a workaholic. I think that work and graduate studies at KI are great fun even if it sometimes can get slightly mad and overwhelming."
Diskvalificering av det positiva was released on 11 April 2019. Publisher: Bokförlaget Mormor.